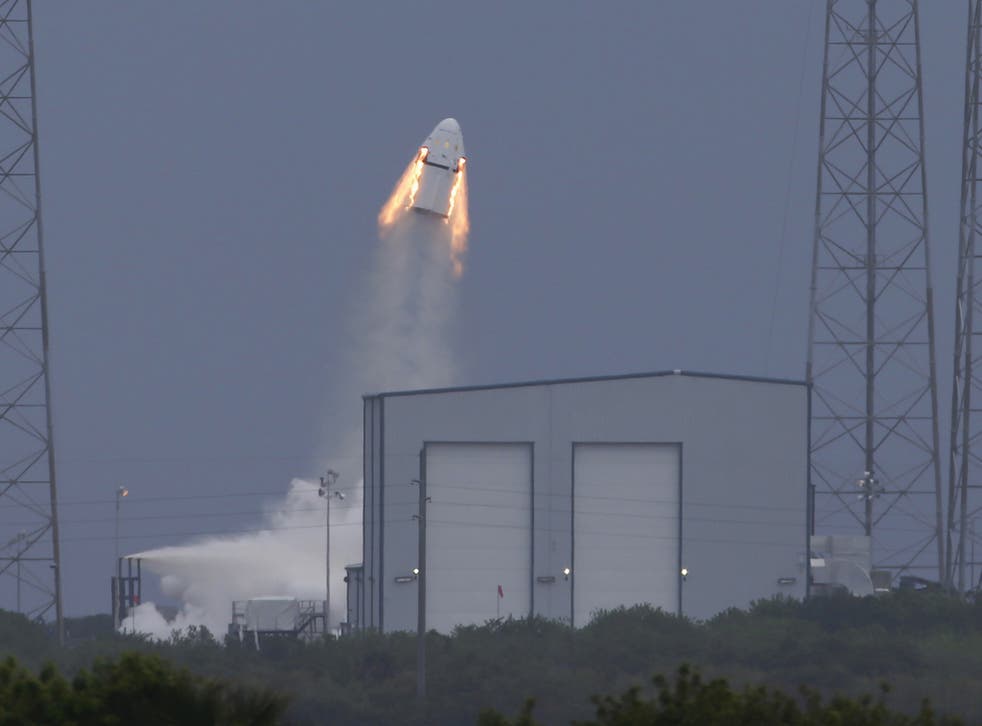 SpaceX tests the system that will save astronauts if Elon Musk's rockets go wrong
The flight lasted under two minutes and carried only a dummy — but could be key to saving lives in future
Rocket company SpaceX has fired a capsule into the air before letting it drift back down, testing the system that will keep astronauts safe should anything really go wrong with its rockets.
The flight lasted less than two minutes and carried only a dummy as a passenger. But guaranteeing that real passengers would be safe in the Dragon capsule will be key to the company's aims to carry Nasa astronauts into space on its privately-developed rockets.
The Dragon capsule took off from a test stand, rather than being fired on a rocket like it will be when it carries people. It was carried up out over the Atlantic by rocket engines attached to the capsule, before it fell back down to Earth.
"This flight test is unlike any seen in Florida since the days of Apollo," Nasa spokesman Mike Curie, the TV commentator for the test, said after the capsule plopped into the Atlantic. The remains were then picked up by recovery boats and a barge.
Elon Musk's rocket company hopes to send US astronauts to the International Space Station in 2017. But Nasa wants to be sure that private companies like SpaceX and Boeing, which is also working on similar technology, have the right equipment to keep its astronauts safe.
There was no immediate word from SpaceX on how the test flight went, but it appeared, at least on TV, that everything operated more or less as planned. The plan was for the capsule to climb close to a mile high and come down about a mile offshore.
In the days leading up to this first major test of the escape system, SpaceX officials cautioned something might go wrong. The capsule could have been lost at sea or, worse, smashed down on to the Cape Canaveral Air Force Station, from where it took off. A two-mile area was cleared of personnel before the test, just in case.
SpaceX said its revolutionary abort system, once perfected, will provide escape for astronauts throughout their climb to orbit, something even Nasa's early manned spacecraft could not do.
The pointy launch-escape towers atop the Mercury and Apollo capsules were good for just the initial part of lift-off; the same is true of the Russian Soyuz spacecraft. The two-man Gemini capsules relied on ejection seats, as did the first four space shuttle flights.
Only the Russians ever used their escape system during a real manned launch - back in 1983 - and it saved two cosmonauts' lives.
The seven Challenger astronauts might have survived their 1986 launch accident with a decent escape system; that disaster, along with the 2003 loss of Columbia and seven astronauts during re-entry, showed Nasa just how valuable an abort system can be.
SpaceX plans to use the capsule again later this year, for an abort test following an actual rocket launch from Vandenberg Air Force Base in California. That, too, will be unmanned.
Up until late last week, SpaceX was calling its flight dummy Buster. But the company noted on its website this week that, "Buster the Dummy already works for a great show you may have heard of called MythBusters. Our dummy prefers to remain anonymous for the time being".
Additional reporting by Press Association
Join our new commenting forum
Join thought-provoking conversations, follow other Independent readers and see their replies