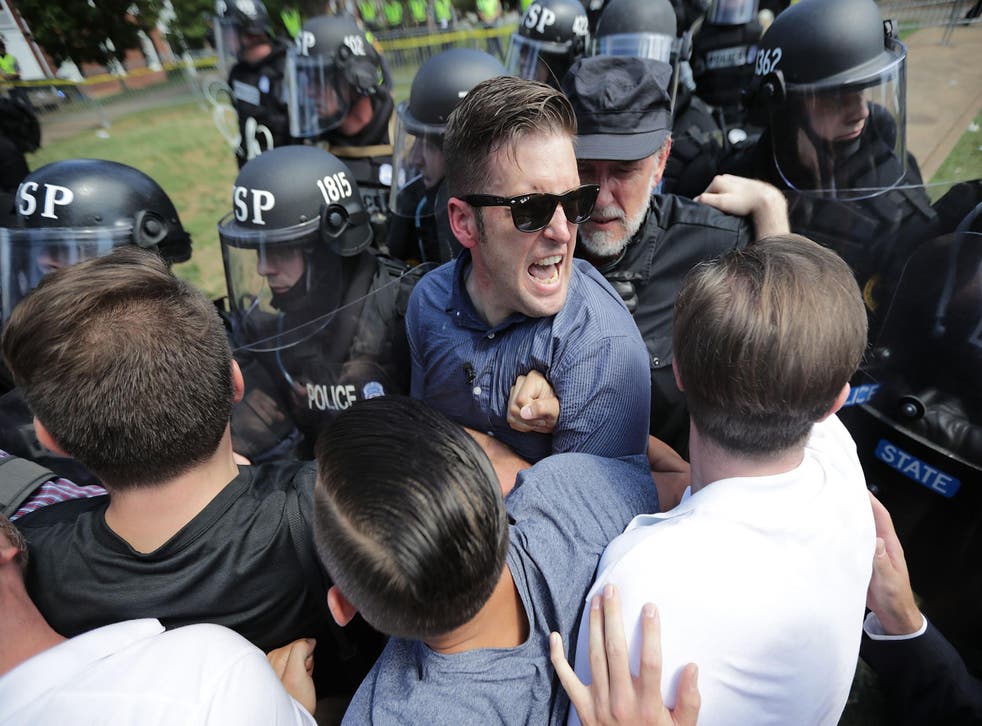 Twitter strips prominent white supremacists and neo-Nazis of blue ticks
Social media site responds to criticism and penalises notorious nationalists like Richard Spencer and Tommy Robinson
Twitter has begun removing verifications from far-right figures after facing a backlash for offering blue check marks to an American white supremacist.
Among the people to lose the symbol under new guidelines were white supremacist leader Jason Kessler, white nationalist figure Richard Spencer, Tommy Robinson, founder of the far-right English Defence League and conservative activist Laura Loomer, who was recently banned from Uber and Left for tweets disparaging Muslims. It suspended the account of a prominent troll known as "Baked Alaska".
Earlier this month, the social media site confronted an uproar for verifying the account of Mr Kessler, who helped organise a demonstration in Charlottesville, Virginia that left a woman dead after a car ploughed into a crowd of counter-protesters.
Twitter responded to outrage by saying it would overhaul its procedures, noting that its system for granting blue check marks next to the names of prominent users was meant to "authenticate identity & voice" but had been "interpreted as an endorsement or an indicator of importance". CEO Jack Dorsey acknowledged that "the system is broken and needs to be reconsidered".
After acknowledging on Wednesday that it had "verified people who we in no way endorse", Twitter said it had updated its policies to allow it to remove verifications from people who violate its guidelines.
Offences that could merit removal would include "inciting or engaging in harassment of others" and "promoting hate and/or violence against, or directly attacking or threatening other people on the basis of race, ethnicity, national origin, sexual orientation, gender, gender identity, religious affiliation, age, disability, or disease," the site said in a blog post.
Soon after the announcement, blue check marks began vanishing from controversial accounts.
Violence on the streets of Charlottesville

Show all 9
Twitter and other social media sites face a delicate balancing act as calls to crack down on hate speech, amplified in the wake of Charlottesville. Multiple tech companies stopped providing services to white supremacists. But the effort to raise vetting has also prompted free speech concerns.
Some users said Twitter was acting arbitrarily in which accounts it chose to de-verify, calling it a crackdown on conservative speech.
Update. This article initially implied that Tommy Robinson was still a member of the English Defence League. In fact, he co-founded the organisation in 2009 but left in 2013. 20/11/17
Join our new commenting forum
Join thought-provoking conversations, follow other Independent readers and see their replies