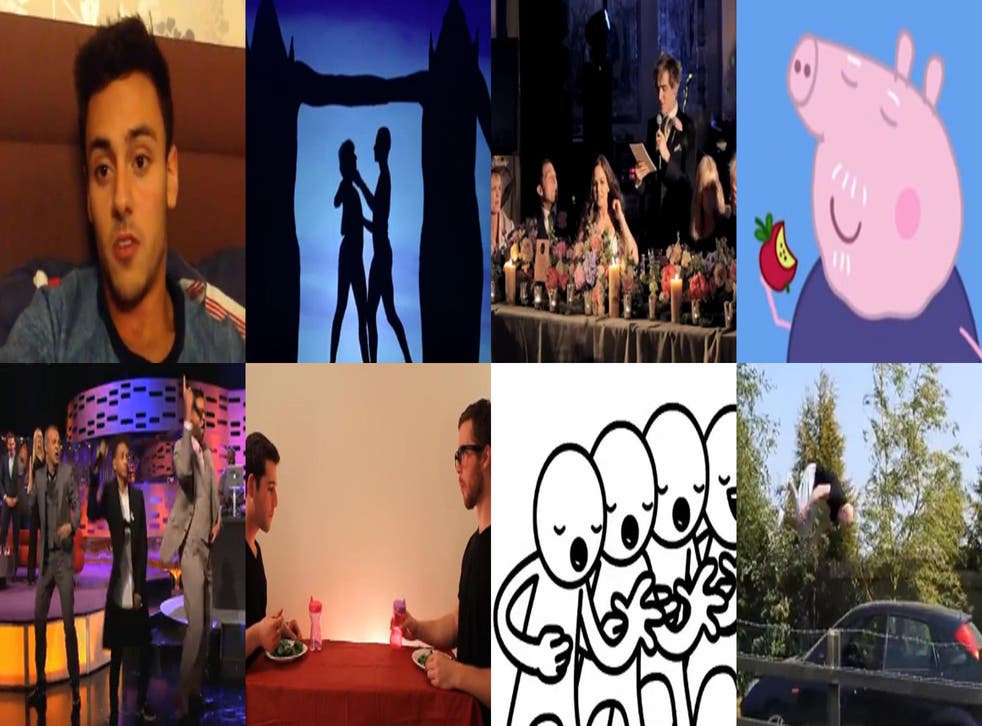 YouTube: Top trending videos of 2013 - including Tom Daley and Peppa Pig
A comedy video where a man mimics the way a number of wild animals eat took the top slot with 88 million views
A comedy video where a man mimics the way a number of wild animals, including alligators, rhinos, whales and cows eat, has been named the UK's most watched clip on the video sharing site YouTube.
Click here for the top ten music videos
The number one spot in the UK was claimed by the video entitled 'How Animals Eat Their Food', which according to YouTube has had a staggering 88m total views.
The popularity of the video was such that the creator, 'MisterEpicMann', added over three million subscribers globally to his YouTube Channel.
Also popular this year were two Britain's Got Talent auditions.
Comedian Francine Lewis doing impressions of celebrities including as Katie Price and Cheryl Cole garnered a respectable 6m views, while Hungarian dance group 'Attraction' had over 28m views for their impressive and moving performance.
The eclectic list also featured the remarkable 'Something I Want To Say' video from British diver Tom Daley. Will and Jaden Smith rapping on the Graham Norton show was also popular as was the global superstar Peppa Pig! teaching the alphabet.
YouTube said the list was clear evidence that the popularity of trending videos was continuing to grow.
Check out the most popular clips below...
Top 10 Trending Videos (UK):
1. How Animals Eat Their Food | MisterEpicMann
2. My Wedding Speech
3. Attraction perform their stunning shadow act - Week 1 Auditions | Britain's Got Talent 2013
4. Will & Jaden Smith, DJ Jazzy Jeff and Alfonso Ribeiro Rap! - The Graham Norton Show - BBC One
5. asdfmovie6
6. Harlem Shake (original army edition)
7. Tom Daley: Something I want to say
8. Francine Lewis with her many impressions - Week 2 Auditions | Britain's Got Talent 2013
9. PEOPLE ARE AWESOME 2013 (Hadouken! - Levitate)
10. Learn the Alphabet with Peppa Pig!
Join our new commenting forum
Join thought-provoking conversations, follow other Independent readers and see their replies