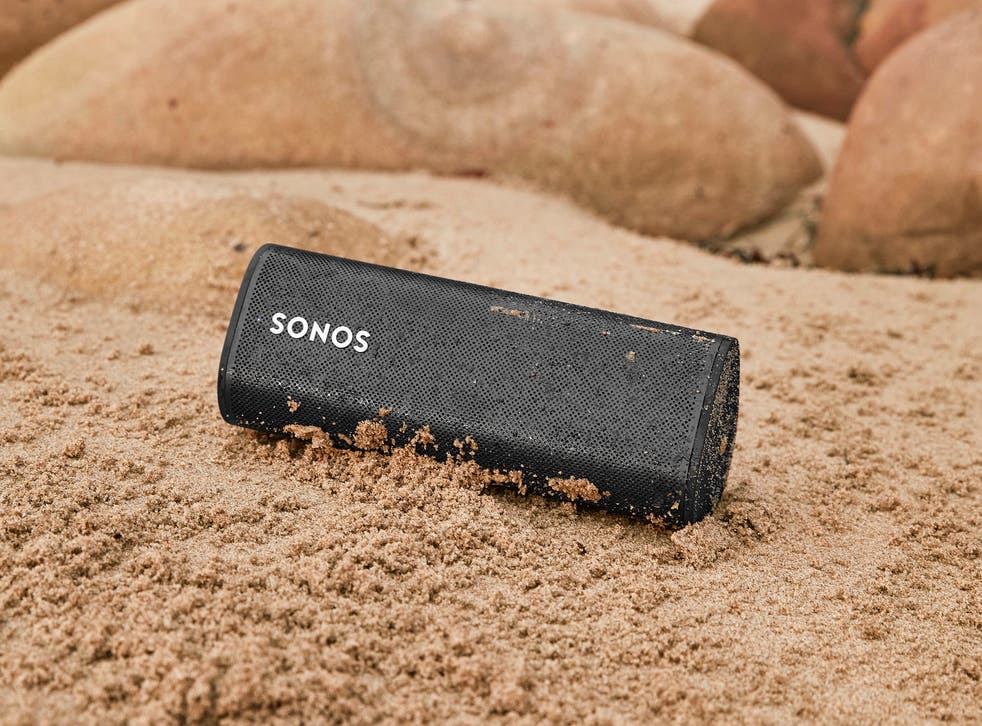 Sonos Roam: Smart speaker company launches its cheapest and most portable device
Sonos has launched the Roam, its smartest and most portable speaker yet.
The small speaker is intended to be used on the move, both inside and outside of the house. It can stream music over both Bluetooth and WiFi, can power itself with a built-in battery, and is much lighter than the rest of its line-up.
But Sonos says the speaker should still be useful within the home, and comes with a range of features intended to enable that, including the ability to tune itself to its surroundings.
The speaker will be available from 20 April for $169, £159 or €179, and will come in white and black. It is 6.6-inches tall and about 2.5-inches wide – roughly the same size as a water bottle – weighs less than a pound and is shaped like a prism.
Its battery lasts up to 10 hours, or 10 days in sleep mode, and can be charged up either with an included USB-C cable or any Qi wireless charger. It can play music over WiFi – either through the Sonos app, or through features like AirPlay 2 or Spotify Connect – as well as over Bluetooth.
Both Bluetooth and WiFi are on all the time, and the speaker is able to switch between the two. When the speaker returns home, it will connect over WiFi and keep playing, including to other speakers.
Sonos made its name with its home music and TV speakers, which are able to connect over the internet and stream audio. It offers them in a range of different sizes, from smaller speakes to large television soundbars.
But last year Sonos launched the Move, intended to be picked up and carried around. It was not only portable and powered by a battery, but brought Bluetooth to the line-up for the first time, after the company had consistently said it offered too low quality a connection.
The Move was still relatively large, however, and was bigger even than its smaller stationary speakers. Sonos says the Roam is different in that it is "ultraportable".
As well as being more than six times as heavy, the Move is also considerably more expensive, at £399.
The Move will stay on the market and will be intended for taking around the house or to other locations where it's likely to stay still, whereas the Roam is smaller and so able to be carried around on bike rides or taken to picnics, for example, Sara Morris, principal product manager at Sonos, told The Independent. As well as being smaller, the Roam is also more waterproof and durable.
The Roam will also bring the company's automatic TruePlay tuning everywhere for the first time. The Move was the first Sonos speaker to be able to tune its sound using built-in microphones rather than the one in its owners phone, but could only do so when it was on WiFi; the Roam, and now the Move, will be able to use that feature even when on Bluetooth.
Sonos had designed the speaker so that its sound was loud and clear, Ms Morris said. While lockdowns meant that Sonos was unable to reveal the sound of the speaker at its launch, Ms Morris said she had initially been "sceptical" about the possibility of making such a small speaker sound good, she was "really impressed" by the design additions that allowed it to sound substantial nonetheless.
Sonos still aimed to build the Roam to be useful at home, it said, and Ms Morris said that it was intended to stand out from the mass of portable Bluetooth speakers that are often forgotten in people's homes by ensuring that it can be used like any other Sonos speaker when it is in the house.
As such, the company will look to sell the speaker as both a relatively cheap introduction to its system as well as a portable add-on for people who already have stationary Sonos speakers in their house.
One of the new features intended to make that possible is a feature called Sound Swap. When the Roam gets home, users can press and hold the play button and the speaker will communicate with any others in the same Sonos system using sounds that are not audible to humans, allowing the Roam to find the nearest other speaker and pass the music over.
Sonos has been rumoured to be making its own headphones, and it is easy to imagine those same Bluetooth and connection features could come to such a product.
Ms Morris told The Independent that she could not comment on such rumours, but noted that Sonos has over 2,000 patents and is "always thinking about our mission, which is to empower the world to listen better and empower listeners everywhere". "When you are thinking about all the categories that we're not in, there are certainly some interesting ones, but we can't comment," she said.
The Roam had been heavily rumoured ahead of its launch, and those leaks proved to have been correct.
Join our new commenting forum
Join thought-provoking conversations, follow other Independent readers and see their replies