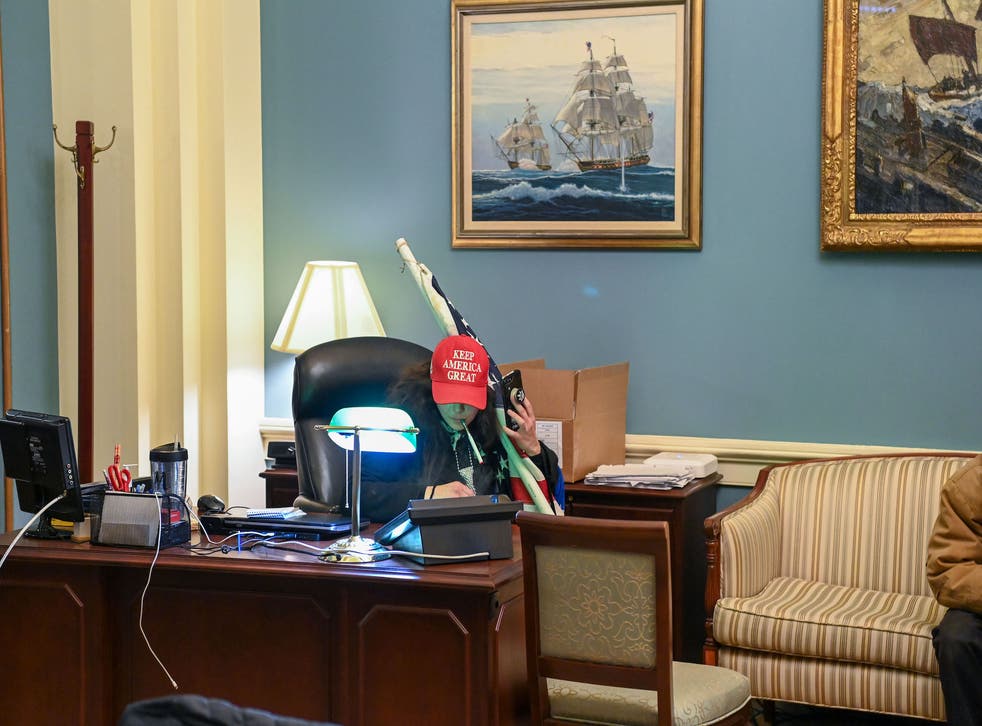 'Blood on your hands': Twitter and Facebook accused of being responsible for Capitol riots
Many experts have asked why such censure has not arrived before
Leer en Español
Facebook, Twitter and other social networks have been accused of having "blood on their hands" after the riots at the Capitol building.
As a group of Trump supporters made their way into the building – after a rally largely organised on social networks, and featuring supporters of a number of conspiracy theories that have grown on the internet – technology executives and investors turned to the role that companies such as Facebook and Twitter had played in the violence.
Those social networks eventually took action: at the time of publication, Facebook and Instagram had banned Mr Trump "indefinitely", while Twitter said that any new posts that flout its rules would lead to a ban on its site.
But many experts asked why such censure had not arrived before, given that Mr Trump has repeatedly broken social media site rules throughout his presidency.
That had included Mr Trump's many posts in which he had seemed to encourage those who may be considering violence on 6 January: on 19 December, for instance, he instructed followers to "be there, will be wild!". That post remains live on Twitter, and has been shared 75,000 times.
The moment presents a reckoning for social media companies who have for years been accused of doing both too little and too much about Trump and his supporters' use of social media.
Chris Sacca, a celebrity venture capitalist who was an early investor in Twitter, was among those who personally accused those who work in social media companies of having encouraged the violence.
"You've got blood on your hands," he wrote, singling out Twitter chief executive Jack Dorsey and Facebook's Mark Zuckerberg. "For four years you've rationalised this terror. Inciting violent treason is not a free speech exercise.
"If you work at those companies, it's on you too. Shut it down."
The accusations of responsibility came from those who had worked at the companies, too. Facebook's former chief security officer, Alex Stamos, said that both companies needed to remove his account – and that the incident pointed to wider problems with the tech industry, and its failure to regulate itself.
Ellen Pro, who served as chief executive of Reddit between 2014 and 2015, noted that she had warned Twitter that Donald Trump could use the site to attempt a coup. She noted that she among other campaigners had told Twitter to "do the right" by removing Mr Trump from the service, but that the site had not taken decisive action.
From before the election until the violence at the Capitol building, both Facebook and Twitter had relied on labels. Those short notes were added to any tweets that were considered to have broken the rules – primarily by making false claims about the election results or voting process – and meant that the posts would stay online but with context that the site's claim would limit any damage.
Both companies argued that the labels allowed for a balance of its priorities: protecting political speech, but ensuring that it could not be used to promote false information or other dangerous content.
They had each turned to labels in an attempt to limit the effects of Mr Trump's posts as rioters began their attack on government buildings. When Mr Trump posted a video and then tweet praising the rioters and once again saying he had won the election, both sites added warnings that those claims are disputed.
Twitter attempted to stem the spread of the video not by taking it down but instead banning it from being replied to or shared. That decision was taken "due to risk of violence", the note said.
Soon after, Twitter said that it would require those posts to be removed, and that Mr Trump would be temporarily banned from the site. He would receive a 12-hour suspension and be asked to take the tweets off his account, the company said.
It also noted wrote that any further violations of the Twitter rules – "including our Civc Integrity and Violent Threats policies" – would lead to the "permanent suspension" of Mr Trump's account, but suggested he would not be banned for now.
Facebook did the same, at first, removing those posts from Mr Trump's account. But Mr Zuckerberg then announced that Mr Trump would be removed from the site "indefinitely".
He said that Facebook had previously allowed Mr Trump to stay on the site because "we believe the public has a right to the broadest possible access to political speech". But something had changed because "the risks of allowing the president to continue to use our service during this period are simply too great", Mr Zuckerberg said.
In an internal message sent to employees, Mark Zuckerberg said he was "personally saddened" by the events.
"This is a dark moment in our nation's history, and I know many of your are frightened and concerned about what's happening in Washington DC," he wrote. Mr Zuckerberg called the events "mob violence" and called for a peaceful transition of power.
"We are treating this situation as an emergency, and we are implementing additional measures to keep people safe," he wrote, pointing to the changes that had been implemented earlier in the day.
Facebook's decision was applauded by people included Mr Stamos, who had noted that "suspension is the only deterrent", since Mr Trump was the kind of person who "enjoys pushing the line and then claiming the moral high ground when crossing it". But he noted that if the company had "clear, publicly-discussed red lines", it would have been able to make the decision to "act in minutes, not hours".
While Facebook's decision was applauded by commentators, and calls immediately came for Twitter to do the same, questions also turned to those issues raised by Mr Stamos: why had both sites said that Mr Trump's rule-breaking posts were permissible during almost four years of his presidency and before, and then chosen to ban him now?
Both sites said in public posts that their concern had been about "risks", and that the change had been the result of violence. But Twitter and Facebook are likely to be asked to explain why that had not been the heuristic before, given that previous posts had broken other rules on the social networks and neither had said before that the risk of violence would be the one that would change the site's working.
New York Times commentator John Herrman noted, for instance, that both Twitter and Facebook both regularly spoke about their bans being constrained by rules, without being clear that they were also the creator of those rules.
"Their rules are written unilaterally and without meaningful external process but are rendered in the borrowed language of laws and rights," he wrote on Twitter. "To hear Twitter and Facebook tell it, their actions are mostly passive adherence to rules, or, at most, active enforcement. Never has this absurdity been so obvious: they make the rules! They enforce the rules! And yet their hands are always tied until suddenly they're not."
While those questions over Mr Trump's use of social networks may soon fade – Twitter has indicated that he will no longer have special exemptions when he leaves office, and that he could therefore be banned soon after – the continuing argument over how social networks are regulated are likely to continue. Joe Biden has suggested that he is dissatisfied with the current legislation on companies like Facebook and Twitter and said before the election that he plans to force them to take new responsibility for the content hosted on their sites.
Join our new commenting forum
Join thought-provoking conversations, follow other Independent readers and see their replies