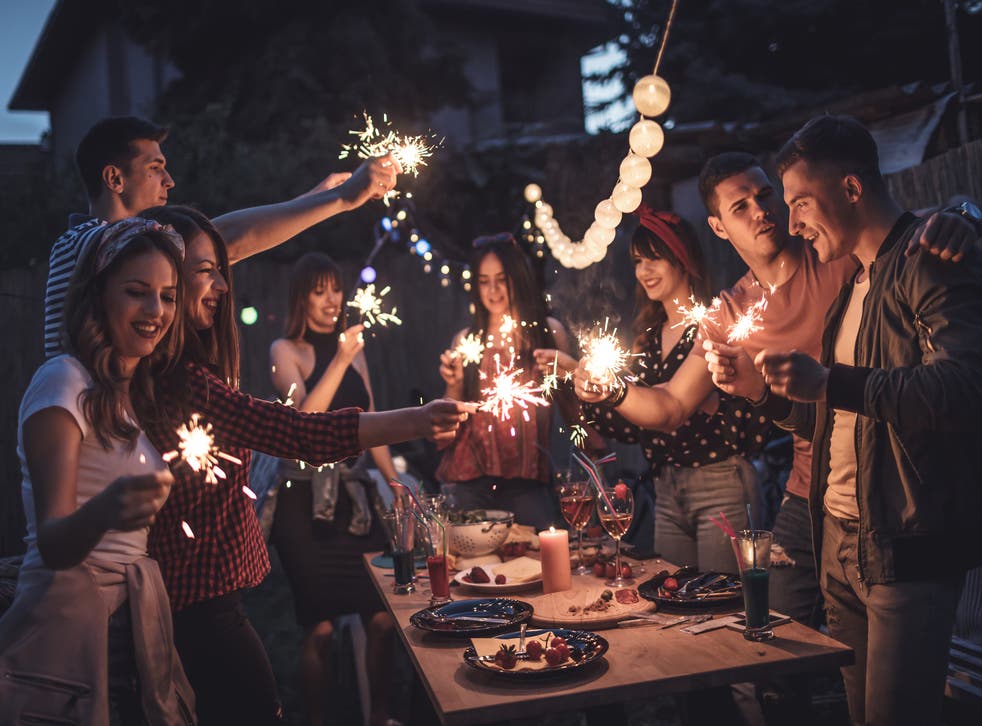 8 top tips on how to throw a garden party by a planner
From planning the guest list to choosing sustainable decorations 
As the UK climate continues to delight Britons with sporadic heatwaves and sunshine, the summer is providing food and sun worshippers alike the perfect opportunity to use their garden party hosting skills.
After all, garden parties are as quintessentially British as afternoon tea and Victoria sponge cake, dating back to the mid 1800s among the higher echelons of society. To this day, Queen Elizabeth II continues to throw several outdoor festivities a year, with an average of three outdoor get-togethers at Buckingham Palace involving over 30,000 guests and platefuls of cake and sandwiches.
While the majority of people might not have stately homes nor the funds to feed guests in their thousands, garden parties have fortunately evolved over the years into a far more informal and inexpensive affair involving BBQs, jugs of Pimms, and late-night card games.
"Times change and some people prefer to play host in a more personal environment, such as your own home," explains Marc Ahmed, CEO and founder of luxury party and events company Scarlet.
Whether it's sitting in candlelight sharing platters of BBQ grilled halloumi and honey-glazed aubergine or playing a game of catch before cuddling up by an outdoor fire under layers of blankets, there's something undeniably comforting about tucking into home-cooked food under the stars with friends and loved ones.
However, as any host will know, throwing the perfect garden party is no small feat. From catering and heating to decoration and music, planning an outdoor bash brings with it a myriad of party planning dilemmas.
Here are eight top tips on how to host a fun-filled garden party, according to Ahmed.
Consider your budget in advance
You'd never buy a house or even do a weekly shop without having a maximum budget in mind, and the same rules apply when planning a garden party. It's important to remember that budgets play a massive part in a host's flexibility when it comes to food, alcohol and decoration and so it's best not to deviate too far away from a fixed figure.
As for finances, Ahmed says the first thing to consider is how many guests you intend to invite to your party and factor in a potential "over-spill" of numbers in order to plan catering accordingly.
"The next thing you should think about is where you plan to host the party," he says. "For example, ask yourself whether you might need a back-up marquee. Champagne is expensive, especially if you buy it from a caterer, so perhaps you have some of your own drinks at home already that you can use up instead?"
While Ahmed says exceptional service can come at a price, he suggests investing in additional soft seating if you're working on a tight budget.
"Usually we hire soft seating if a client doesn't have enough comfortable seating, but a good option is to go for a picnic style party where everyone can sit on a beautiful mat without having to worry about chairs," he says.
Prepare more food than you think you'll need
Strike up a conversation about catering a party with a friend and they'll undoubtedly tell you that the rule "more is more" is always best.
For some, this may involve copious amounts of wood-fired pizzas, DIY burgers and a guacamole station. For others, it might be a three-course sit-down affair involving elaborate pomegranate-garnished salads, poached salmon, and miniature fruit trifles.
Regardless, it's important to consider food as a top priority after deciding on a location, according to Ahmed.
"Fresh and light ingredients are a must," he adds. "Avoid heavy carbohydrates and too much hot food if the party is in the summer. Alternatively, opt for salads and mini bowls to keep guests full and happy."
To cater for dietary requirements and allergies, Ahmed advises it's important to do your research and ask guests to inform you of theirs in advance of the party.
"Vegetarianism and veganism are the biggest dietary trends at the moment so ensure to cater properly for them," he says. "Nut, shellfish, and gluten-free allergies are also quite common so make sure you have something for everyone to eat.
"I suggest hiring a chef or caterer who will be able to advise appropriately but the hot food should be pre-cooked and finished once guests arrive. Cold foods can usually be prepared in advance but be careful of sushi as the timing needs to be just right to avoid it spoiling."
As any well-prepared Brit will know, it's important to have an umbrella packed with you at all times given the UK's mind-boggling change of weather at times. And while we'd like to envisage rays of sunshine beaming down over our garden parties, Ahmed says it's important to have a wet weather plan in place just in case disaster strikes.
"Never take a chance in British weather and always have some sort of cover where guests can shelter from potential rain," he says. "Cooking should always be done undercover, regardless, and alternative seating choices is a must."
As for planning how to move guests indoors or undercover, Ahmed suggests hiring a large marquee with open sides if your house isn't big enough to cater for large numbers.
Likewise, it's important to have a contingency plan in place for when night draws in and temperatures decline. While copious amounts of blankets and cashmere jumpers might suffice, Ahmed says that outdoor heating is a "very low cost" option to keep guests toasty.
If you've ever thrown a surprise leaving party or birthday shindig, you'll know all too well the importance of knowing the number of guests you imagine will turn up to an event.
After all, who hasn't hosted at a party and found themselves frantically running around the venue looking for a spare chair and plate for a friend's surprise plus one or a neighbour who conveniently fancied "popping round" unexpectedly?
In order to avoid this, Ahmed suggests sending out "Save The Date" cards two to three months prior to the event and an invitation six to eight weeks in advance of the party, depending on its size.
"If it's just a small and intimate gathering, then a WhatsApp message a few weeks before would suffice," he says.
As the majority of garden parties take place in the summer, the planner says it's vital to check friends and family's holiday plans far in advance.
"It might be worth speaking to the main guests to see if they will be around before you set the date," he says. "Otherwise, plan to host your party the last week of the summer holidays."
Use sustainable decorations
Bunting, fairy lights, and streamers might be your automatic go-to decorations for a party but when choosing the overall aesthetic for a garden bash, first consider the venue.
"The decoration all depends on your garden," explains Ahmed. "Balloons can be made to look very beautiful if they are designed tastefully and generally less is always more. However, on the subject of flowers, I would say more is always more."
"Exquisite floral installations in bold summery colours seem to be taking off at the moment in homage to some of the impressive displays you see at the Chelsea Flower Show. A couple of years ago you wouldn't have seen a cloud of peonies in somebody's garden but now it's all the rage."
Better yet, flower decorations are perfect for those with an eye for sustainability as they are green waste that can be kept for several days, recycled, and given out to guests after the party as party tokens. "They're a better option than balloons," says Ahmed.
"We built a dreamy Tuscan garden in London for a Sheikha's (a female member of a ruling Arab family) birthday with cypress trees, terracotta pots, pergolas and lots of lavender. It was the most stunning setting," he recalls of his own experience using floral decorations.
As for lighting, the planner advises hosts to opt for festoon lighting or large spheres dotted along walls, lawns, and hung above tables. "If you really want to impress, then a projection mapping show is the ultimate way to go," he suggests.
For those wanting to use eco-friendly alternatives, Ahmed suggests opting to use glass drink bottles, paper straws and call on the help of friend and relatives to see if you can borrow or hire props.
When it comes to tableware, the party expert advises against separating the festivity into sections, for example a dining or dancing area. "If you do, you'll be dividing the guests and the atmosphere won't be the same."
Choose music you know your guests will like
When it comes to choosing the music for the evening, we all know the handful of songs that will have us darting off the dance floor in embarrassment or grabbing the nearest friend for a boogie. Fortunately for party hosts, they'll know exactly the genre of music that will get their guests up on their feet.
"Think about what music you like and what your guests listen to," advises Ahmed. "If you go with tracks from the 1980s the whole night, then you'll definitely put some people off," he warns. "If you want to play it safe, go with a live band and a DJ to really mix it up for everyone."
When hosting a garden party, host should take care not to be inconsiderate to their neighbours. After all, very few people like to be woken up at 4am to the sound of Queen's "Bohemian Rhapsody" for the seventh time in a night.
"You should invite neighbours in an ideal world or send them a bottle of Champagne in the hope that they won't mind the noise," he says. "I'd say turn the music down from midnight and cut it off at 3am if you're not inviting the neighbours."
For some, the idea of a garden party might conjure up images of dated tea parties à la Hyacinth Bucket from Keeping Up Appearances or your grandmother's timeless yet inedible prawn cocktail from the 1970s.
In order to ensure your party is both classy and summery, Ahmed suggests prioritising the dress code.
"If there is a clash of any kind; it will backfire," he says, emphasising the importance of keeping everything "cohesive", from colour schemes to drink and food pairings.
"Summer chic, all-white, bold and beautiful are just some of the dress codes our clients opt for," he says.
"Elegant summer cocktails, Champagne and exquisite fine catering with subtle lighting and soft coloured decorations will keep a party looking classy and upmarket," he adds.
For those wanting a themed bash, the planner says to go with what your heart wants and what shows off your "personal taste and flair".
He says: "Choose a theme that is going to make you happy – if that's a midsummer night's dream theme then go for it, or if you want something more rustic then do it.
"What you absolutely must do though is do it properly and hire the right props and decor."
Give your guests a party favour
When the night draws in, the summer cocktails have been drunk dry and your guests begin to call their taxis, don't forget to give your loved ones a small parting gifts to thank them for their company, says Ahmed.
While traditional ideas of party bags are now passé, he suggests that hosts throwing extravagant garden parties should consider buying a small basket or hamper filled with luxury gifts to hand to guests at the end of the night.
For those throwing smaller affairs, he suggests "gifting handmade biscuits from the party or flowers" that are both inexpensive and memorable.
Help prevent hay fever symptoms
While spring brings warmer weather it also marks the start of the hay fever season. If you're one of the 18 million people affected in the UK, it makes sense to try to help prevent the symptoms of hay fever. A single dose of Pirinase Hayfever Relief For Adults 0.05% Nasal Spray in each nostril once a day could help relieve sneezing, a runny nose, nasal congestion, and itchy and watery eyes. Find out more here, or click here to buy online
For the relief of allergy symptoms. Pirinase Allergy 0.05% Nasal Spray contains fluticasone. Always read the label.
Trademarks are owned by or licensed to the GSK group of companies.
Register for free to continue reading
Registration is a free and easy way to support our truly independent journalism
By registering, you will also enjoy limited access to Premium articles, exclusive newsletters, commenting, and virtual events with our leading journalists
Already have an account? sign in
Register for free to continue reading
Registration is a free and easy way to support our truly independent journalism
By registering, you will also enjoy limited access to Premium articles, exclusive newsletters, commenting, and virtual events with our leading journalists
Already have an account? sign in
Join our new commenting forum
Join thought-provoking conversations, follow other Independent readers and see their replies