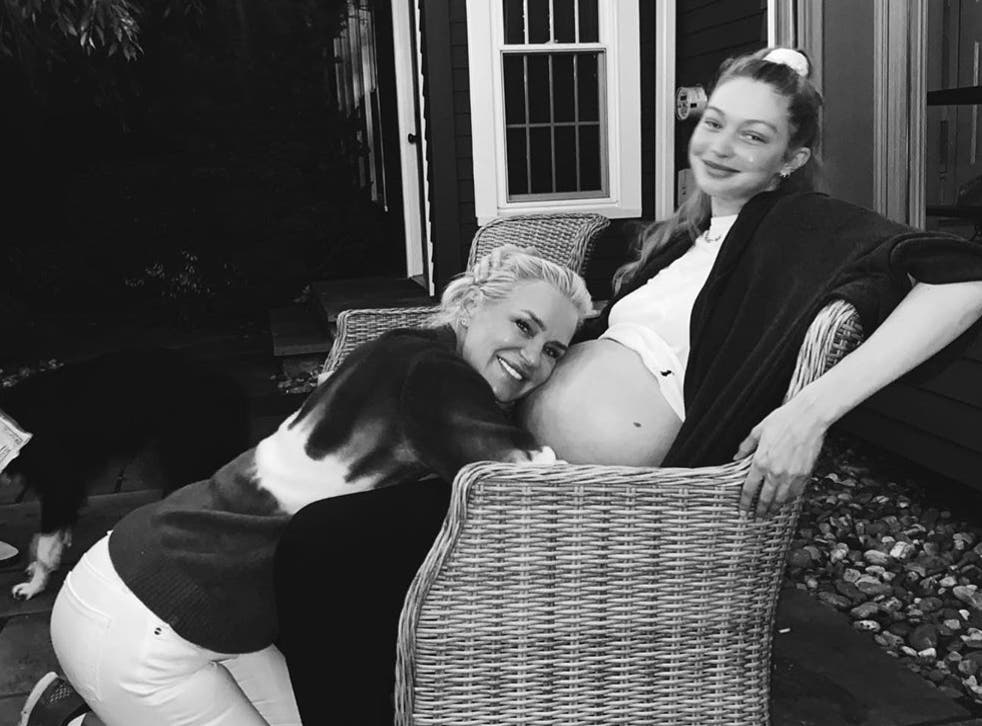 Gigi Hadid's mother says they are 'waiting patiently' for her baby
Mother-of-three shared photograph of herself resting on Gigi's belly
Leer en Español
Yolanda Hadid has shared a photograph of herself resting on the pregnant belly of her daughter, Gigi Hadid, revealing that her baby has not yet been born.
It had previously been reported that the 25-year-old might have already given birth after her father, Mohamed Hadid, shared a poem on Instagram to welcome his "little grandchild".
Mr Hadid subsequently denied that his daughter had indeed given birth.
Now, Gigi's mother has appeared to confirm that she has not yet delivered hers and Zayn Malik's baby.
On Friday, Yolanda shared two black and white photographs of herself with her daughter on Instagram.
In the first, she is pictured resting on Gigi's belly while the model reclines in an outdoor chair.
In the second picture, four hands can be seen resting on Gigi's belly.
Yolanda captioned the photo: "Waiting patiently for her angel to be born......"
The post has already garnered more than 367,000 likes and thousands of comments, including one from Formula One champion Lewis Hamilton, who commented with two heart emojis.
Yolanda's post comes after her other daughter, Bella Hadid, shared an Instagram post to celebrate Gigi's pregnancy.
The proud sister posted a photo of herself and Gigi side by side in the grounds of their family's Pennsylvania ranch, where both models have spent the summer.
Gigi was wearing a flowy dress that accentuated her bump while Bella exposed her bare belly, describing her own bump as "from my burger".
Her caption read: "Two buns in the oven except mine is from my burger and gigi's is from @zayn i love you both so freaking much -can'tstopcrying".
Join our new commenting forum
Join thought-provoking conversations, follow other Independent readers and see their replies