Give Greenpeace a chance: Art and activism join forces for Glastonbury's campaign for the future
Greenpeace unveiled its brilliant charity single at Glastonbury Festival weekend. Mark Beaumont speaks to the artists, activists and festival organisers campaigning to get the government to wake up and smell the climate crisis
Wednesday 28 June 2023 10:17 BST
Comments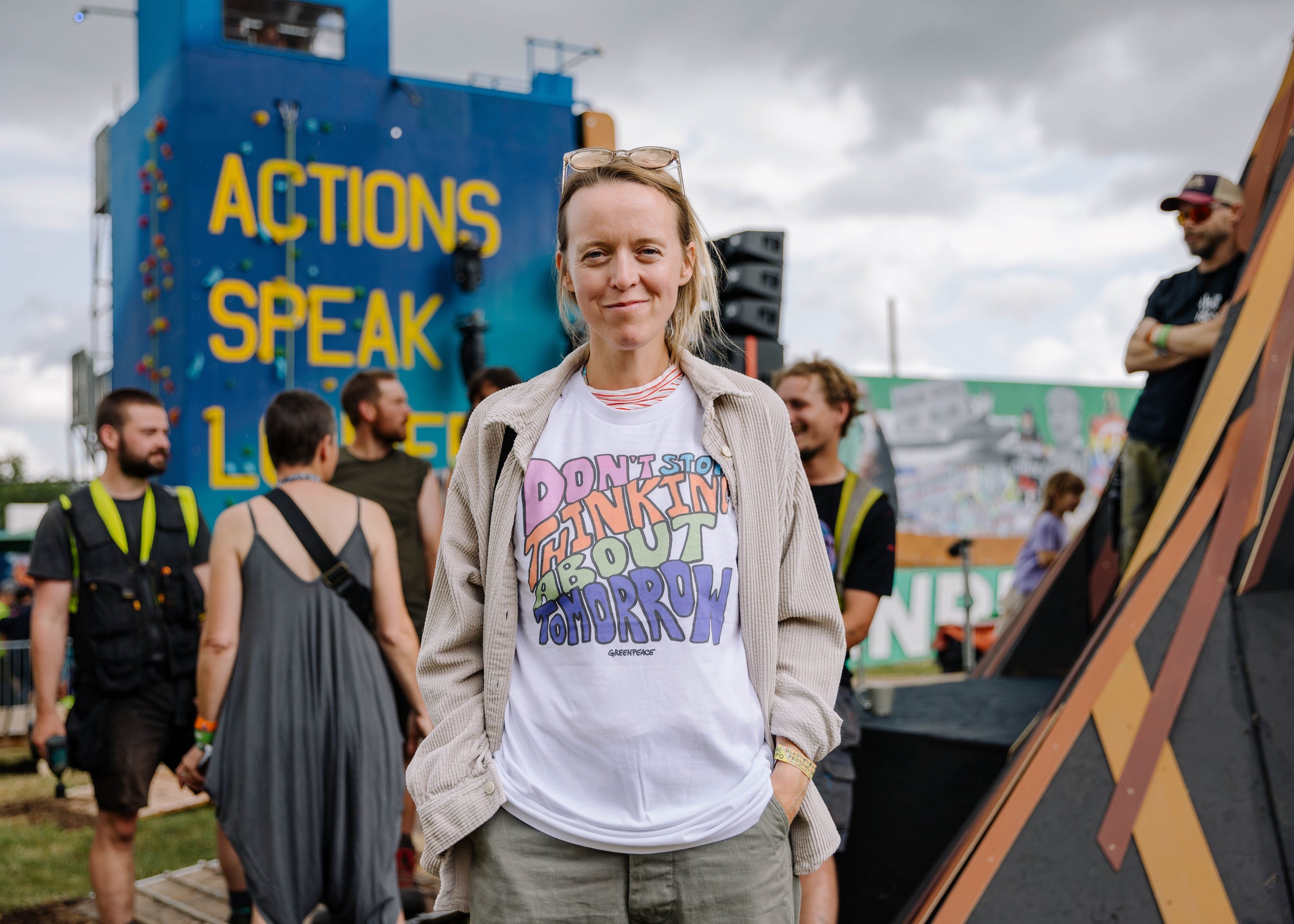 Canapes pile into cackling maws. Swigs from champagne bottles spill onto ballgowns. Revellers smear themselves in chocolate from the fountain. As a soul-grime cover of Fleetwood Mac's "Don't Stop" turns bombastic, a gold ticket society party reaches fever pitch. And all the while, the kitchen sinks are overflowing from the detritus, the ovens are on fire and the dancers rave on across flooded dancefloors.
Not Saturday night in Glastonbury's Hospitality Bar, but the video for Greenpeace's brilliant charity single version of "Don't Stop", which played out on screens across Worthy Farm all weekend. Performed by Future Utopia ft Avelino and Tomorrow's Warriors, directed by Samona Olanipekun, co-produced by Steve McQueen and released last week, it's a visually arresting and sonically cutting-edge piece that comes with a pointed and powerful moral. As rap horns crescendo ahead of a coda poem penned by Scroobius Pip, a caption tells us: "It's Not Too Late to Stop the Fossil Fuel Party".
"It captures the unease at seeing corporations, especially those of oil and gas, and their enablers do damage to the environment on our behalf," Olanipekun tells The Independent, "acting like there's no tomorrow and driving the climate crisis solely for their profit, but we have the collective power to realise a different future."
"It's a project long in the making," Greenpeace executive director Will McCallum says, backstage at the organisation's dedicated Glastonbury field, of their most contemporary and far-reaching campaign to date. "We were working with Fraser T Smith, who is the producer. He heard the song, decided he was into this project and then just worked like crazy to get other people on board."
The Greenpeace party, meanwhile, continued apace at Glastonbury 2023. From Power Ballad Yoga sessions at 10am – gathering early risers to strum therapeutic air guitars and perform spirit-cleansing high kicks to Tina Turner anthems – to the late-night largeness around the silk-leaved Rave Tree at the heart of the space, the Greenpeace Field has been a prime Glasto destination of recent years, particularly for the thrill-seekers prepared to take on its climbing wall and sheer-drop slide between tunes. It's something of a mystery box of entertainment: wandering by you might come across a mid-afternoon dance party, a group of Latvian pagans in flower crowns singing traditional solstice songs in disco style, or one of the best low-key sets of the weekend.
Previous years have seen Tim Burgess, Frank Turner and Billie Eilish's mother Maggie Baird perform or host events here, and 2023 was one of the biggest years ever for the stage. Even before Fatboy Slim's surprise Sunday afternoon set in the Rave Tree saw the roads closed around the field to stem the tide of revellers, Thursday night had seen Drag Race superstar Bimini Bon-Boulash draw the field's (previously) biggest-ever crowd for a flamboyant show during which she raised a placard reading "BIN THE TORIES' ANTI-TRANS BAN", in protest of proposed changes to the legal definition of sex.
"Somebody who has transitioned, or someone who is trans wouldn't be able to access the spaces that they needed to," she tells me ahead of her set. "So that puts them in even more of a vulnerable position. Right now, there's a lot of hysteria happening around trans people. It's similar to what I learnt about what happened with Thatcher and Section 28, and also before that when all gay men were seen as predators and sexual deviants. It just feels like history's repeating itself."
Part of the problem, she argues, is the press microscope on the issue. "It's the classic 'man bites dog'. So many things happen day to day, but if one thing happens with a trans person it's sensationalised. It doesn't happen very much, but they use them as ways to fearmonger and create more panic. I want to bring an element of that into my performance because it feels like it's getting worse and I have friends that don't feel safe."
Protests like Bimini's suited the theme of the Greenpeace Field in 2023: that all activism is becoming increasingly interrelated. "You can't separate issues in the way that we used to," McCallum explains. "We're coming to see that in the same way we don't live single-issue lives, you can't have single-issue organisations so much. The environment is touching every element of our life and every single bit of politics is interconnected with the environment."
Bimini already joins the dots. A vegan since 2016, she's recently been working with designers specialising in upcycling second-hand clothes for her stagewear. "There's so much waste when it comes to clothes," she says, "and it's fun to make something else new, make it fresh. You can see the trend is happening a lot more. There was a bit of a bit of snobbery almost about second-hand clothing. People look down on it less now."
Arriving in the lounge area behind the Sun Stage on Saturday afternoon for one of the six small-stage shows he's playing on The Lottery Winners' "victory lap of Glastonbury" to celebrate their recent No 1 album, singer Thom Rylance provided further evidence that musicians across the board are thinking greener today.
"All our merch is from recycled things and we've got rid of the plastic CD covers, it's all card," he says. "I'm hoping that all these small changes that people can make will affect it on a bigger scale. If enough people make small changes then you can make a big impact."
The year's major campaigning issue is against deep sea mining, which seeks to mine rare earth minerals such as cobalt from the ocean bed, disturbing unknown numbers of undiscovered sea species and the earth's largest carbon stores: "touching it at this particularly critical moment feels like complete and utter madness," McCallum argues. At the same time, he does see some positive climate action happening.
"Biden's inflation reduction act really kick-started a massive green push globally and we've seen the EU desperately trying to catch up with its own equivalent and the Labour Party come out with their £28bn-per-year spend on climate, which per capita is actually higher than Biden's. But what we haven't seen is our current government even seeming to pay any attention to the fact that not only are they not going to fulfil their own net zero commitments but [they are] also missing out on this enormous global opportunity."
Indeed, what makes McCallum most hopeful for the future of the planet is that green technologies have now become the cheapest and most successful forms of energy production, capable of being deployed at the necessary scale.
"We now know beyond doubt that we can power our world using green technology," he says. "I started working on climate at Greenpeace 11 years ago and we were talking about these solutions with a little bit of hope that maybe the modelling would come through and necessity is the mother of invention and we'd all be fine. We are at that point now. Now it really is just political will and transferring the cash, getting subsidies out of fossil fuels and sticking them in renewables."
Time for the fossil fuel party to wind down, then, and the Greenpeace aftershow to kick off in earnest. Thank heaven someone will never stop thinking about tomorrow.
Join our commenting forum
Join thought-provoking conversations, follow other Independent readers and see their replies