Harry Styles debuts new 70s-style moustache during trip to Italy
'Can you believe Harry styles just invented the moustache,' fan tweets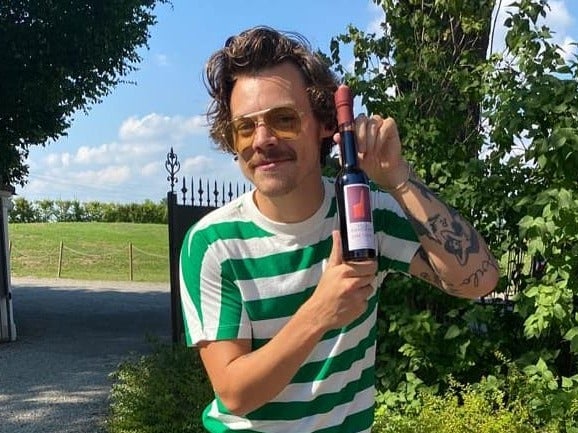 Harry Styles has debuted a new facial hair look while away in Italy, showing off a full 1970s-styles moustache.
Ever since establishing himself as a solo singer following One Direction's 2016 hiatus, Styles has become well known for his bold sartorial styles, in addition to his impressive vocals.
In 2019, the musician made his mark at the Met Gala wearing a "Camp"-inspired ensemble by Gucci complete with sheer sleeves and a sole pearl earring, going on to star in a fashion campaign for the luxury label later that month.
Not letting lockdown dampen his style, the 26-year-old revealed his new retro look during a recent visit to chef Massimo Bottura in Italy.
In a photograph shared on the Instagram account for the chef's olive oil range, Styles showed off his moustache while sporting a pair of baggy jeans, a green and white T-shirt and a pair of tinted Aviator sunglasses.
The singer was also captured posing with Bottura while holding the chef's book Bread Is Gold.
As soon as the pictures of Styles were posted online, fans of the singer immediately began sharing their views on his new facial hair.
"Harry Styles with a moustache is a GIFT TO THIS DAMN WORLD I will not be taking further arguments," one person said.
"Can you believe Harry Styles just invented the moustache," another commented.
Some Twitter users compared Styles' overall look to Freddie Mercury, sharing side-by-side photographs of the two singers with similar facial hair and both wearing striped shirts.
Meanwhile, several fans replied to a tweet Styles posted nine years ago, in which he expressed his desire to grow a "Mario moustache".
"I've decided that i want a moustache...But not like a cool guy moustache... I mean like a Mario moustache," the then-17-year-old tweeted.
Despite the widespread appreciation for Styles' new look, not all of the singer's fans are fond of his tash.
"I love you but shave the moustache for the love of god," one person tweeted, while another said the facial hair reminded them of their father.
Join our commenting forum
Join thought-provoking conversations, follow other Independent readers and see their replies