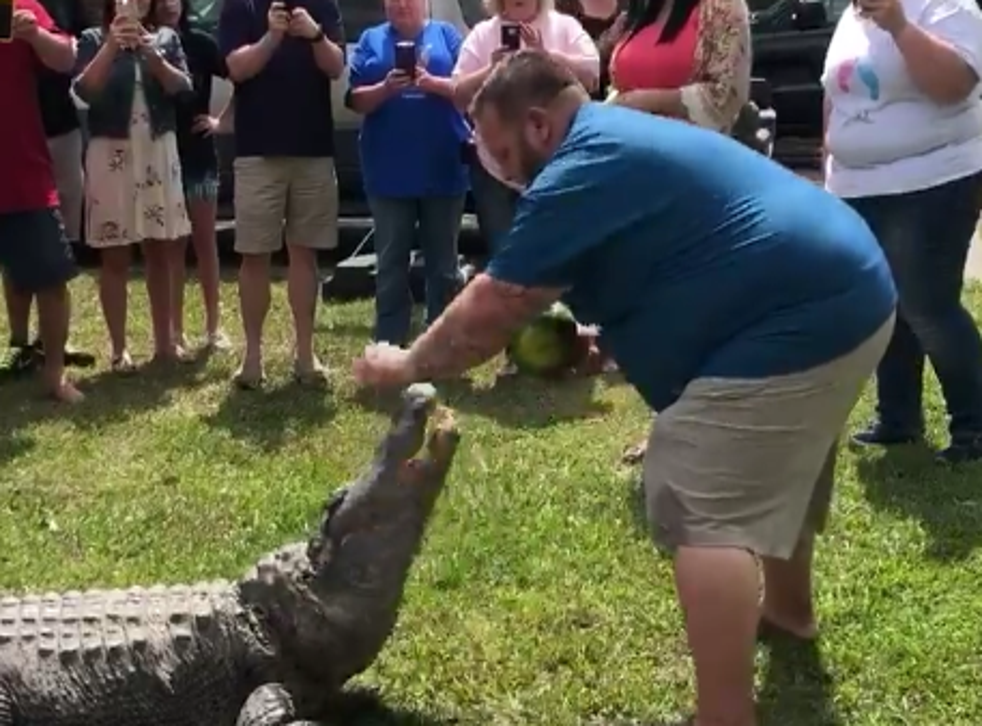 Louisiana couple uses live 10-foot alligator for gender reveal party
The 61-year-old alligator is partially blind 
Chelsea Ritschel
Wednesday 28 March 2018 15:14 Comments
When Mike Kliebert and Rebecca Miller decided to have a gender reveal party, they wanted to include a very special part of their family - and they did, 61-year-old alligator Sally.
The couple, who lives in Ponchatoula, Louisiana, and runs Kliebert Gator Tours, spend a lot of time with the prehistoric-looking creatures as they own 400 of them on their 23-acre farm.
So when it came time to reveal the gender of their unborn child, Mike, or T-Mike, the Gator King, and Rebecca felt it was only appropriate to include a 10-foot-long (3m) alligator - which announced the gender of the couple's new baby boy by biting into a watermelon filled with blue slime.
Of the choice to use the partially-blind elder alligator, Mike told CountryLiving.com: "We wanted to incorporate the alligators, who are like family, into this big moment in our lives. I wouldn't have had any other gator do the reveal. My grandpa hatched her in 1957."
In the video of the reveal, which has since gone viral, a heavily-pregnant Rebecca stands alongside other family members and friends and watches on as Mike goads Sally into opening her jaws before placing the melon in her mouth.
The end of the video shows Mike's 9-year-old son Blaize, who Mike referred to as a "little Steve Irwin," playing near Sally in the grass, and who Mike described on Facebook as knowing "more about alligators than what anyone could ever imagine."
While the old gator does seem slow-moving, she was not sedated - and some people are questioning just how safe the stunt was for both Rebecca and alligator Sally.
And Peta agrees. According to the animal safety organisation, the reveal was "exploitative."
Peta vice president and deputy counsel, Delcianna Winders, told CountryLiving.com in an exclusive statement: "Our response is that alligators are shy, sensitive animals who suffer tremendously when they are exploited like this for entertainment. We absolutely discourage anyone from using alligators in this way."
According to Peta, the Kliebert family has a history of animal welfare violations but Mike denies any wrongdoing when it comes to the gators. He said: "Everything we do is Louisiana-regulated and we follow the rules."
On Facebook, Mike elaborated on his stance and stood behind the reveal, stating: "We are a world leader in the gator industry" and he "respects animals and understand alligators because it is my livelihood."
Register for free to continue reading
Registration is a free and easy way to support our truly independent journalism
By registering, you will also enjoy limited access to Premium articles, exclusive newsletters, commenting, and virtual events with our leading journalists
Already have an account? sign in
Join our new commenting forum
Join thought-provoking conversations, follow other Independent readers and see their replies