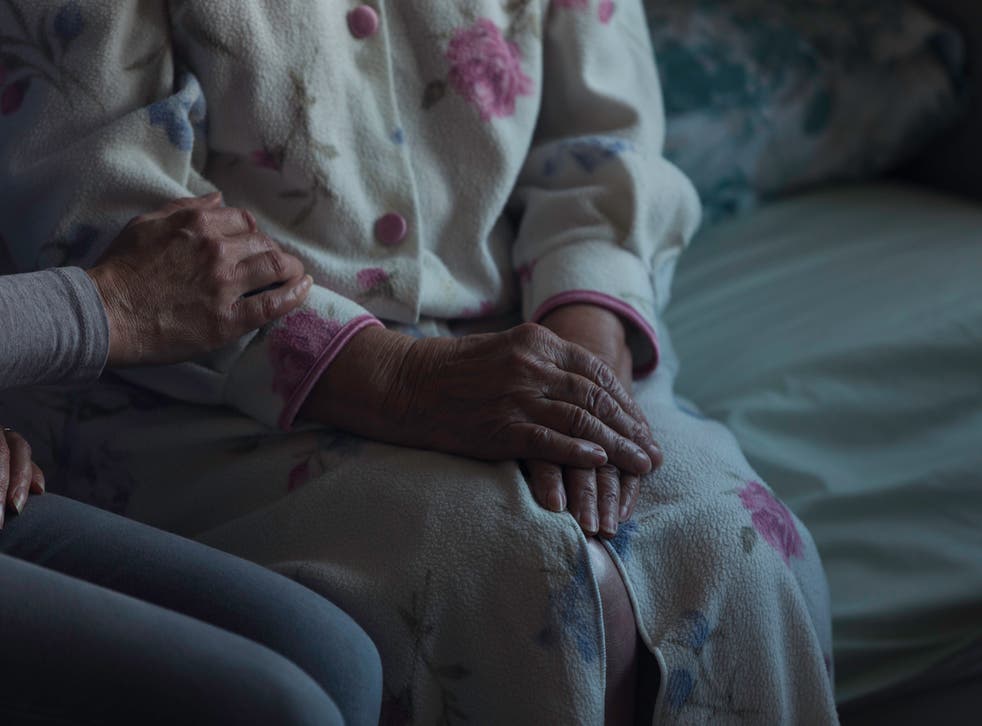 How I learnt to love my mother amid the hardship of Alzheimer's
She nearly destroyed me when I was young, but my affection for her increased as the woman she once was diminished
I am scratching my mother's head. Her hair is quite thin now, and I no longer bother to make an appointment in the nursing home's "salon" for a cut. It is just another trauma to her, as is taking a shower. When the aides give her a shower, I can hear her screaming all the way down the hall, shrieking like a feral cat.
I am scratching the head of the woman who more than once told me she would cut off my arm and beat me with the bloody stump when, as a child, I angered her about something. Now she leans back into my hand like the cat she has become, almost purring, after the horror of the shower and the indignity of being dressed and put into her wheelchair for the day. Most days she just gets a sponge bath, which elicits protests, often biting, and always my mother finding the most tender spot on a caregiver's upper arm and pinching it hard.
At lunch, I pull apart small pieces of a peanut butter sandwich, and my mother lets me feed it to her. With her terrible teeth, which used to be gorgeous and white, she rolls the tiny morsel of food around in her mouth until it seems to be gone. Sometimes when I offer another bite, she shakes her head. Sometimes she opens her mouth. Then we have cake. She likes cake.
Later I stroke the inside of her arm, the smooth, soft part that seems to be connected directly to the brain. She closes her eyes, and I sit in a chair next to her wheelchair, whose wheels I have locked down so she cannot roll away, and I stroke her arm. Once upon a time when things were good, I would sit down next to my mother and hold out my arm, inside part up, and she would almost unconsciously stroke it. She did this when I had my first panic attack at 15. Now, when I am anxious on an airplane or cannot sleep, my husband tickles me gently there, and my breathing slows, my heart quiets.
I am stroking the arm of the woman who yelled at me in the streets of Boston that no one should have a daughter as awful as me. Rubbing the head of the woman who looked at one of my short stories and said, matter-of-factly, "You might have to admit that this is as good as you will ever get." I was 22.
Every four months, I fly a thousand miles to visit my mother. I sit with her for hours a day for nearly a week, and then I fly back home. These visits are tortuous but necessary. Because in the past dozen years, my love for her has escalated with each visit, as the woman she once was has de-escalated. At each de-escalation, my family and I have prepared for the end. But her body, tiny and frail as it is, is stronger than any of us.
World news in pictures

Show all 50
I should have known that ultimately her strength would be both a blessing and a curse. This final de-escalation, this profound helplessness, this agony of watching the endless end, is what helps me finally really, unconditionally, love her.
I sit for hours with my mother, mostly in silence, in a cocoon amid the noise of the television, nurses, aides; the hustling and bustling. It takes half an hour to get all the residents to the dining room, a good hour for them to eat. That takes up part of the time I visit. I am glad of it. I tell her I love her several times a day. She doesn't really look at me. She has no idea who I am and hasn't since the illness and trauma that made the move from the lockdown Alzheimer's unit at her assisted care facility to this nursing home necessary. This is not just a care home, it is the homestretch. It's an endless loop of instant replay.
I sit with the woman who told me that if I thought she wasn't a good mother she would kill herself. The woman who threatened her own death so many, many times, but when diagnosed with a long, tortuous death gave into the disease with a weary shrug, as if she had no choice.
A dozen years ago, had I been told I would be scratching the head of, tickling the arm of, sitting with, holding and loving my mother like this, I would have laughed. I avoided contact with her then as much as I could. I refused to see her deterioration, assumed it was the alcohol, the bipolar disorder, the sheer self-absorption she threw across her shoulders like a shawl that was responsible for incoherent late-night calls, a refrigerator without food, her refusal to leave the house for fear of getting lost. I didn't want to know. I didn't want to imagine. Even when I knew, I didn't want to know.
After her shower, she slept for the rest of the day, refusing to open her eyes even when put in her wheelchair, even when wheeled to lunch. She drank her Ensure like a blind woman. And then she slept. The pain and horror of the shower had worn her out. But she felt my hands on her.
I sat with a woman who nearly destroyed me. Who told her therapist for 30 years that her children were essentially evil and patently ungrateful.
On the last day of my most recent visit, I tell my mother, "I have to leave now, but I will see you soon." I talk to her as I do my cat, as if she understands. She opens her eyes and there is a sudden look of panic in them and she says, "Please don't."
I am so stunned by her words, by words at all, that I tell her I will stay a while longer and I do, sitting silently beside her. I hold her hand. She grips mine hard. I sit for another half-hour and then I lean in and kiss her forehead and I tell her, as I have countless dozen times before, "I love you, Mum." And this time, this time, the woman who hasn't spoken a sentence that makes any sense in almost two years, looks me straight in the eye and says, "I love you, too."
© New York Times
Register for free to continue reading
Registration is a free and easy way to support our truly independent journalism
By registering, you will also enjoy limited access to Premium articles, exclusive newsletters, commenting, and virtual events with our leading journalists
Already have an account? sign in
Register for free to continue reading
Registration is a free and easy way to support our truly independent journalism
By registering, you will also enjoy limited access to Premium articles, exclusive newsletters, commenting, and virtual events with our leading journalists
Already have an account? sign in
Join our new commenting forum
Join thought-provoking conversations, follow other Independent readers and see their replies