The Independent's journalism is supported by our readers. When you purchase through links on our site, we may earn commission.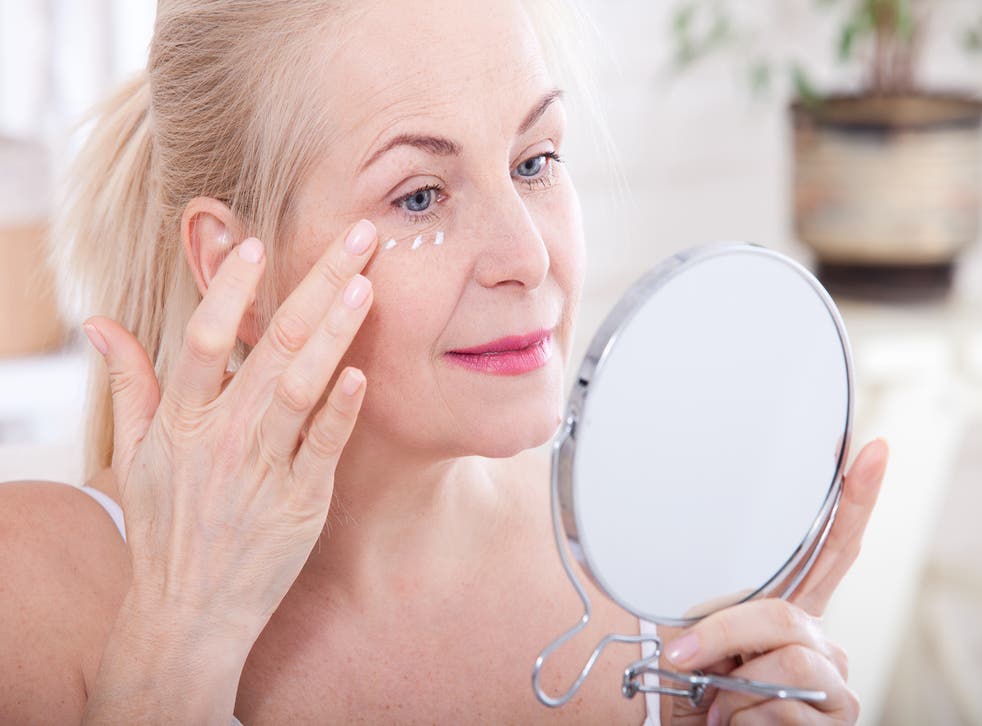 Term 'anti-ageing' should be banned from beauty and cosmetics industry, report says
Ageing is a natural process and not something to be ashamed of, the report states
A report published today has called for the term "anti-ageing" to be banned across the beauty and cosmetics industry.
The statement, which has been released by the Royal Society for Public Health in partnership with the Calouste Gulbenkian Foundation, states that the frequent use of the phrase paints the "ageing process" in a negative light, as it insinuates that growing older is something to be ashamed of.
According to research conducted by the RSPH, almost half of women and a quarter of men feel an immense pressure to maintain a youthful appearance.
"We have seen just how valuable a positive and optimistic outlook on ageing can be to personal health and wellbeing, and yet many everyday conversations, informed by the media, are rife with examples of language that either trivialise, vilify, or catastrophise the ageing process," the report reads.
"Chief among these is the persistent use of the term 'anti-ageing' within the cosmetics and beauty industry."
It also stressed the fact that women often feel more pressurised to reduce visible signs of ageing than men, which ultimately influences the way women look after their overall wellbeing.
Shirley Cramer CBA, chief executive of the RSPH, spoke about the detrimental impact that ageist views can have on society as a whole, such as the frequent use of the term "anti-ageing" on cosmetic products.
Natural makeup and skincare

Show all 13
"Too often ageist behaviour and language is trivialised, overlooked, or even served up as the punchline to a joke - something we would rightly not tolerate with other forms of prejudice," she said.
"Our report shows that ageist attitudes abound in society and have a major impact on the public's health, and yet they are rarely treated with the seriousness they deserve."
The RSPH called out specific companies to remove the term of "anti-ageing" from their lexicon, requesting that Boots and Superdrug follow in the footsteps of Allure magazine by doing so.
The report described the implication that people should try to reverse visible signs of aging as "nonsensical" and "dangerous", as ageing is simply a natural process in life.
In August 2017, Allure magazine announced that it would stop using the term "anti-ageing" so that it could stop "reinforcing the message that ageing is a condition we need to battle."
When Helen Mirren was approached by L'Oréal to work with the brand on a skincare campaign, she expressed the same point of view.
"I said, 'This word 'anti-ageing' - we know we're getting older. You just want to look and feel as great as you can on a daily basis," she said.
Register for free to continue reading
Registration is a free and easy way to support our truly independent journalism
By registering, you will also enjoy limited access to Premium articles, exclusive newsletters, commenting, and virtual events with our leading journalists
Already have an account? sign in
Register for free to continue reading
Registration is a free and easy way to support our truly independent journalism
By registering, you will also enjoy limited access to Premium articles, exclusive newsletters, commenting, and virtual events with our leading journalists
Already have an account? sign in
Join our new commenting forum
Join thought-provoking conversations, follow other Independent readers and see their replies