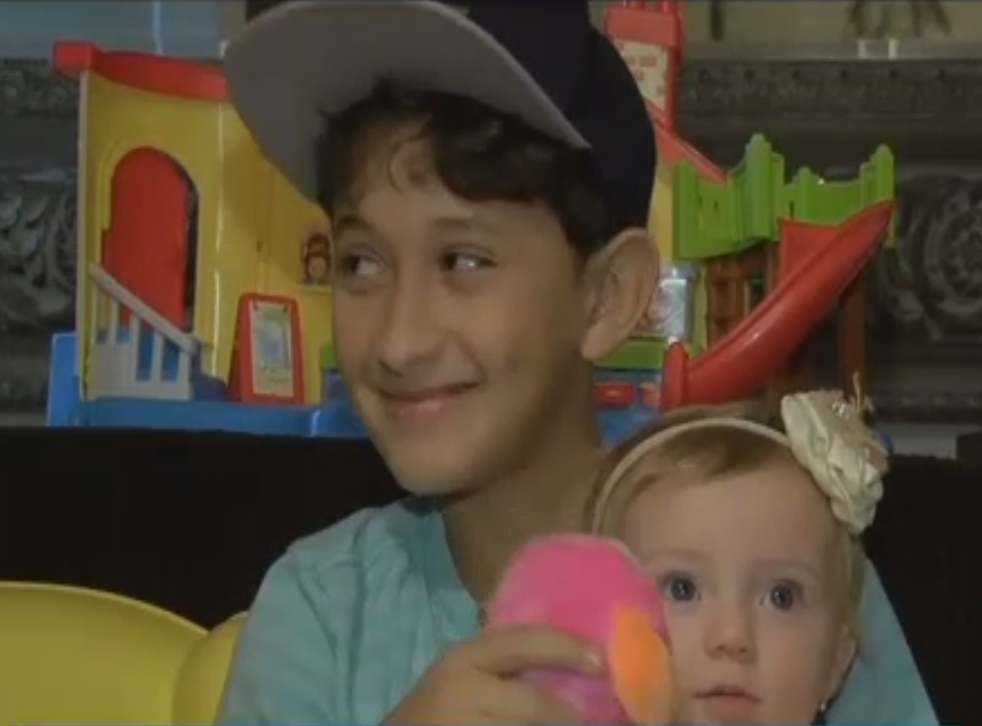 Young boy delivers baby brother as his mother goes into labour early
He saved the lives of both his mother and the baby
Rachel Hosie
Wednesday 23 August 2017 08:41 Comments
A 10-year-old boy has become a hero for delivering his baby brother after his mother went into labour at 34 weeks.
Ashly Moreau, from Sulphur, Louisiana, USA, woke up and went to the toilet after her fiancé had gone to work on Friday morning last week, but she suddenly found her water had broken and her baby's feet were coming out.
The mother was home alone with her 11-month old daughter and 10-year-old son, Jayden Fontenot.
Six weeks earlier than she was due, all Moreau could do was call for her Jayden, who ran to the bathroom to see his mother bleeding and his new sibling's feet - he was a breech baby.
"It was the scariest thing I've ever been through in my life," Moreau told KPLC.
Jayden decided to run to his grandmother's house for help - she called the police, but having recently had surgery couldn't get to Moreau herself. So Jayden went back to his mother.
He took a deep breath and said, "OK, Mom. Just tell me what I need to do, and I'm going to do it."
According to Moreau, he didn't even look scared, but rather calm and brave.
"I wasn't even thinking," Jayden said. He pulled the baby's legs while his mother pushed, and after a few minutes the newborn boy was out.
But he wasn't breathing.
So Jayden got a nasal aspirator from the kitchen to help clear his baby brother's airways. Fortunately an ambulance arrived a few minutes later.
"I'm so proud of him," Moreau said. "He is brave, he is strong, he is my hero."
Doctors said that Jayden saved the lives of both his mother and the newborn, Daxx, who has now been released from hospital and is expected to make a full recovery.
All thanks to Jayden.
Register for free to continue reading
Registration is a free and easy way to support our truly independent journalism
By registering, you will also enjoy limited access to Premium articles, exclusive newsletters, commenting, and virtual events with our leading journalists
Already have an account? sign in
Join our new commenting forum
Join thought-provoking conversations, follow other Independent readers and see their replies