Do breast implants cause cancer and why has the FDA recalled some implants?
FDA recalls specific breast implants with links to rare form of cancer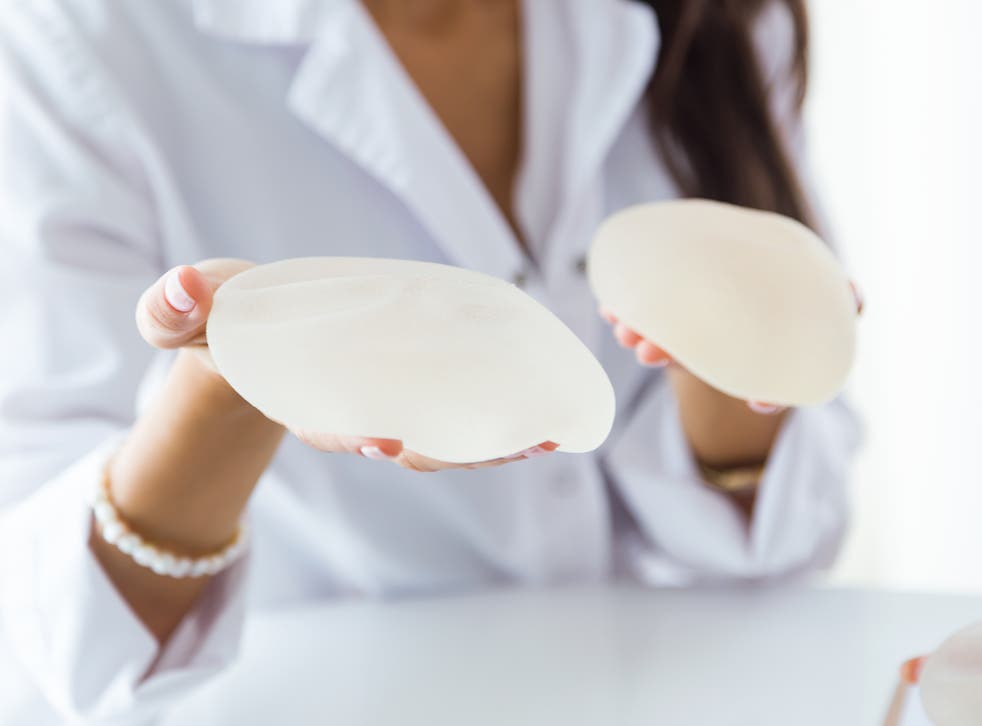 On Wednesday 24 July, the US Food and Drug Administration (FDA) issued a recall of certain breast implants connected with an increased risk of BIA-ALCL (breast implant associated anaplastic large cell lymphoma), a rare form of cancer.
While most who undergo breast implant surgery – whether it be for cosmetic or reconstructive reasons – may not experience any long-term side effects, the supposed affiliation between breast implants and a rare form of cancer has been investigated increasingly as of late.
Here's everything you need to know about breast implants and the risks associated with them.
When were breast implants invented?
The first silicone breast prosthesis was created in 1961 by American plastic surgeons Thomas Cronin and Frank Gerow, with silicone company the Dow Corning Corporation.
The first saline breast implant – a silicone shell which contains a saline solution – was manufactured in France in the early 1960s.
Health news in pictures

Show all 40
However, the first breast implant surgery occurred in 1895 at the University of Heidelberg in Germany, when a doctor implanted fat from a female patient's hip into her breasts as part of reconstructive surgery.
When were the risks associated with breast implants first investigated?
Despite silicone breast implants having been developed in the 1960s, it wasn't until the late 1980s when the FDA stated that all breast implants must be placed in the Class III category for medical devices.
Class III devices are described as including products that are innovative, medical breakthrough, new technology devices, and devices with poorly established or questionable safety and effectiveness.
In 1989, an unpublished study outlined that polyurethane foam, a material used on the coating of some silicone breast implants, released the chemical 2-toluene diamine when degraded.
This chemical had been known to cause cancer in animals when in high temperature and high pH conditions.
Not long after these findings were released, the manufacturer of the breast implants coated in polyurethane foam stopped selling them.
What are the current risks associated with breast implants?
The NHS states that the most common side effects that follow breast implant surgery are temporary pain, swelling, bruising and a tight feeling in the chest for a few weeks.
However, more serious side effects associated with breast implants, most notably the risk of cancer, have been explored for years.
Earlier this year, it was reported that nine women had died from a rare form of blood cancer called anaplastic large cell lymphoma (ALCL), which has known associations with breast implants.
This association was outlined in a report released by the FDA in 2011, which states: "Women with breast implants may have a very small but increased likelihood of being diagnosed with anaplastic large cell lymphoma."
The cancer, which affects the immune system, is not a form of breast cancer, but was found around breast implants.
In March, it was reported that a group of 200 women who have been diagnosed with ALCL were considering taking legal action against pharmaceutical company Allergan.
According to the British Association of Plastic Reconstructive and Aesthetic Surgeons (BAPRAS), there were 14 cases of the cancer in the UK between 2011 and 2016.
In 2011, it was reported that around 47,000 British women had been given defective breast implants manufactured by French company Poly Implant Prothese (PIP).
It's believed nearly 500 of the women with PIP implants suffered a rupture, while those whose implants remained intact were warned to have them removed.
In 2013, it was announced that up to 400,000 women around the world might receive compensation as a result of the scandal.
The NHS states that PIP implants, made from unapproved silicone gel, are two to six times more likely to rupture than standard silicone implants.
While the implants haven't been proven to cause any long-term health effects, a rupture may lead to a change in shape of the breast, a burning sensation and enlarged lymph nodes in the armpit.
What breast implants has the FDA recalled?
On Wednesday, the FDA announced that it had asked for a voluntary recall of certain breast implants manufactured by pharmaceutical company Allergan.
The FDA stated that the breast implants in question, which were of a specific texture, were being recalled due to "the risk of BIA-ALCL".
"Although the overall incidence of BIA-ALCL appears to be relatively low, once the evidence indicated that a specific manufacturer's product appeared to be directly linked to significant patient harm, including death, the FDA took action to alert the firm to new evidence indicated a recall is warranted to protect women's health," said Amy Abernethy, principal deputy commissioner of the FDA.
Following the FDA's request, Allergan informed the agency that it was issuing a worldwide recall of their Biocell textured breast implant products.
These include Allergan's Natrelle Silicone-Filled breast implants, Natrelle Inspira Silicone-Filled breast implants and its Natrelle 410 Highly Cohesive Anatomically Shaped Silicone-Filled breast implants.
The FDA announced the recall following a worldwide analysis of 573 BIA-ALCL cases, which included 33 patient deaths.
Of the 573 BIA-ALCL cases assessed, 481 of the patients were reported to have had Allergan breast implants at the time of their diagnoses.
In addition to the recall, the FDA issued a safety alert for individuals with Allergan breast implants.
The agency clarified that patients are not recommended to have their implants removed if they're not exhibiting any symptoms of BIA-ALCL.
Symptoms of BIA-ALCL can included persistent pain or swelling close to the breast implant, and any other noticeable visible changes in the region.
Support free-thinking journalism and attend Independent events
In March, the FDA announced it had issued letters of warning to two breast implant manufacturers for failing to assess the safety of their silicone breast implants efficiently.
The warnings were sent to Mentor Worldwide LLC in Irvine, California, and Sientra, Inc. in Santa Barbara, California.
"Post-approval requirements are critical to ensuring the safety and effectiveness of the medical products we regulate and we'll continue to hold manufacturers accountable when they fail to fulfil these obligations," said Scott Gottlieb, FDA commissioner.
"We're issuing these warning letters based on the manufacturers' low recruitment, poor data, and low follow-up rates in their required post-approval studies."
For more information on cancer, you can visit the National Cancer Institute, or Cancer Research UK. You can also find more information on BIA-ALCL here.
Register for free to continue reading
Registration is a free and easy way to support our truly independent journalism
By registering, you will also enjoy limited access to Premium articles, exclusive newsletters, commenting, and virtual events with our leading journalists
Already have an account? sign in
Register for free to continue reading
Registration is a free and easy way to support our truly independent journalism
By registering, you will also enjoy limited access to Premium articles, exclusive newsletters, commenting, and virtual events with our leading journalists
Already have an account? sign in
Join our new commenting forum
Join thought-provoking conversations, follow other Independent readers and see their replies