The Independent's journalism is supported by our readers. When you purchase through links on our site, we may earn commission.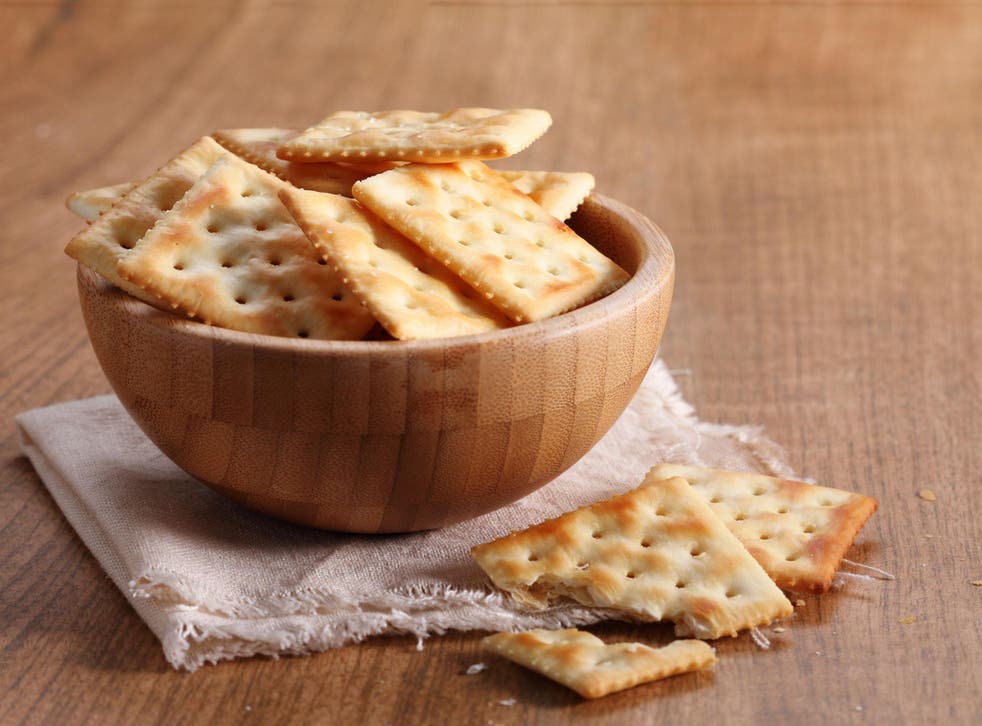 How eating a cracker can tell you how many carbs you should eat
The secret lies in an enzyme that breaks down carbohydrates in your body, according to an expert 
Kashmira Gander
Monday 24 October 2016 10:35 Comments
Fad diets would have you believe that carbohydrates are the enemy when trying to maintain a healthy weight, but a cracker could hold the key to how much of the food group you can eat, according to a geneticist.
Each person's body breaks down food slightly differently which explains why one's person's healthy lifestyle may wreak havoc on the body of another, according to Dr Sharon Moalem, a physician and neurogeneticist.
In his new book The DNA Restart, Dr Moalem explains how to tailor your diet according to your individual genetic makeup – including how to use a cracker to calculate how your digestive system processes carbs.
Individuals fall into three Carb Consumption Categories: full, moderate or restricted consumption, he told Mail Online.
To carry out the test, use a plain unsalted cracker, or a 10p-sized piece of raw peeled potato if you are gluten intolerant. Break off a piece of cracker - ensuring it is coated in saliva - and begin a timer as you chew. Note down the time that the cracker begins to taste sweet rather than bland. If you chew for 30 seconds and the flavour doesn't change, note this down instead.
Complete the test twice more, add up the times and divide the figure by three to find the average.
Those who taste sweetness between 0 to 14 seconds fall under "full" category, and are advised to eat 250g of carbs a day based on the recommended 2,000 calorie intake. A score between 15 to 30 seconds indicates a "moderate", and a maxiumum daily intake of 175g. Those who lasted 30 seconds are "restricted" and can have 125g.
Food trends in 2016

Show all 11
Dr Moalem's book is based on the idea that the genes we inherit from our parents determine our optimal diet. In some people, the enzyme amylase – created in the pancreas and saliva glands to digest carbohydrates – is more effective than others. People whose ancestors ate more starch, such as cereal grains, may have more copies of the AMY1 gene that those who ate more meat, and will be able to break down carbohydrates more easily.
Overall, the diet of the average person should be no more than 30 per cent carbs, he added.
Dr Moalem's theory goes against recommendations from diets including the Atkins, Dukan and South Beach to cut carbs. The NHS also warns that doing so can be harmful.
Dietitian Sian Porter told the NHS Choices website: "Carbohydrates are such a broad category and people need to know that not all carbs are the same and it is the type and quantity of carbohydrate in our diet that is important.
"While we should reduce the amount of sugar in our diet, we should base our meals on starchy carbs. There is strong evidence that fibre, found in wholegrain versions of starchy carbs for example, is good for our health."
The DNA Restart: Unlock Your Personal Genetic Code to Eat for You Genes, Lose Weight, and Reverse Agine is out now.
Register for free to continue reading
Registration is a free and easy way to support our truly independent journalism
By registering, you will also enjoy limited access to Premium articles, exclusive newsletters, commenting, and virtual events with our leading journalists
Already have an account? sign in
Join our new commenting forum
Join thought-provoking conversations, follow other Independent readers and see their replies