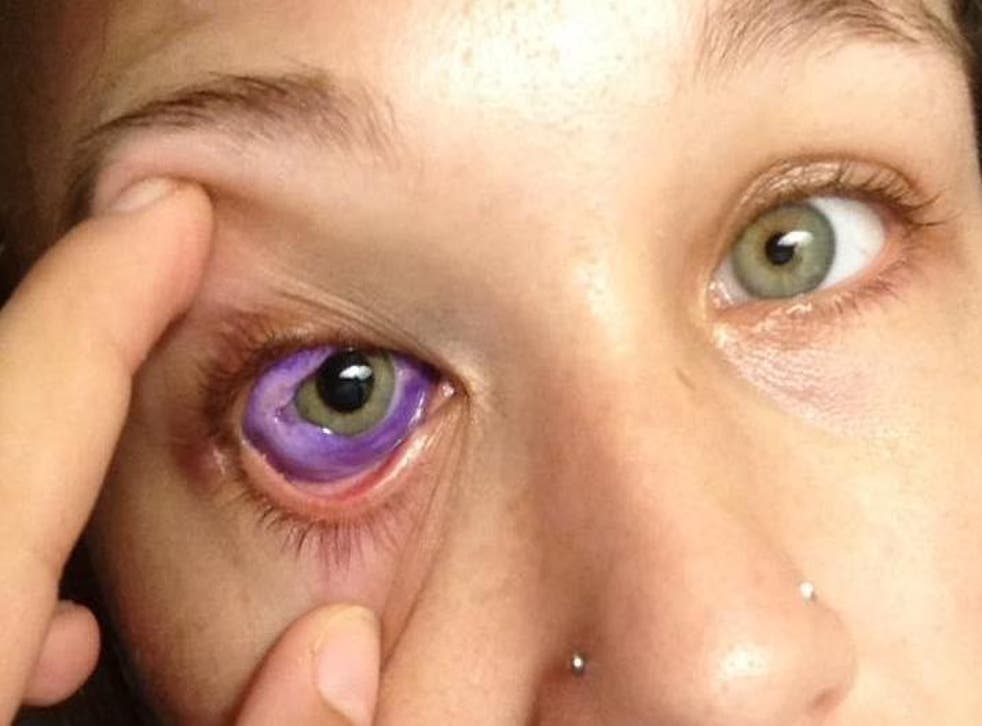 Eye tattoo leaves 24-year-old model partially blind
'I'm this close to suicidal'
A Canadian model has been left partially blinded after a botched eye tattoo; an experience which has left her considering taking her own life.
24-year-old Catt Gallinger had requested a scelera tattoo that would tint the whites of her eyes.
However, purple liquid began seeping from her eye during the treatment and it became clear that something had gone terribly wrong.
Gallinger has taken to Facebook to share the shocking results of her treatment, which she has now labelled a "massive mistake," The Sun reports.
The former pet nutritionist is now unable to see fully out of her left eye, four weeks after the procedure took place.
Upon noticing the purple liquid oozing from her right eye, Gallinger was rushed to hospital where she was administered antibiotic eye drops.
However, the drops had a reverse effect, leaving her with a grossly swollen eye that blurred her vision on week later.
She was then given steroid drops, but these only exacerbated her condition further, causing the purple substance to clump around the cornea area.
Doctors believe the equipment used for Gallinger's procedure may not have been entirely sterile and therefore could have caused an infection.
Hospital staff have informed Gallinger that she will never fully recover and her eyesight will remain compromised and could cause her to lose her vision completely.
In an emotional video posted to the model's Facebook page, she revealed that her vision has since improved.
However, she revealed that her mental health remains extremely volatile as a result of her experience.
"My hair's falling out in clumps, there's bald spots underneath this. I'm 90lbs and my weight keeps dropping, even though I eat," she says in the teary-eyed clip in which she is visibly traumatised.
"I'm this close to suicidal, I'm this close," she said, explaining that she may or may not now require surgery.
Friends and family have responded by offering their support on Gallanger's Facebook page.
She is strongly advising people against considering the treatment, which was advocated by Californian bio-hackers in 2015, who claimed that scelra tattoos gave them night vision.
Register for free to continue reading
Registration is a free and easy way to support our truly independent journalism
By registering, you will also enjoy limited access to Premium articles, exclusive newsletters, commenting, and virtual events with our leading journalists
Already have an account? sign in
Register for free to continue reading
Registration is a free and easy way to support our truly independent journalism
By registering, you will also enjoy limited access to Premium articles, exclusive newsletters, commenting, and virtual events with our leading journalists
Already have an account? sign in
Join our new commenting forum
Join thought-provoking conversations, follow other Independent readers and see their replies