Meet the pioneering surgeon behind life-changing face transplants
Dr Eduardo Rodriguez has helped patients to see and smile again in operations where the risk of death is 50%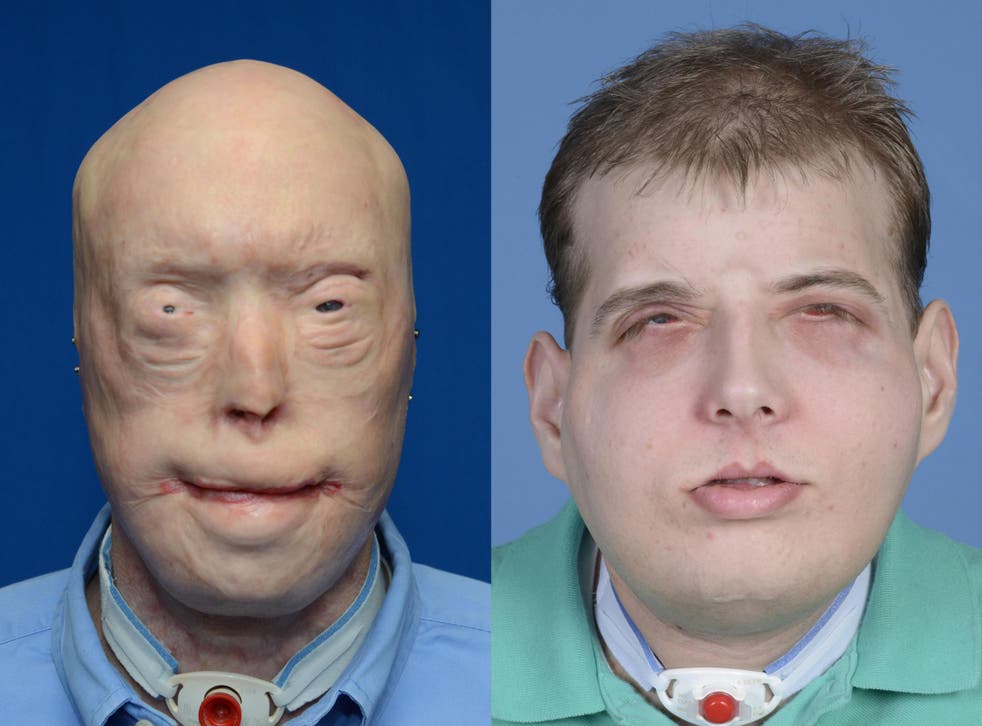 When plastic surgeon Dr Eduardo Rodriguez performed one of the most extensive face transplants in history on Richard Lee Norris in 2012, he didn't have a guide. He had to carry out the highly complex process of forming the tongue, jaw, teeth and facial skin of the 39-year-old man whose face was accidentally blown off with a shotgun by piecing together his knowledge.
Two decades before, Dr Rodriguez started out his career has a dentist. There wasn't a specific moment that he decided to transform the field of facial plastic surgery, it was simply part of the evolutionary process of his training, he tells The Independent humbly.
"We take the patient to the point of no return, and hope that everything works when we repair the tissues and connect the nerves and blood vessels. However, we cannot truly predict what will be the ultimate return of function until well into the patient's recovery," he says the surgeon based at NYU Langone in New York.
The American doctor specialises in treating patients with extreme trauma, from accidents, cancers, to birth defects, and has conducted thousands of life-changing operations that have helped them to smile again or have restored functions in their limbs. Norris is among his most successful and high-profile cases, as is former fire fighter Patrick Hardison whose face was disfigured by burns in the line of duty in 2001. His face transplant in 2015 was the only one to involve the eyelids, ears, scalp and face. In both instance, the risk of death was 50 per cent.
Each procedure is unique, he explains, as the recipient's skin and the donor are both different each time. The death of Isabelle Dinoire in 2016, a decade after she became the world's first face transplant recipient, highlights how the procedure can have unpredictable long-term effects.
"We try to anticipate for what happens before, during, and after the procedure; however, it is never entirely predictable.
Health news in pictures

Show all 40
When the deformity is removed, it takes an enormous amount of time to identify the critical structures, like nerves, muscles and healthy tissues."
If the patient survives the high-risk operation, their body could reject their new face and they must learn to cope with their new appearance – a process that Dr Rodriguez says medical teams help them with every step of the way.
I am persistent and find it difficult to give up. Over my career, I've often taken on some of the most challenging cases, where patients were at the end of the line. They trusted me and gave me the opportunity to come up with a treatment plan to help them. We took the road together and never gave up."
At the same time, procedures can have unexpected elements of success, too.
"I actually was unable to connect any sensory nerves for Richard, and the fact that he now experiences full sensation is remarkable," says Dr Rodriguez.
"Patrick's ability to blink is also incredible. We believed he would be able to, but we weren't totally sure, and lot of outside experts didn't think it would work. I'm glad for our patient's sake that we were successful."
Considering the most memorable experiences in his career, Dr Rodriguez says "the moment when Richard Lee Norris looked in the mirror for the first time, and the first time I saw Patrick Hardison blink. These patients are all heroes, and I feel honored to have been able to help them."
Register for free to continue reading
Registration is a free and easy way to support our truly independent journalism
By registering, you will also enjoy limited access to Premium articles, exclusive newsletters, commenting, and virtual events with our leading journalists
Already have an account? sign in
Register for free to continue reading
Registration is a free and easy way to support our truly independent journalism
By registering, you will also enjoy limited access to Premium articles, exclusive newsletters, commenting, and virtual events with our leading journalists
Already have an account? sign in
Join our new commenting forum
Join thought-provoking conversations, follow other Independent readers and see their replies