The Independent's journalism is supported by our readers. When you purchase through links on our site, we may earn commission.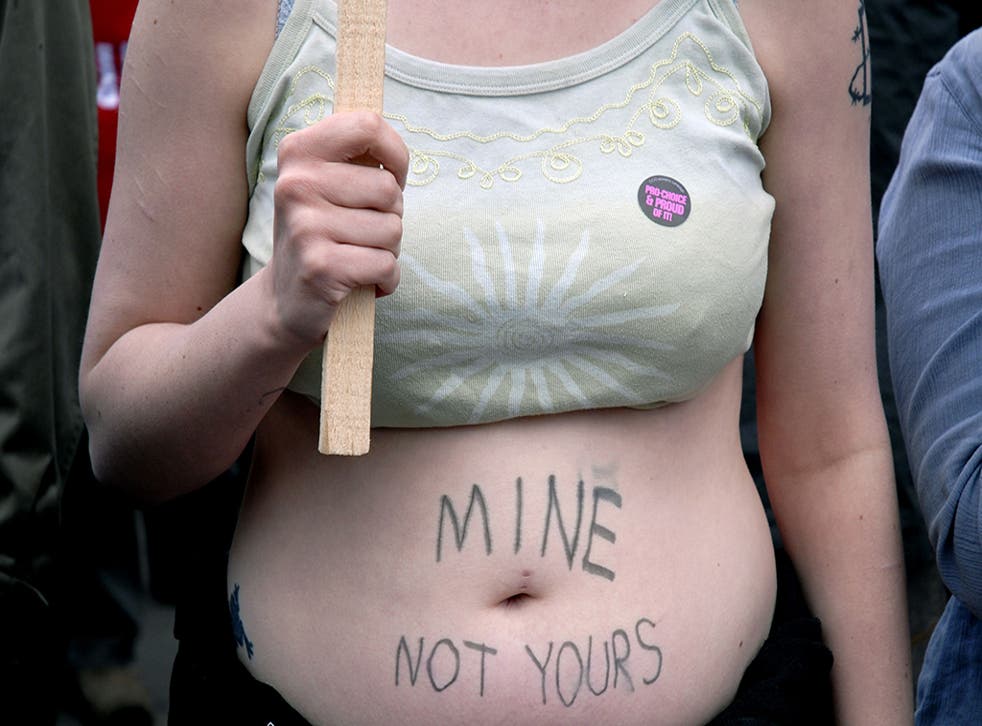 1 in 3 women has an abortion, and 95% don't regret it – so why are we so afraid to talk about it?
More than half of women were using contraception when they became pregnant, and 47,000 women die every year as a result of the complications of unsafe abortions where it's illegal
Women in mainland Britain have had access to safe legal abortion since the Abortion Act was introduced in 1967, yet the facts around it can remain hazy and unclear.
Discerning fact from fiction is a minefield, exacerbated by anti-choice groups who spread medically-inaccurate propaganda linking abortion to everything from breast cancer and infertility to psychological trauma.
Stories posted on social media app Whisper are helping set the record straight, with women around the world finding the confidence to speak anonymously about their lack of regret and reaffirming their confidence in making the right decision.
A new study from the US has also shown that 95% of women don't regret having an abortion.
Abortion in mainland Britain can be accessed for free through the NHS or paid for privately. It is carried out during the first 24 weeks of pregnancy after two doctors have signed agreeing that the case meets certain criteria, such as the risk to the physical or mental health of either the woman or the child if the pregnancy were to continue. The majority of doctors have firmly rejected any calls to reduce this 24 week limit because a number of serious abnormalities cannot be detected until the 20-week scan.
But not all women around the world enjoy the same rights and access. Even just across the water in Northern Ireland where regulation is still underpinned by the nineteenth century 'Offences against the Person Act', abortion outside very limited conditions, carries the harshest criminal penalty in Europe—life imprisonment for the woman and anyone assisting her.
With so many restrictions, myths and legal technicalities, is it any wonder people find abortion a difficult subject to broach? Conversation is so important if we are to end the stigma and get to the truth, so here are five important facts to get you started.
One in three women in the UK will have an abortion in their lifetime
It may surprise many people to learn that, by the time they're 45, one in three women in the UK will have had an abortion. But with roughly three decades of fertile years to navigate, it shouldn't really be that surprising at all. An unplanned pregnancy can happen to a woman at any stage of her reproductive lifetime and there are myriad different reasons that she will decide to have an abortion.
Advances in contraception mean abortion numbers in the UK are slowly coming down and our teenage pregnancy rate is the lowest since records began in 1969, but contraception isn't fool-proof so it's vital that we open the conversation, find out where women are being failed and how we can help them.
Research conducted by Marie Stopes UK found that more than half (57%) of women were using contraception when they became pregnant, with short-term methods like the pill or condoms the most commonly used. There are now more methods of preventing pregnancy than ever before and, in theory at least, long-acting contraception is freely available on the NHS. In reality, however, many women struggle to get hold of anything other than the pill, with only 31% of all women using contraception in England and Wales currently being prescribed methods such as the contraceptive implant, injections or IUD, compared to 45% at our clinics.
Health news: in pictures

Show all 104
Last year in the UK, early medical abortions outnumbered surgical abortions for the first time.
Not only is the total number of abortions in England and Wales gradually declining, but four out of five are now performed at less than 10 weeks compared to just three out of five a decade ago. Access to early medical abortions, where women take pills to end the pregnancy has played an important role, and last year marked the first year that medical abortions accounted for more than half (51%) of all terminations in England and Wales.
Restricting access to safe abortion does not reduce the numbers, it simply pushes it underground.
In the UK there have been repeated calls to make it harder for women to access abortion services, but making abortion against the law or restricting it does not stop or even decrease it. As we have seen in countries like Ireland, it simply creates a two-tiered system, under which women with money pay to travel to countries with fewer restrictions, and women without money are more likely to resort to dangerous methods to end their pregnancies. In fact, around the world nearly 22 million women undergo unsafe abortion each year, and 47,000 die as a result of the complications.
Women have abortions for many different reasons.
The reasons women choose to have abortions vary widely and are deeply personal, as counsellors on our 24hr confidential helpline One Call (0345 300 8090) will attest. Many are already mums, some are devoutly religious and some have been advised to terminate a much-wanted pregnancy for medical reasons or severe foetal abnormalities. Sadly today, despite the fact that one in three women will have an abortion, hardly anyone talks about the issue. Instead, it is labelled as a 'problem' for the 'reckless and feckless', ignoring the fact that women having abortions are of all ages and backgrounds, and from every walk of life.
Protesters outside clinics make it difficult for women to access legal care and advice, and stigma prevents them talking about their experiences, but if we want to make a real difference we should stop blaming women and start learning from them instead.
So long as there is sex, there will always be a need for abortion and for the doctors and nurses who face protestors every day to provide unparalleled care to women. The only way to end the stigma that women are made to feel about abortion is to keep the discussion going - even though it's a tough one to have.
For confidential information and advice call Marie Stopes UK any time day or night on 0345 300 8090.
Genevieve Edwards is Marie Stopes UK's director of policy and communications
Register for free to continue reading
Registration is a free and easy way to support our truly independent journalism
By registering, you will also enjoy limited access to Premium articles, exclusive newsletters, commenting, and virtual events with our leading journalists
Already have an account? sign in
Register for free to continue reading
Registration is a free and easy way to support our truly independent journalism
By registering, you will also enjoy limited access to Premium articles, exclusive newsletters, commenting, and virtual events with our leading journalists
Already have an account? sign in
Join our new commenting forum
Join thought-provoking conversations, follow other Independent readers and see their replies