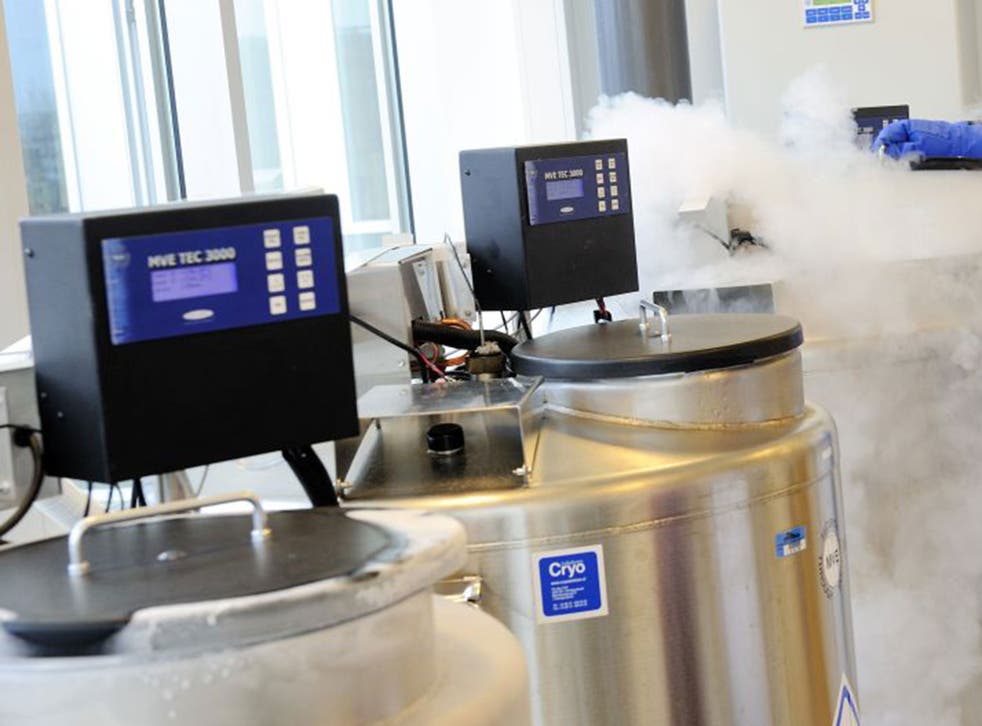 Is Facebook's egg-freezing service for female employees good news – or a medical minefield?
The company is helping female employees in the US to pay for the cost of freezing their eggs, while Apple is planning to introduce the policy in January. So could the practice be on the way to becoming both widespread and normal?
Alice Mann has told less than a handful of people that she's had her eggs frozen. "There is a stigma attached to it," says the 36-year-old, who decided to do it late last year after breaking up with her partner. "I haven't told my parents or most of my friends."
But with news that Facebook is now helping female employees in the US to pay for the cost of freezing their eggs, while Apple is planning to introduce the policy in January, could the practice be on the way to becoming both widespread and, well, normal?
Experts writing in a new fertility series for The Lancet medical journal hope so. The technique of freezing female eggs was originally used to enable women with cancer to store eggs prior to chemotherapy, which can lead to infertility. But with growing numbers of women delaying having a family, either because of work or because they haven't found the right partner, it's high time to make egg-freezing more widely available to healthy women, argue the authors, who include Professor Dominic Stoop, director of the Centre for Reproductive Medicine at UZ Brussels.
Egg-freezing is already being used by many healthy women as insurance against potential fertility problems later in life, they point out, with almost 2,000 babies having been born from the process so far – without, they add, an increase in the incidence of any birth defects.
Moreover, technology is improving all the time. For instance, a new method of freezing eggs, vitrification, in which they are flash-frozen in liquid nitrogen, has improved the chances of them thawing intact to around 95 per cent, compared with 65 per cent using the previous slow-freezing method.
If all women have the chance to freeze their eggs in their twenties or early thirties, argue these experts, it could save them from future distress, as well as reducing the costs of IVF – something Louise Hinton knows all about.
"I haven't had my eggs frozen, but wish I had," she says. "At 39, I've just failed my first round of IVF because the quality of my eggs wasn't good enough. Like many couples, we put off having a family because we were busy with work and life. Now, we are in this devastating and costly situation. If only I'd perceived egg freezing as normal, I think I might have gone for it."
10 facts you didn't know about Facebook

Show all 10
But Daisy Sands, head of policy at the Fawcett Society, is among those who believe egg-freezing is a long way from becoming a routine option for family planning. "It's only just moved from being deemed as experimental technology to mainstream technology. Yes, there have been lots of headlines, but it's important to remember that it's still on the fringes of normal medical practices, with a success rate that's relatively low."
Although the number of babies worldwide stands at 2,000, many are those are from women who underwent chemotherapy. In the UK, only 20 babies have been born to women from their own thawed eggs. The success rate isn't helped by the fact that many women leave it too late.
"Many women are shocked to find that although they are physically fit, their egg quality is poor and that if they'd frozen their eggs in their early thirties, it would have been very different," says Dr Simon Thornton, group medical director at Care Fertility, a chain of fertility clinics based mainly in the UK.
"Personally, I hope egg-freezing never becomes the norm. Even though your twenties is the best time to freeze your eggs, it would be completely inappropriate to offer it to every 25-year-old. A mere 5 per cent of them would ever need to draw on their egg bank. Moreover, the process is invasive and carries risks. There are small risks including bleeding and a reaction to an anaesthetic drug, as well as damage to other parts of the anatomy near the ovaries, but they are risks nonetheless. It is also costly, at around £3,500 a cycle."
For Mann, who blogs about her egg-freezing experience at http://eggedonblog.wordpress.com/, the figure was even higher, at £14,000, together with ongoing storage costs of around £600 per year. "I was surprised to find that most places suggest you have three cycles. Then there's the drugs, blood tests and scans on top," she says.
Egg-freezing is also time-consuming, with women generally needing about two weeks of flexibility for one cycle of egg freezing. After about 10 days of fertility drug injections, patients undergo a relatively short outpatient procedure, after which they can return to work. "I was quite surprised by how emotional I got, especially during the first cycle," Mann says.
Even she isn't convinced that company-funded egg-freezing programmes are the way forward, pointing out that women could wind up assuming they should freeze their eggs and concentrate on their career instead of having children earlier. "IVF used to be a bit of a dirty little secret, something that was very expensive and rarely talked about," she says. "That's changed and I think the same will be true of egg-freezing."
Join our new commenting forum
Join thought-provoking conversations, follow other Independent readers and see their replies