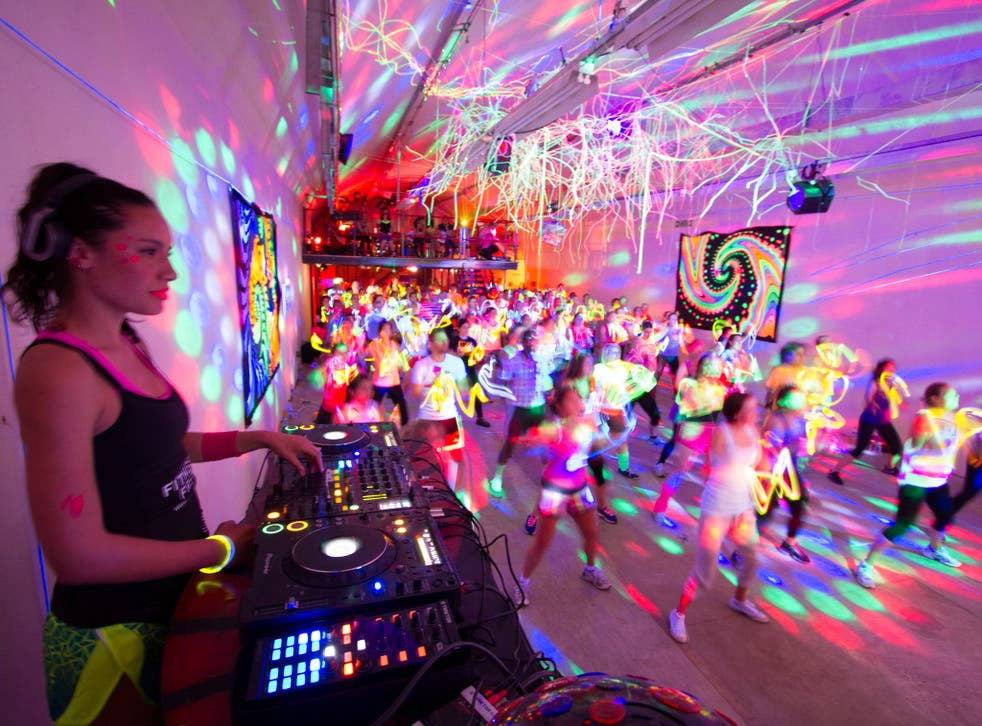 Fitness raves: Work to the beat
Party nights that combine the atmosphere of a nightclub with the rush of high-intensity training are the latest way to put the fun into fitness. Edwin Smith reports
The entrance to the club isn't unusual. It opens off a grimy, graffiti-scrawled underpass in Waterloo, London, and is guarded by an eastern European bouncer dressed in black. Inside it's dark, but you can make out a raised platform occupied by a DJ and her turntables. The first indication that this isn't just another club night comes when you notice how people are dressed. Everyone is in gym gear – brightly coloured trainers, vests, neon headbands and even the occasional pair of silver-sequined leggings.
The crowd, mostly made up of women in their 20s and early 30s, isn't here to knock back cocktails, but to burn calories and become part of a burgeoning trend for pop-up fitness events that combine the sociability, fun and music of a night out with the health benefits and endorphin rush of an intense workout. Tomorrow morning might be a little painful for some, but it'll be because of aching muscles, not throbbing hangover headaches.
Over the next hour, more than 150 people take a glowstick in each hand and follow two apparently Duracell-powered instructors through a Nineties rave-themed routine that includes a combination of aerobics, lunges and dance moves – including what some nostalgic ravers may regard as the genre-defining manoeuvre "Big Fish, Little Fish, Cardboard Box".
The event is a variation on a theme that first became popular in New York, where it was pioneered by Barry's Bootcamp. The fitness franchise counts Kim Kardashian as its cheerleader-in-chief and boasts a star-spangled clientele that also includes Jake Gyllenhaal, Jessica Alba and Katie Holmes. Fitness parties, as the Barry's Bootcamp versions are called, see evangelical instructors don "Britney mics" to spur on punters who will each spend up to £20 for a Saturday-night session of high-intensity interval training punctuated by breaks in which shots are downed en masse – although it's antioxidant fruit smoothies all round, rather than anything alcoholic.
Champagne does feature in classes run by SoulCycle (a US cycling workout, previously featured in The Independent, that will set up a London studio in 2014), but only as a crowd-pleasing gimmick used to spray participants with a cooling mist as they furiously pedal away amid thumping music and strobe lighting.
The London rave event – which is run by Fitness Freak and is actually a steroid-enhanced version of a class offered by the gym chain Gymbox – is the first to bring the professionalism and polish of the US trend to the UK. But it puts a different slant on proceedings, largely thanks to the music that's played. When the session comes to an end, tracks such as "Rhythm is a Dancer" and 2 Unlimited's "No Limit" give way to the Spice Girls' "Always Be There" as the tempo slows and the warm-down begins. Unprompted, everyone in the room sings along to every word.
Afterwards, as people catch their breath, chat and sip on cartons of coconut water, there is an overwhelmingly positive vibe. "I'm buzzing, I'm in such a good mood now. It's a brilliant alternative to a night out drinking," says Alice Morgan, a 24-year-old management consultant, before adding that, another time, she would consider using the event as a warm-up for a more orthodox night on the town. "It would cancel out some of the calories you get from a few glasses of wine. But I'd have to have a shower first!"
Amanda Scott, 30, who works for the British Heart Foundation, and tonight wears odd-coloured shoes, fluorescent green leg warmers, psychedelic print leggings and Thai full moon party-style facepaint, says that she runs, and wouldn't pay for gym membership just to go to regular classes, but was happy to pay £14.50 for the experience. "The venue helps. It makes it into more of an evening out, and the fact that there are so many people – a small gym class could never have the same atmosphere."
For Raina Marwaha, 30, kit and merchandise buyer for Arsenal Football Club, the evening served as an alternative night out with friends. "A group of us, all hitting our 30s, decided to meet up every week and try out new bars and restaurants in London, but, I think because we're getting a bit older and wanting to go clubbing less, we loved the idea of combining something fun, new and different with fitness," she says. The first Fitness Freak event was a sellout, and was oversubscribed to the extent that an extra session was added for the following evening, but as word spread and Facebook and Twitter lit up with pictures of the night, the organisers were inundated with requests to stage events elsewhere.
There are now plans for rave-themed events in Manchester, Edinburgh and Dublin as well as a street-dance night influenced by the music and moves of Rihanna and Rita Ora in east London's Hackney. There are also murmurs about an event in the Olympic Park and something involving exercise bikes submerged in water.
This buzz has encouraged Barry's Bootcamp to add the US-style fitness party nights to the existing schedule in its London studio which, having opened four months ago, has already proved to be something of a celeb-magnet. "We've had lots of well-known people, and even royalty. But discretion is very important," says one employee.
Arguably, when it comes to putting a social, musical twist on fitness, runners have been ahead of the game. In September, the Nike Run to the Beat half-marathon will take place for the sixth time in and around Greenwich Park. Having started with fewer than 5,000 people, this year's is expected to attract 19,000 entrants who will be spurred on by DJs playing from portable stages along the route, before meeting up with friends, family and supporters for more music at the finish line. Ellie Goulding took part a couple of years ago and although no names have been confirmed yet, Calvin Harris, Reggie Yates, Annie Mac and DJ Fresh have all performed in previous years.
Those looking for something a little more leftfield – and a little less corporate – might like to check out Dance Dance Party Party. The New York import is a weekly freestyle dance meetup for women that was started by two friends who "loved dancing at the clubs with gal pals, but loathed cover charges, getting hit on and reeking of alcohol and cigarettes the next day". It's simple, according to the website: "No booze. No boys. No judgement. (Legwarmers optional.)"
The first UK chapter began in Dalston two years ago, but has recently spawned two more London offshoots in Camden and Vauxhall as well as outposts in Brighton, Bristol, Edinburgh and Dublin. "There's no instructor. In our lives, at work, on the Tube, you have to follow a rigid structure, but it's a time where people can be absolutely free," says Rita Platts, a 30-year-old photographer who runs the Dalston chapter. "It's just a bit different: a chance to make some friends, listen to some cool music and get a really good workout at the same time."
Now, who wouldn't raise a glass of antioxidant fruit smoothie to that?
More information
Join our new commenting forum
Join thought-provoking conversations, follow other Independent readers and see their replies