The Independent's journalism is supported by our readers. When you purchase through links on our site, we may earn commission.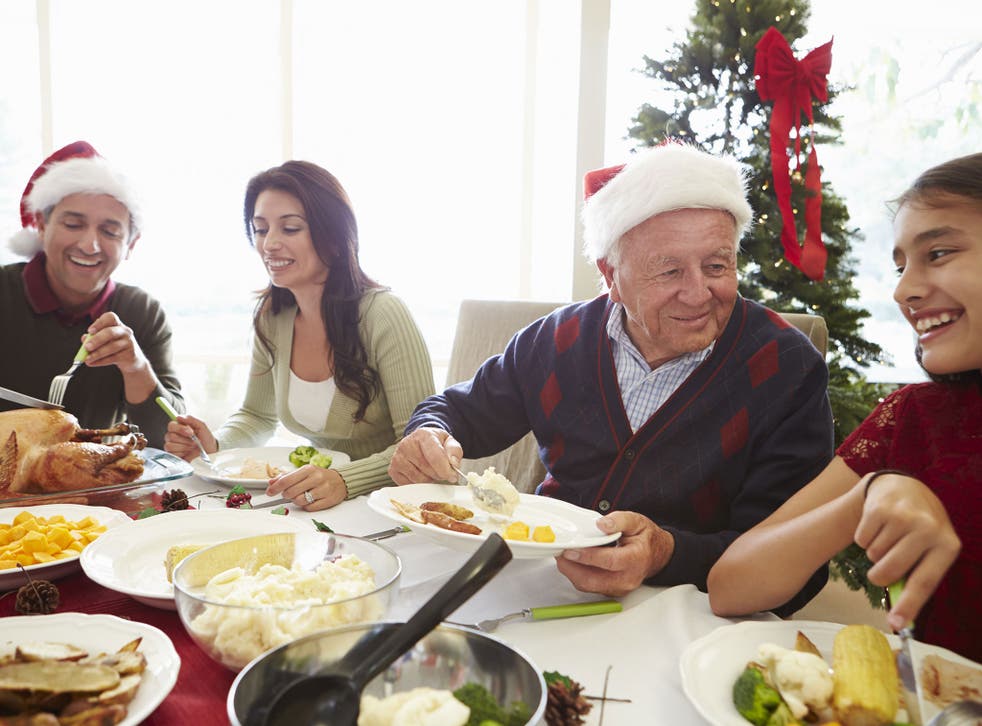 Peace and goodwill to all? How to avoid arguments on Christmas Day according to a relationship counsellor
It is possible to prevent rows and cut short awkward fights 
Ammanda Major
Friday 04 December 2015 15:10 Comments
Most of us have been there. Despite good intentions, Christmas gets taken over by an ongoing family feud or a row that erupts out of nowhere when you're preparing the brandy butter.
In a time that's meant to be full of fun, laughter and giving, a family bust-up can feel especially upsetting. It's the last thing we want to happen and indeed Relate research has found that 84 per cent of people feel an argument-free Christmas is really important to them. Yet a 2012 Travelodge survey of over 2,000 families found that the average British household will have at least five rows on Christmas Day. Interestingly, they found that people often have similar rows, with recurring themes including children complaining about the gifts they've just received and adults rowing about the amount of alcohol they've guzzled.
As the festive season seems to be getting longer each year, (with Christmas trees in department stores from mid-October), there's even more time for us to get stressed about arrangements and put ourselves under pressure to make sure that everyone has a good time. It's not surprising that with all the additional pressure of costs, relatives falling ill, and arragements with children and ex-spouses that emotions can run high and sometimes get the better of us.
Christmas: a time for underlying resentment to bubble to the surface?
Underlying issues with family members that we keep under control throughout the rest of the year often get played out during this time. The row about who's going to tackle the mountain of washing up is often a metaphor for deeper issues in relationships which aren't getting addressed in a helpful way. It can seem easier to focus on something seemingly trivial in order to let the other person know how upset or angry we really are. At Relate we usually see a large spike in the number of couples getting in touch post-Christmas. Our clients often recount very similar stories about feeling disappointed that their partner didn't help out enough in the lead up to Christmas, or support them when other relatives were complaining.
Consider invites carefully
So what's the best way of avoiding a Christmas that's exhausting for all the wrong reasons? If, like four in ten of us, you are currently caught up in a feud with a family member, be realistic about how easy it'll be to keep yourself in check if the person is visiting over the Christmas period. Often, we invite people round because it's expected or it's become something that we "just do". But having your family foe staring at you across the turkey isn't going to make for a relaxing time, so it might be better to arrange to meet with them at another time that's not so emotive.
If there's somebody attending the festivities who tends to rub you up the wrong way, consider adapting the way you react. It may not seem like it but you do have a choice in this. If it's drama they are looking for, then not reacting at all should make them feel rather silly and help to diffuse the situation.
The world's top 20 countries to raise a family

Show all 20
Share the load
If you have a partner perhaps get a shared agenda for what the Christmas period might look like. Remember though that asking for what you want and need is a two-way process. Try and work out beforehand what you think the pressure points might be and look out for them. Your father and your partner have started talking politics and it didn't end well last time, so why not change the subject to something a little lighter before things kick off? Also take care with how much booze you consume, because alcohol is never far away from many family feuds. When under the influence, things often get said that are later bitterly regretted but referred to ever after.
Think of the children
As far as kids go, if there's a dispute about where they should be spending Christmas, it's important to recognise that children can experience a very high level of distress over being asked to make a "choice" regarding which parent is having them this year. Whatever your issue is with an ex, working out a plan about Christmas will only benefit the kids.
Having step children over when you don't know them that well yet can also feel very daunting. Bear in mind that they're probably just as nervous and try to be as friendly as possibly without over-doing it, and talk to your partner about how you can make the event as comfortable as possible. Playing Christmas games like charades can help to break the ice and fill any awkward silences.
Remember, no families are perfect
Finally, it's worth realising that although it would be good if we all got on, we don't live in a cheesy Christmas advert with fake, perfect families. There will be times where we row, bicker and fall out completely. Extending a hand at Christmas might seem like a good idea, but old wounds can run very deep. If the issues are too intractable, getting some support, perhaps in the form of counselling, may make getting together at Christmas and also the rest of the year less harrowing.
But if that's not do-able then letting yourself and those nearest off the "we must have them round" hook will probably mean that the festive season has a bit more "ho ho ho" than you thought it would.
Ammanda Major is a Relate Counsellor and Senior Consultant on Sex Therapy. She has a regular agony aunt section on the Relate website – Ask Ammanda – where you can send in any question about love, sex and relationships.
Register for free to continue reading
Registration is a free and easy way to support our truly independent journalism
By registering, you will also enjoy limited access to Premium articles, exclusive newsletters, commenting, and virtual events with our leading journalists
Already have an account? sign in
Join our new commenting forum
Join thought-provoking conversations, follow other Independent readers and see their replies