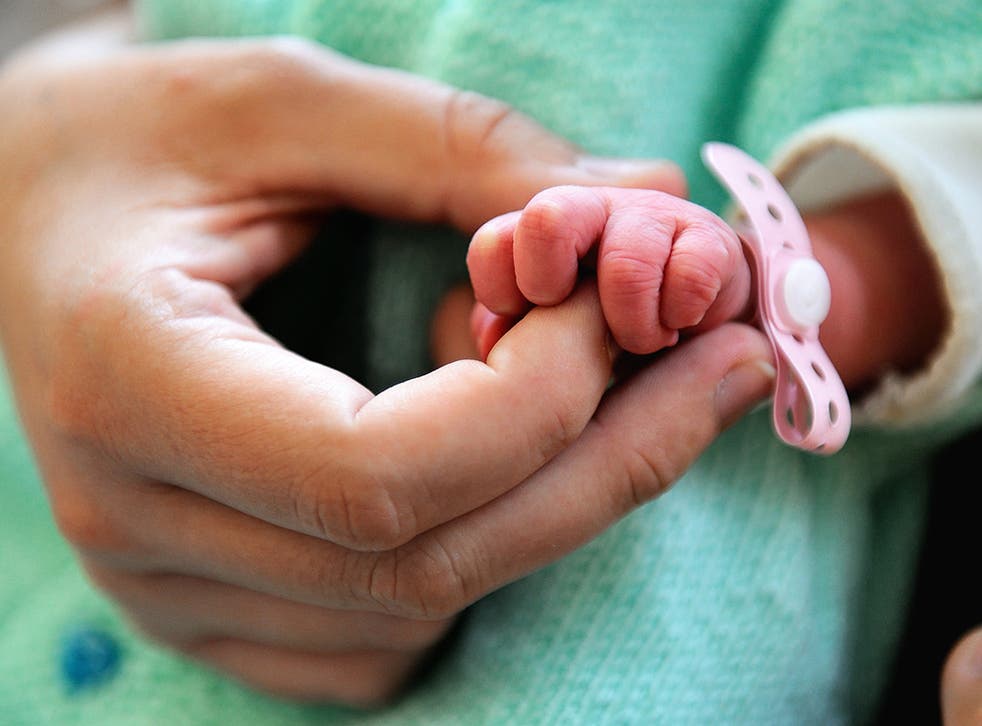 Postnatal depression: Are new mothers being failed by care services?
Everyone expects you to be happy after giving birth to a healthy baby, but some mothers experiencing postnatal depression often don't realise there is a problem. Not only does this affect them, their baby and their family, but it costs the UK £8bn a year. What can be done?
Lynne Murray
Tuesday 21 October 2014 17:50 Comments
When I talk to friends and colleagues from the US and some European countries about UK maternity and postnatal care services, and about our awareness of the issue of postnatal depression, they are full of wonder and envy.
One Italian friend, who delivered twins prematurely, one of them stillborn, was discharged at ten days and received no further care other than a visit she herself made to the obstetrician and paediatrician at six weeks. There was no domiciliary midwife or health visitor, and certainly no counselor or psychiatrist. She was profoundly depressed throughout her surviving son's first two years.
In the UK, we have free, universal health care for mothers in pregnancy and the postnatal months that includes midwifery and health visitor visits to the mother's home, care from health visitors in clinics, and input from GPs. And our aspirations in the UK regarding provisions for maternal mental illness and associated parenting difficulties are high; guidelines from the National Institute for Clinical Excellence (NICE) make for impressive reading, as do those enshrined in The Nursing and Midwifery Council's 'Standards of proficiency for specialist community public health nurses', and The NHS England's 'National Health Visiting Service Specification for 2014/15'. So why is there such current concern over antenatal and postnatal mental health care?
In her keynote lecture to the Royal College of Midwives in June, Debra Bick, Professor of Evidence-based midwifery at Kings College, London, berated the standards of midwifery care, including that concerning maternal mental health. The Maternity Mental Health Alliance has recently reported that large swathes of Britain lack provision of specialist mental health services for those with serious mental illness around childbirth. Their recent report summarises the evidence on the economic costs of mental illness occurring in the perinatal period, not in relation to the mothers themselves (e.g. lost time in work as a result of their illness), but also the costs to society of the problems in children's development that are associated with maternal mental health problems occurring around childbirth.
Senior Health Visitors, headed up by Dr Cheryll Adams, recently set up a separate Institute for Health Visiting, given what they feel is the almost insurmountable challenge of integrating the complex issues of parental mental health needs and associated parenting difficulties into the current training curriculum, without further prioritizing and resourcing them. The same applies to capacities for service delivery: many health visitors have to juggle the needs of 400-500 plus families, when in areas of high vulnerability proper one-to-one work would only be possible with a maximum of 250. Even with the current planned increases in numbers, this level may not be achieved. Quite simply, then, there is often a marked disjunction between governing bodies' laudable aspirations and the potential skills of staff, and what is possible for health care professionals to achieve on the ground.
The issues of training and capacity for delivery are well aired by the relevant professions. But one further aspect of the failure of services to deliver adequate care is little debated, and that is the psychology of new parents, and in particular the effects of depression. Yet this is highly relevant, and if good access of depressed and vulnerable mothers to the care they need is to be achieved, it needs to be understood.
For a start, mothers experiencing depression, and especially first time mothers who do not know what to expect after childbirth, often do not realize that they are in fact depressed, thinking that symptoms such as loss of enjoyment in their usual interests, or excessive fatigue, are simply part of the business of having a baby; and they may, therefore, not seek professional help. And even if they do suspect that something is wrong, such is the stigma of depression, especially at a time when everyone expects you to be happy now that you have a healthy baby, that there may be a real reluctance to reveal their difficulties.
For these reasons, it is particularly important that health professionals receive good training in how to enquire sensitively and supportively about maternal mood experiences, and be given the time to do so. Additional core features of being depressed are that one feels guilt and low self-esteem, and can become trapped in repetitive negative patterns of self-blame and hopelessness.
A depressed mother can, then, easily think that hers is the only baby who cries a lot, or she may believe that she is a bad parent who will be judged harshly by both professionals and other parents if she shows up at clinics; and this too may lead her to avoid accessing care that could potentially be helpful.
In our work in Cambridge, for example, we found that depressed mothers were actually less likely to attend health visitor-led mother and baby groups than were non-depressed mothers, even though health visitor notes showed that these mothers were more likely to report having difficulties with their babies. Similarly, in our work with pregnant women in Reading, we found those who were at particularly high risk for depression were the most likely to refuse additional home visiting support, and to miss antenatal clinics and postnatal check-ups, sometimes referring to those ready to support them as 'the baby police'.
This suspicion, and the consequent failure to engage with professionals, is probably not helped by much of the media coverage of the impact of maternal depression on parenting and child development. What is actually a raised risk for additional difficulties is often represented as an inevitability of problems, and when, in fact, depressed mothers can also give very good care.
Such misplaced wider public perceptions can feed into the depressive thinking that may lead a mother to feel that her baby would be better off without her, a belief that may well have prompted cases of new mothers abandoning their babies.
The UK has a raft of policies that are designed to support women around childbirth, such as screening for depression and best practice guidelines for its treatment. As such, it is the envy of other countries where health care is less well regulated. Nevertheless, recent reports reveal that, when properly scrutinized, the laudable aims of policy makers are often not fulfilled. Services that are meant to be in place to support maternal mental health problems are often non-existent or inadequate, and the resulting failure to address them comes not only at great personal cost to the families concerned, but also at great economic cost to society more widely. This problem is not helped by the way in which women may easily feel stigmatized if they are not enjoying the experience of motherhood, and by media depictions of an idealised postnatal experience.
Lynne Murray is Professor of Developmental Psychology at the University of Reading, and author of 'The Psychology of Babies: how relationships support development from birth to two', Constable&Robinson, 2014
For more information visit http://www.nhs.uk/postnataldepression
Register for free to continue reading
Registration is a free and easy way to support our truly independent journalism
By registering, you will also enjoy limited access to Premium articles, exclusive newsletters, commenting, and virtual events with our leading journalists
Already have an account? sign in
Join our new commenting forum
Join thought-provoking conversations, follow other Independent readers and see their replies