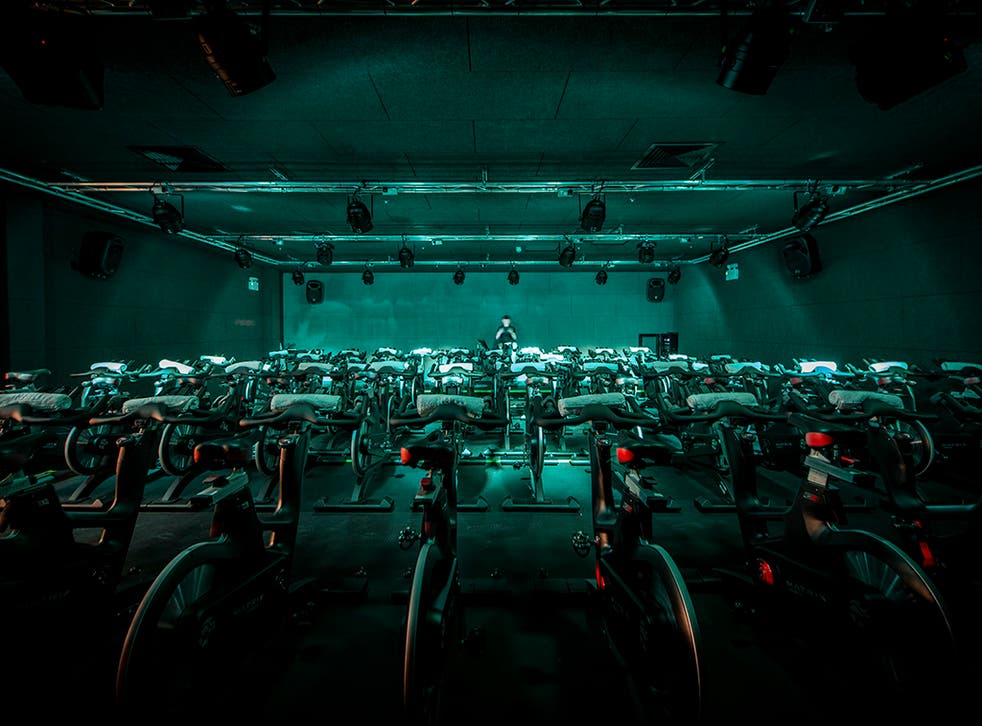 The boutique gyms where exercise gets exclusive
Now going to the gym is a well-rounded experience, with body composition checks, personal training, smaller class sizes, luxury toiletries and, of course, boutiques filled with luxe gymwear
In a strobe-lit room, lithe 20-somethings are moving in tune to a bass beat, a sheen of sweat on their brows. Down a chandelier-lit corridor, neoprene-clad beautiful people lounge on sofas, sipping jewel-coloured drinks. It's your typical nightclub, apart from the fact that the drinks are juice-based, the 'dancefloor' is strewn with weights and TRX bands, and it's 1.30 in the afternoon. It's a gym, but not as you know it.
Remember that episode of Friends when Chandler wants to Quit the Gym? Card-carrying non-gym-goers everywhere can sympathise. A crunch.co.uk survey in 2011 suggested that Britons squandered £37m a year in unused gym memberships. When the recession hit, one of the first things to go for many was our dust-covered gym memberships, as we tightened our fiscal (if not actual) belts. But now gym membership is back to a record high of 13.2 per cent of the population, and the UK fitness industry is worth £4bn.
So what changed? Well, the gyms did. Modern gyms have evolved from the warehouse-style treadmill factories of the 1980s and the words boutique, bespoke and luxury are now being bandied around. Boutique gyms have clients, not members, and the personal touch, they say, secures more long-term results and more customer loyalty. Now going to the gym is a well-rounded experience, with body composition checks, personal training, smaller class sizes, luxury toiletries and, of course, boutiques filled with luxe gymwear.
"People are seeing fitness as a part of their lifestyle," says Core Collective head trainer James Pisano. "The clients' expectations and knowledge are higher than ever. We have found that people are a lot wiser about what's good for them in terms of nutrition and exercise and we are going to provide a range of classes that allow people to reach their goals."
Core Collective is the newest boutique "fitness destination" to land in the UK, opening in May. It offers a stripped-back selection of classes focusing on interval training, cycling, TRX and personal training - and its Kensington studio, bedecked with contemporary artwork, feel more like a cocktail lounge than a gym. A juice bar, fluffy two-metre towels and Bamford toiletries complete the "experience".
The classes aren't cheap – starting at £12 a class at 1Rebel and £20 a class at Core Collective as part of a bulk buy, and at some gyms costing up to £40 for a one-off visit - but the aim is for you to get more from your money. The absence of a joining fee or monthly membership is a real draw for many customers. Barry's Bootcamp, 1Rebel, Project Fit, Speedflex and Psycle sell blocks of classes, or more fickle fitness addicts can sign up for ClassPass, which allows you access to thousands of different classes for a monthly fee.
1Rebel gym: in pictures

Show all 5
James Balfour hails from a fitness dynasty (his father, Mike Balfour, founded the Fitness First chain) and saw an opportunity to change the model, setting up 1Rebel in the City of London with Giles Dean. "Most fitness clubs sell membership packages but they don't actually get you fit," says Balfour. "These days people are fed up with signing a membership contract that looks more like a mortgage agreement."
1Rebel offers spin and treadmill-focused high intensity classes, with no contract or monthly membership fee. It also offers an all-round 'lifestyle' - with no expense spared from the showers to the sound system. "The bar in the fitness industry has been set pretty low," says Balfour. "We have all had experiences in fitness clubs with dirty changing rooms, small lockers, mouldy shower curtains. We haven't done anything more than to simply say these standards are unacceptable - if we want to be the best at training we should be the best at all parts of the customer experience."
While gym-goers may be more cash-rich, they are also more time-poor. In the past a fitness regime would be the first thing to be jettisoned in a jam-packed schedule, but now people are adopting a New York-style attitude - with 6am spin classes, Friday night disco-beat-fuelled pump sessions and lunch-time half-hour HIIT. And they are never boring. At Psycle, lean Londoners are choosing the spin studio over the pub as their way to blow off steam from the week. At Frame, clients can choose from barre or Pilates classes, or get into shape with a Beyonce-inspired dance class.
For those intimidated by the idea of an 'exclusive' gym, have no fear. The nightclub feel does not extend to a door policy - and thanks to small class sizes, tuned-in trainers and a feeling of camaraderie, boutique gyms can be far more welcoming than their larger rivals. Forget Quitting the Gym - this is one habit you won't want to give up.
Register for free to continue reading
Registration is a free and easy way to support our truly independent journalism
By registering, you will also enjoy limited access to Premium articles, exclusive newsletters, commenting, and virtual events with our leading journalists
Already have an account? sign in
Register for free to continue reading
Registration is a free and easy way to support our truly independent journalism
By registering, you will also enjoy limited access to Premium articles, exclusive newsletters, commenting, and virtual events with our leading journalists
Already have an account? sign in
Join our new commenting forum
Join thought-provoking conversations, follow other Independent readers and see their replies