The sleepover survival guide
It seems no family with girls can escape regular invasions of pyjama-clad partygoers. How did this tyranny start? And must it be hell for parents? Joanna Moorhead, mother to four daughters, advises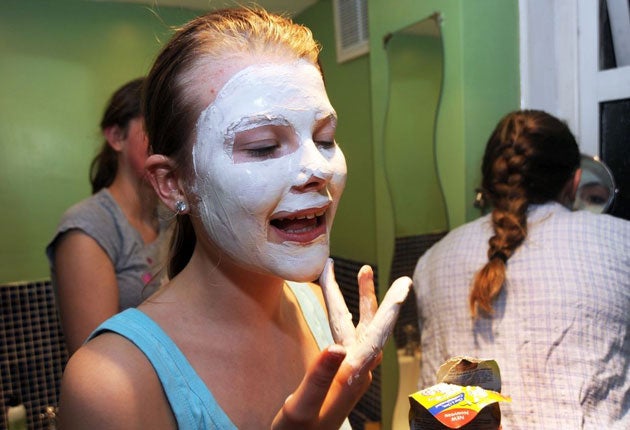 It's Saturday morning at 9am – my kitchen resembles a battlefield. But the battle being fought is a strange one, because all the combatants are wearing pyjamas. The ammunition is croissants, the table splattered with orange juice and the debris of war – abandoned clothing, discarded mobile phones, thrown-off shoes – is strewn in every direction.
The general mayhem is exacerbated by Capital blaring out from speakers usually set to Radio 4 and the war's biggest casualty – my sleep-deprived husband – is standing in the back garden with a face like thunder, puffing furiously on a cigarette and mouthing the words "never again" through the window at me.
This is the aftermath of a sleepover in our house – and, since we have four daughters, sleepovers are a particularly vicious phenomenon for us.
Of course, there are boys out there who love having their mates round to stay – aren't there? – but it's girls who do sleepovers par excellence, revelling in the chance to hunker down with a pile of girlfriends for a night of fun, gossip, mayhem, riot and – depending on the age of said daughters – possibly alcohol and adult-rated DVDs as well (trust me, you don't know what you don't know).
Sleepovers mean different things at different ages and, since our daughters are nine, 12, 16 and 18, the nocturnal events in our house probably cover more or less the full range.
The Saturday I have described – it really did happen – was a couple of weeks ago and reflected a quadruple sleepover that took place across all quarters of our abode, involving friends for each of our children.
It was our youngest, Treenie's, birthday, so she had seven little girls round and they were sleeping in the basement. Not to be outdone, Miranda, 12, had invited three friends and they slept upstairs in her bedroom. Elinor, 16, had been on a riotous night out with five girlfriends and that ended, around 1am, with a noisy return to our house, a few skirmishes to bag enough sleeping bags, mattresses and pillows from the other girls festooned around the house and a mass sleep-in in her room. Rosie, 18, was back from university with a boyfriend and the two of them slept in her room ("Muuum!" she said, when I protested – though to be honest, there was nowhere else for them to go, anyway. "He's gay! Of course we can share a room...").
So, an ordinary Saturday morning, and it's me, my husband, eight nine-year-olds, four 12-year-olds, six (slightly-the-worse-for-wear, mascara-streaked) 16-year-olds, and two 18-year-olds for breakfast. That's 22 in all, most of them female and all of them with enormous appetites. It's wild, it's wacky, it's (sometimes) fun... but I do think to myself, from time to time: how did raising children come to this? Because I swear that in my day I never had any friends to stay – no, not once – because they lived round the corner, and extended, overnight play-stays just weren't on anyone's agenda.
In 2011 – for girls, at least – a sleepover at least once a week is now de rigeur and some of us parents are only just about holding on with our fingertips. The sleepover phenomenon crept in from the US, where it has kick-started a whole commercial industry (pillows, kits, eye-shades are marketed directly for pre-adolescent and adolescent girls) and has been fuelled by books like the Sleepover Club series (every single volume of which, as you can imagine, now adorns the shelves in our house).
Of course, there are lots of great things about the sleepover. Number one is sheer enjoyment value; the little faces that look up at me to say "thank you" on the doorstep really do look very happy indeed and the giggles I hear late at night bear witness to a cosy world of girly secrets and shared hopes and dreams, leaving memories that will, I hope, help define their childhood. Sleepovers are a wonderful way of promoting independence. Raising children is all about teaching them to walk away; to cope without us – and a night at a friend's house, often with other friends, is a lovely way to introduce them to that far-off world in which they'll survive all by themselves.
But that's the rosy picture – and there's another view. Because the sleepover is, increasingly, tyrannical – holding hard-pressed parents hostage, forcing them to open their doors to hoards of marauding young girls who trash their houses and stay up all night long overdosing on sweets (or, worse, alcohol), and then eating you out of house and home and leaving your kitchen looking like a war zone when they eventually head for home somewhere around 4pm the following afternoon.
And it's not just the teenagers – the little children can be trouble, too. There's almost always one reluctant participant – either a child who's genuinely homesick or (more common, in my experience) a child who has a parent or parents who can't quite cope with their little darling being away from home and insist on calling every hour or two to check again that she's really happy and doesn't, honestly, want to come home?
That child will tell you she's fine while the lights are still on... but just occasionally, in the middle of the night, you find someone sobbing quietly in the bathroom, necessitating a quick pyjama-clad drive to deliver her back to her house across town.
Then there's the stuff they turn up with: honestly, I've had a queue of girls aged six and seven dragging family-sized suitcases up my path. And they're only staying a night... and, yes, the suitcases are chocka – full of things that will be strewn around my sitting room and which I'll then be required to search for when the inevitable follow-up calls reveal forgotten items that the child in question simply cannot live without.
And there's a new worry around younger children and sleepovers, too: Mumsnet has a thread started by a mother who says she's heard of parents who won't let their children go on them because of child abuse risks. She reports feeling "sad/uneasy" about the fact that some parents now take the default position that any man in the house is a potential molester.
Schools, of course, hate sleepovers and, says Janette Wallis, editor of the Good Schools Guide, many now send out letters to parents asking them not to organise sleepover parties in term-time. Yes, in term-time, not in weekdays... because the sleeplessness of a weekend sleepover can cast a shadow across the following week.
"It's not unusual for children to only get an hour or two of sleep," says Wallis (that long?). "So they can have a knock-on effect on children's ability to concentrate for several days afterwards. With each additional child, the degree of chaos expands geometrically, so even the most conscientious parents easily lose control."
One parent told Wallis she had a long talk with a mother who was organising a birthday sleepover, telling her that her eight-year-old daughter needed sleep and would be wiped out for days if she stayed up late.
The mum reassured her that she'd keep a grip... but when the mother arrived to collect her daughter, she was told all was fine... everyone had got to sleep by 2.30am!
"The little girl ended up missing three days of school that week," says Janette.
For myself, I have a rule (and this applies to alcohol, too, for anyone who might occasionally indulge). There are no relaxations on rules after sleepovers: my daughters go to school unless they are too ill to put a foot on the floor on a weekday morning, in which case they spend the day in bed, with no TV.
Personally, I've never had a child miss school due to a sleepover. Like the rest of us, they need to learn that if you play hard and late, you must wake up next morning and face the consequences.
How to make it work
* Get your child to prepare the sleepover room ahead of her friends' arrival. If there are several children coming, ask them to bring sleeping bags, and get them to bed down on mattresses on the floor
* For a big sleepover, get them to leave all their stuff in one room, and impress on them that they, not you, are responsible for making sure they take all their belongings home with them
* Be especially wary, on a Friday-night sleepover, about left school clothes – this can lead to terrible traumas on the following Monday morning at 8am, when a lost pair of shoes/school skirt becomes a disaster of earth-shattering proportions. Get the children to pack their uniforms into their bags straight away when they change into their home clothes, which they'll want to do within five minutes of arriving at your house
* Try to have some sort of structure. For example, tea followed by a wild half hour's play, followed by getting ready for bed, a bedtime DVD, then hot chocolate and then bed
* Give them 30 minutes/an hour to giggle under the covers with their torches, and then give them a first warning. Ten minutes later, a second warning. If they're still chatting half an hour later, switch on the lights and threaten to take them all home. Silence should reign within the next ten minutes, provided you've sounded sufficiently stern
* For breakfast, heat up a mountain of croissants and do a jug of watered-down orange or apple juice. Get them to load their own stuff into the dishwasher
* Make sure the parents collect them by 10am the next morning. When the door closes behind the last child, give yourself a treat for having made it through...
Join our commenting forum
Join thought-provoking conversations, follow other Independent readers and see their replies