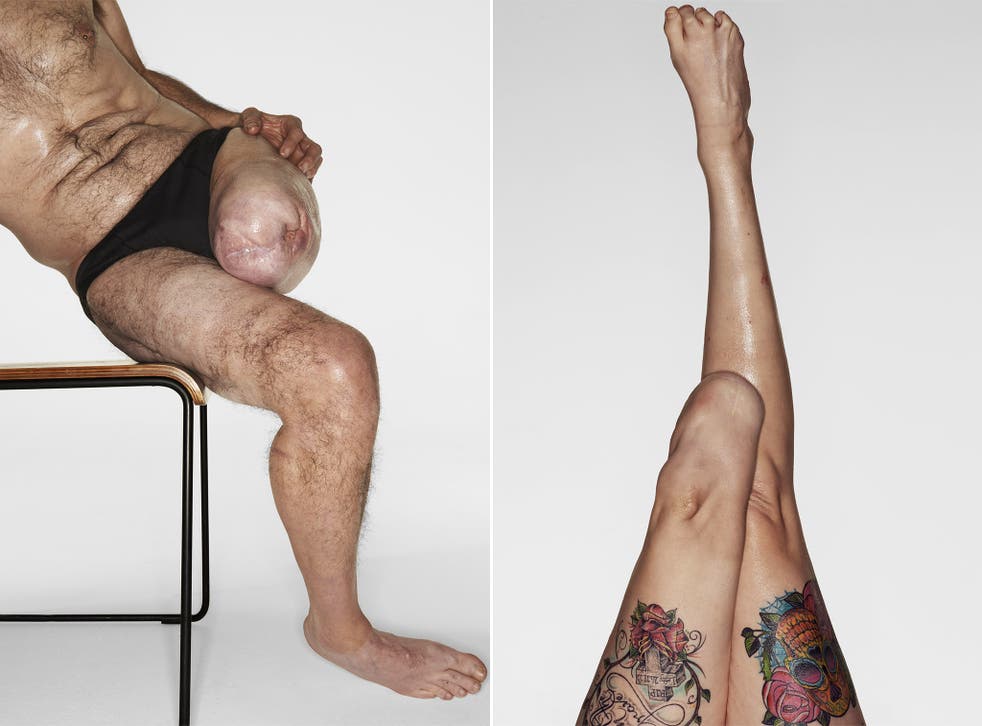 The taboo of sex and disability: How can we shift the negative images that still dominate society's attitudes?
'When you're disabled, the two things people think you can't do are fight and have sex... I've got a black belt and I'm really good at shagging'
Millie Dollar sashays on to the stage in a green feathered dress to conclude the evening's entertainment with a sultry burlesque routine. The capacity audience at the ornate Epstein Theatre in Liverpool is enraptured.
Burlesque, she says, gives her a way of communicating through costume, routine and dance – which she does with panache. What the audience can't see, though, is the hearing condition which means that she must work hard to follow the beat during her glamorous routine. In her act, Dollar (unlike some disabled performers) doesn't refer to either her hearing impairment or her depression, which she writes about with candour and insight. For her, disability and sex don't mix on stage.
But for others, it's a burning issue. Take the performer Mat Fraser, who is currently appearing in the popular US television series American Horror Story. He says: "When you are disabled, the two things people think you can't do are fight and have sex… so I've got a black belt and I'm really good at shagging. The physical pleasures in life are really important to me."
Research has shown that disabled people are less likely to have a long-term partner or marry than non-disabled people (although this is dependent on impairment type). When a 2014 newspaper poll asked Britons if they had ever had sex with someone who had a physical disability, 44 per cent said: "No, and I don't think I would."
Disabled people's sexuality has been suppressed, exploited and, at times, destroyed, over many centuries. It has been seen as suspect, set apart and different from the sexuality of non-disabled people. So how can we shift the negative images of disability and sexuality that still dominate society's attitudes? Well, disabled people and their allies have been campaigning for change for decades and, while it is not going to be easy, change is on the way. But with it comes new controversies.
Dr Tom Shakespeare, a disabled academic, wrote The Sexual Politics of Disability nearly 20 years ago, and it remains one of the few evidence-based studies in the field. "Images of disability and sexuality either tend to be absent – disabled people being presented as asexual – or else perverse and hypersexual," he says.
He believes that, in the wider community, disabled men (and, to a lesser extent, women), are rendered impotent and sexless by disability, and thus are seen as unattractive and vulnerable to mockery and exploitation. (As Cicero wrote: "In deformity and bodily disfigurement, there is good material in making jokes.") And this may explain an assumption often made in the past – that it was better to shield disabled people from reaching out for sexual relationships rather than risk the chance of them being rejected. There was an expectation that disabled people's sexual desires should be set aside and ignored, because they should not – or could not – be satisfied.
The second trope is that disability is a punishment wreaked for committing a sin; as such, disabled people are wholly unsuitable sexual partners because they are evil and, paradoxically, powerful. One of the best examples is William Shakespeare's Richard III, who is written as twisted in body and mind or, as he says of himself, "rudely stamped" and rendered impotent by his physical limitations.
Disabled people have also been stereotyped as being hypersexual – a claim used against women with learning difficulties in particular. This has often led to abuse of disabled women, particularly in institutions, where they have been routinely raped and abused for centuries. Early 19th-century whistleblowers gave evidence of such maltreatment – which extended to rape and murder.
Another powerful archetype, Tom Shakespeare says, is the unconscious – and sometimes conscious – attitudes surrounding reproductive fitness that suggest having a disabled partner is potentially contaminating as it could pass the "problem" on to the next generation.
Disabled people have challenged this on many levels: for example, sexual relations are not all about procreation, not all impairments are inheritable, and many disabled people accept their impairment and the possibility that it might be passed on. Deaf (with a capital D) people, for example, sometimes consider deafness to be a culture, rather than an impairment, and believe it should be embraced and celebrated.
However, with eugenics – a now-discredited social philosophy – Francis Galton pursued the theory of contamination to its logical end. He argued, along with others who took up his ideas, that people with disabilities (as well as the poor and generally "unfit") should be prevented from breeding.
The eugenics movement, which started in the UK, was taken up with enthusiasm in the US. By 1914, nearly two-thirds of US states had made it illegal for "feeble-minded" and "insane" people to marry. Between 1907 and 1928, thousands of Americans were sterilised.
The legitimisation of eugenic views throughout Europe and America ended in a logical, if horrifying, outcome: the systematic murder of thousands of disabled people in Germany in the Thirties and Forties. Among the millions of "undesirables" killed by the Nazis, it is estimated that some 200,000 were disabled.
Asexual, hypersexual, perverse and contaminated: it was a bitter legacy for disabled people, and one that was hardly challenged until the mid-to-late 1960s. The first disabled Vietnam vets were returning to America, pushing for inclusion, and students were also key to this new civil rights battle.
Ed Roberts was the first student with significant disabilities to attend UC Berkeley in California. In the early 1960s, he and other disabled students formed a group, the Rolling Quads, to advocate for theirs to become the first truly accessible university. From that point on, British disability activists have looked to UC Berkeley, and to the US more widely, for inspiration in the struggle for civil rights – not least the "right" to have sex. The nearby University of California responded by founding a sexuality and disability centre, where sex therapists could give advice and facilitate contact with "sex surrogates", as they became known. (Although prostitution was outlawed in almost all US states, the legal status of sexual surrogates was – and still is – undefined.)
Disabled writer Mark O'Brien studied English and journalism at UC Berkeley and was commissioned by the US magazine The Sun to interview disabled people about their sex lives in the 1980s, and this led him to explore his own sexuality. As he wrote: "I wanted to be loved… held, caressed, and valued. But my self-hatred and fear were too intense. I doubted I deserved to be loved… Most of the disabled people I knew in Berkeley were sexually active [that is, functional], including disabled people as deformed as I. But nothing ever happened."
O'Brien eventually saw a sex surrogate, Cheryl Cohen Greene, and lost his virginity with her. (They became lifelong friends.) Two films were made about him – the Oscar-winning short Breathing Lessons and The Sessions – and he had five years of happiness with the writer Susan Fernbach before his death in 1999. His struggle to realise his sexuality became iconic in the wider campaign, inspiring activists such as Dr Tuppy Owens, a British sex therapist and author of Supporting Disabled People With Their Sexual Lives, a guide for health and social care professionals.
"Supporting disabled people to find partners and enjoy sex brings me endless joy and satisfaction," she writes, and she's campaigned for 20 years to boost disabled peoples' confidence and access. Among other services, she runs the Sex and Disability helpline, the TLC website (which connects disabled people to sexual services), and the Outsiders Club, for disabled people looking to make friends and find partners. She also runs an online club for peer support and the Sexual Respect Toolkit website to support those who work in healthcare or social care to initiate conversations about sex.
The stories she tells are genuinely moving. For example, one woman, who used the help of a peer supporter to ask for her catheter to be re-sited, said: "My catheter was fitted so I could wear a bikini, but awkwardly positioned for having sex. When I pointed out to my consultant that I preferred sex to sunbathing, he said, 'OK, let's reposition it then'. As a result, my husband and I have had a lot more fun!"
Owens's book gives a sense of the vibrant emergent scene for disabled people, as well as providing practical advice about such issues as sex toys suitable for people with different impairments (including vibrating cushions, remotely controlled masturbation devices and vibrators with long handles for people who could not otherwise reach). However, she is only one of many across the world working to provide opportunities for disabled people who want to access sexual services. For instance, Rachel Wotton, a sex worker from Australia, is a founding member of Touching Base, a charity that has connected sex workers to disabled people since 2000; and similar schemes have since been set up in Canada and in New Zealand.
Wotton is a big defender of the sex industry and its role in providing services to disabled people: "For some people with disabilities, they only have one life, and to wait around for society to say 'I will date someone with cerebral palsy' – well, when you see some of my clients, their prospects of getting a partner are limited, if not nil... If they choose to see me, that's OK."
In some countries where legislation around sex work is permissive, there is a flexible attitude towards services for disabled people. In the Netherlands, as in Denmark, social workers ask disabled clients whether they need any support with their sexuality and may even fund limited numbers of visits by sexual assistants or sex workers. In Australia, Touching Base works with dementia and disabled people's organisations to develop consent guidelines. "There is a lot of discussion around consent at the moment," Wotton says. "In terms of dementia, when people are losing capacity we are looking at what they used to do. We talk a lot about informed consent, which is about understanding what you are consenting to, of your own free will. Our responsibility is to learn how people are communicating, whether it is with words, pictures or adaptive devices."
The fight for so-called "sexual citizenship" is not confined to the disability rights movement; sexual minorities are marginalised, denied equal access and even criminalised in particular nations. But while there is a common aim for sexual rights to be seen as fundamental, the means are in dispute.
There are radicals who argue that, because some people with disabilities cannot obtain sex without paying for it, they should be exempt from any penalties arising from prostitution – and that the state should even meet the costs. Others say that sexual needs are not de facto a right and that, at best, volunteer organisations should meet people's need to have sex. But where are the voices of disabled people themselves in this? Would disability activists, who first coined the phrase, say of these debates: "Nothing about us, without us"?
Some disabled people are on the radical wing. Others simply call for different forms of help, such as peer support to regain sexual confidence after acquiring an impairment. But whichever way they lean, there is broad agreement that sex education should be more inclusive of disability, and disabled people want to challenge the negative attitudes that mean that they are not seen as valid sexual partners.
In 2005, the magazine Disability Now found that 37.6 per cent of disabled men would consider paying for sex, and that 16 per cent of disabled women would do the same. (Although a minority in both genders, these figures are higher than in the general population.) However, a number of prominent disabled British and American activists profess themselves uncomfortable with the idea of paying per se.
Mik Scarlet, a disabled television presenter and musician influenced by punk and Goth culture, is currently "agony uncle" at the disabled people's organisation Enhance the UK. It runs Love Lounge, a website that offers advice on sex and relationships to disabled people. "Imagine this," he says. "I'm disabled, growing up in Luton, and it's now legal for me to go to a brothel... because apparently that's the only way I'm going to lose my virginity.
"Instantly, my relationship with sex is distorted, and it means that everyone I meet afterwards is going to say, 'He's disabled, that means he's paid for sex; I don't want to go to bed with someone who has paid for it.'
"We are reinforcing the idea that some people are too hideous and too disabled to have sex like the rest of us, and so they have to pay for it. And why is it OK to oppress women, to make their bodies a commodity? It's not all right just because we are on wheels. I want to live in a world where I am perceived to be as viable a sexual partner as anybody else."
Scarlet thought, as many teenage boys would, that his sex life was over when his spine collapsed in his teens and he was no longer able to get an erection. Yet, a few years later, he met Diane Wallace, and they've been together for more than 20 years.
"Lots of disabled people have sex like everybody else. For some of us, our sex is not like everybody else – but that doesn't mean it's less," he says. "You can make somewhere else your erogenous zone, for instance, if you don't have sensation in your genitals any more."
"There is so much ignorance," agrees Diane. "People assumed our sex life was over because Mik was disabled. But there was a raw sexuality about Mik; he was so easy and confident."
At UC Berkeley, the Disabled Students' Union is continuing to push boundaries and has hosted no-holds-barred panel discussions for students and academics, entitled "Are Cripples Screwed?" In a documentary about the panels, which concern disability, love and sexuality. one student who had been dating a non-disabled woman was particularly touched, he said, when "she suggested we had sex in my wheelchair. It was an ultimate act of acceptance." A young disabled woman talked eloquently about sex being "anything that I can get off on. This brings us back into the human race."
And that's really the point. Disabled activists, patiently, are making some valid points about sexuality that hold true for everybody. When Mik Scarlet says that penetration is not the only form of sex, he's speaking for older people, too, or for women who don't like penetration after sexual assault, or for men whose penises have been amputated or damaged after cancer or injury. Knowing that some disabled people have developed erogenous zones in non-genital areas, such as the shoulders or inside the mouth, is useful to everyone who wants to extend their understanding of sexuality.
Dr Kirsty Liddiard, a disabled sociologist from Sheffield University, found this the most empowering part of her own research into the issue. "Disability and impairment can invigorate sexuality, and disrupt our standard norms of gender and sexuality," she says. "Disabled bodies give us the chance to think outside of the box, outside the vision of penetration, the Hollywood view of sex."
In other words, disabled people, by defying some of the damaging myths around sex, may end up liberating us all.
This is an edited version of an article first published in 'Mosaic', mosaicscience.com
Register for free to continue reading
Registration is a free and easy way to support our truly independent journalism
By registering, you will also enjoy limited access to Premium articles, exclusive newsletters, commenting, and virtual events with our leading journalists
Already have an account? sign in
Register for free to continue reading
Registration is a free and easy way to support our truly independent journalism
By registering, you will also enjoy limited access to Premium articles, exclusive newsletters, commenting, and virtual events with our leading journalists
Already have an account? sign in
Join our new commenting forum
Join thought-provoking conversations, follow other Independent readers and see their replies