Valentine's Day: just don't say it with padlocks
Larry Ryan unpicks an odd trend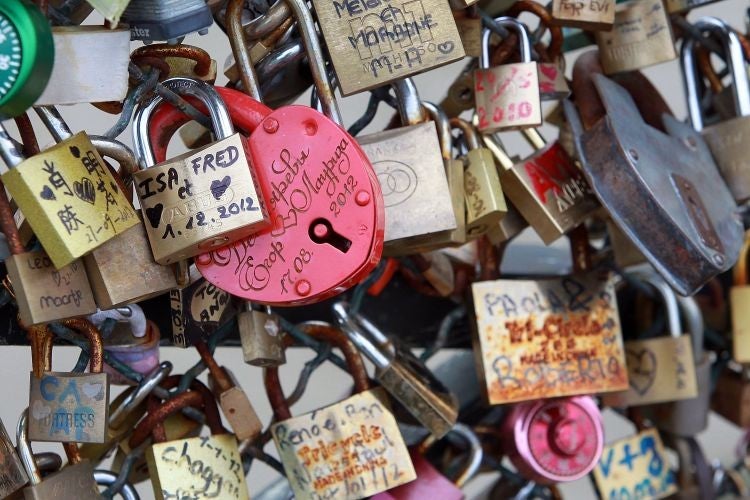 This Valentine's Day you might find yourself strolling with your loved one along a footbridge. City lights twinkle; it's a romantic scene any day of the week but this being 14 February things go up a notch. Next minute said loved one produces a padlock with both of your initials scrawled on its brassy body.
Until recently I was only dimly aware of the phenomenon of so-called "love padlocks" or "love-locks". It seems lovestruck young couples snag a padlock, paint their names or initials on it and snap it on the side of a bridge, throw the key into the river below as a sign of their unyielding love, kiss, take a photo of themselves, post the whole palaver on Facebook and wait for the "likes" to roll in.
It's the sort of thing you might occasionally catch a whiff of in a tourist guidebook or a newspaper, such as in 2010, when it was reported that thousands of the padlocks affixed to the sides of a pedestrian bridge over the Seine in Paris had been unceremoniously removed overnight. Authorities in the city had previously been making concerned noises about the locks damaging the 18th-century structure. Not long after though, locks returned.
One day last summer I had my first encounter with such love padlocks while in Paris visiting my then girlfriend. At some point in the trip we were strolling across the Pont des Arts. This is ground zero of the love-lock racket. On both sides the padlocks dot the chain-link flanks of the bridge. A report in this newspaper from 2011 on the locks described them as a "brightly coloured mosaic that can be seen glimmering in the sunlight from the banks of the Seine".
Not quite. These locks look terrible. Far from a brightly coloured mosaic, it looks like the Pont des Arts has caught some sort of fungal disease.
And that's not getting into the excessive showiness of it all – it's like a physical manifestation of a mawkish Facebook status update. "Unlike."
The lock-of-love phenomenon seems to have kicked off somewhere around the early part of the last decade and outside of Paris, other cities have picked up the baton. Here and there, minor outrages have broken out when authorities, bolt-cutters in tow, have attempted to chop down all that love, sometimes being forced to backtrack following public outcries.
And I've started noticing them closer to home. In Dublin recently I was chatting with someone who mentioned that they had seen random locks attached to the frame of the Ha'penny Bridge. On further investigation I found that Dublin City Council has been periodically removing such locks to protect the cast-iron pedestrian bridge, built in 1816. Later I passed more locks on two other footbridges in Dublin. Next, I was walking over the Millennium Footbridge in London and, yes, more locks! I returned a few weeks later and found that the locks were gone. Perhaps council workers in London had swooped in. I contacted the City of London, which maintains the bridge. "This isn't a big issue for us as it is quite a rare occurrence with our bridges," a spokesman said. "We don't have an official policy on this but occasionally as part of general maintenance they are removed."
Yet the fungus is spreading. Just opposite the entrance to Shoreditch High Street station, there's a fence protecting a blank piece of land underneath the elevated train line. A patch of urban wasteland isn't what you would imagine to be a typical romantic setting but love locks are sprouting along the fence. It's not clear why this site has taken hold. Perhaps it's teenage trainee hipster couples, full of hormones and excited about their first trip to east London.
With an innocuous fence now a venue for such cheesy displays it means any public place is in play. Anywhere people can attach a padlock could become a focal point for this love-lock lark. And once the schmaltz community gets behind one of these lock locations there could be no turning back. The City of London might relaxed about the situation but I say we must be vigilant.
Join our commenting forum
Join thought-provoking conversations, follow other Independent readers and see their replies