What doesn't kill us: We shall overcome

Show all 4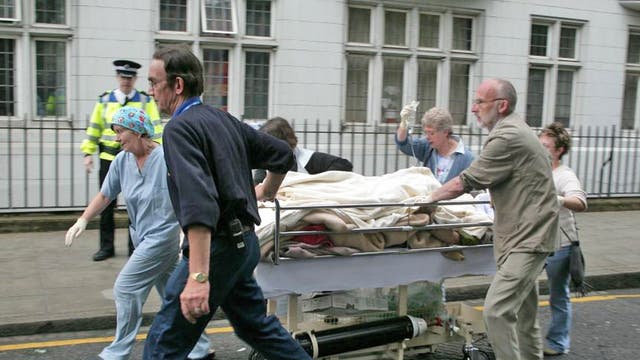 What doesn't kill us: We shall overcome
Traumatic experiences change us for ever. But for some survivors they also bring strength – and an unexpected relish for life
Michael Paterson had been married for three weeks when his armoured Land Rover was hit by a rocket-propelled grenade in West Belfast. It tore off the young policeman's arms and killed the vehicle's driver. Veronica and her daughter, Ruth, were listening to music when they crashed into a car that had flipped over in front of theirs. Ruth died two days later. Gill Hicks was standing in a Tube train in London when it was blown up on 7/7. She lost her legs and watched 26 people die.
These stories of survival after trauma start in horror and could be expected to end there, following a familiar spiral into a hell of flashbacks, misplaced guilt and broken relationships. But a new book by a professor of psychology challenges perceptions of the effects of life-changing events. In What Doesn't Kill Us, Stephen Joseph shares evidence collected over decades to show that, far from ruining lives, traumatic episodes – from divorce to natural disaster – can indeed make us stronger.
Joseph's study began in 1987 after the sinking of the Herald of Free Enterprise. Nearly 200 passengers were killed when the passenger cruise ship rolled over into the frigid waters of the North Sea. A further 300 survivors watched people die and lost relatives.
Joseph was on the team of psychiatrists employed by lawyers acting on behalf of some of these survivors. Early tests confirmed symptoms of post-traumatic stress disorder, but it was the results of a questionnaire three years later that surprised Joseph.
"We asked them whether their lives had changed and how," Joseph recalls from his office at the University of Nottingham, where he is co-director of the Centre for Trauma, Resilience and Growth. "It came as a surprise when 43 per cent of people said their view of life had changed for the better." Joseph used the questionnaire as the template for a survey he has since asked dozens of survivors to complete. Results from his and similar studies suggests as many as 70 per cent of people report positive changes. Joseph says: "They talk about feeling wiser, more mature and compassionate. They are stronger, more resilient and talk about re-ordering priorities, often becoming less materialistic. And in many cases they begin to value relationships more deeply."
Michael Paterson, the Belfast policeman blown up in 1981, is one of the survivors whose recovery Joseph has studied. Paterson had worked as an officer with the Royal Ulster Constabulary for two years and was studying for his sergeant's exam when, shortly after the rocket attack, an army medic packed up his mangled arms, neither of which could be saved. Paterson also sustained horrific injuries to one of his legs.
Months of intensive care followed. There were low moments. "I was in a splint and a nurse was dressing my leg, which had become infected," Paterson recalls on the phone from Belfast.
"I saw the mess of my leg and the mess of my arms and tears flowed down my cheeks. The nurse held me in a maternal way and I stopped crying. But those tears became locked in for years."
Paterson has had the support of his wife, Hazel, throughout their ordeal, a presence he says has been crucial, but while he escaped the worst symptoms of post-traumatic stress, tough times continued. He endured nightmares and a tightness in his stomach whenever he talked about the blast. "The tightness meant something was locked in," he says. "There was emotion and tears of sadness that would not come out for more than 15 years."
It was therapy that helped Paterson release those emotions, but by then he had already defied expectations, both of an arm-less terror victim and of a school drop-out who saw himself as a failure, by turning to academia.
He eventually earned two doctoral degrees and now works in Belfast as a clinical psychologist.
In 2008, the Queen recognised his achievements by granting him an OBE.
Stephen Joseph does not offer a cure to post-traumatic stress but says equal emphasis should be given to post-traumatic growth. "They should go hand in glove," he says. "With the right kind of coping, the spiral can go upwards. It turns on its head what we think about trauma. We begin to think of post-traumatic stress not so much as a disorder as a normal and natural process of adjustment that, if it's managed the right way, eventually leads to growth."
Joseph says psychiatric care can be counter-productive "because people pick up the message that post-traumatic stress disorder is a life-long condition. It becomes a self-fulfilling prophecy that doesn't allow us to understand that what we're going through can be a process of growth".
The discovery of new abilities and interests that did so much to help Paterson recover forms part of what Joseph calls his "Thrive" model. In summary, its six stages are designed to train patients to navigate the fog of trauma by taking stock and then changing their thinking and behaviour.
Veronica, whose daughter died in the car crash, is another case study in Joseph's book, and Gill Hicks, the 7/7 survivor, says in a quote in the book's inside cover that her "every day" proves there is life after trauma.
For Michael Paterson, who has prosthetic arms, it was the "smaller achievements" that gave him the confidence to believe in himself. "I learned to drive a car again and to ride a horse," he says.
"I rode a bike, although I stopped when I realised I couldn't work the brakes. But I knew I could do it and I now believe anything is possible."
What Doesn't Kill Us by Professor Stephen Joseph (Piatkus, £13.99)
Register for free to continue reading
Registration is a free and easy way to support our truly independent journalism
By registering, you will also enjoy limited access to Premium articles, exclusive newsletters, commenting, and virtual events with our leading journalists
Already have an account? sign in
Register for free to continue reading
Registration is a free and easy way to support our truly independent journalism
By registering, you will also enjoy limited access to Premium articles, exclusive newsletters, commenting, and virtual events with our leading journalists
Already have an account? sign in
Join our new commenting forum
Join thought-provoking conversations, follow other Independent readers and see their replies