Green burials: Plans for new biodegradable human seed pods to replace traditional coffins
The designers say that as the biodegradable capsule breaks down its contents will nourish a sapling planted above it, giving a whole new meaning to the expression family tree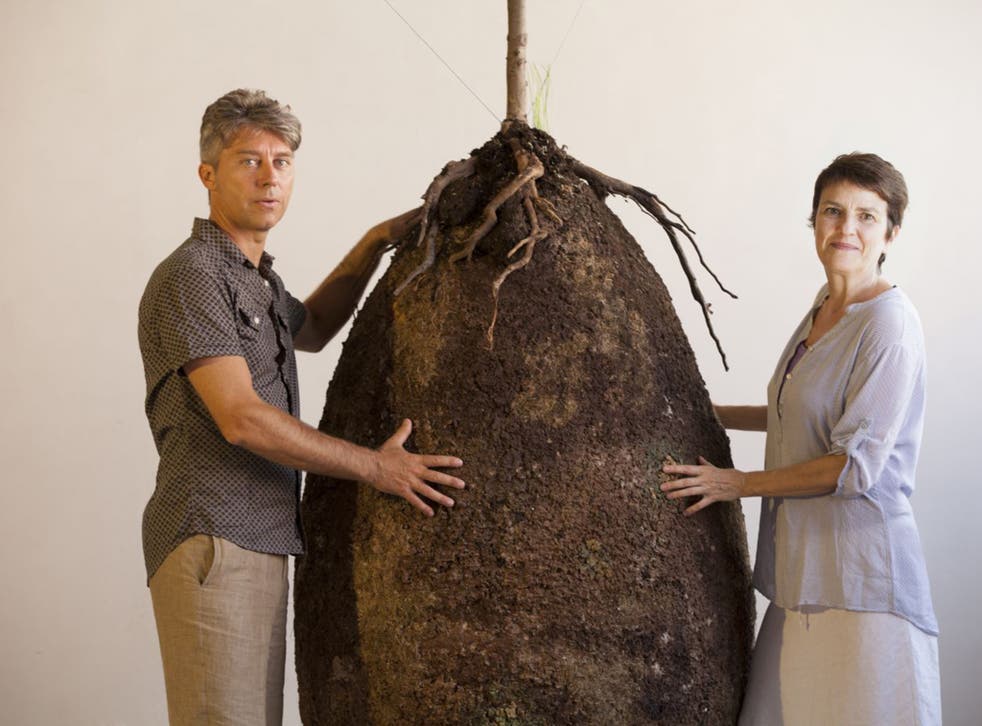 From fast cars to high fashion, Italian designers have traditionally had consumers covered when it comes to high-end lifestyle products. Now they have turned their attention to the afterlife, proposing a radical form of burial that confronts "the unbearable way the modern culture deals with death".
According to the Italian design duo Anna Citelli and Raoul Bretzel, the alternative to a conventional, environmentally unfriendly burial is to have your mortal remains folded into the foetal position, inserted into an egg-shaped capsule and planted in the ground like a giant seed pod. As the biodegradable capsule breaks down its contents will nourish a sapling planted above it, giving a whole new meaning to the expression family tree.
The Capsula Mundi project – which is currently on display at an art gallery in Lille and will be featured at the Tedx conference in Turin in November – is still a concept at this stage.
Italian law currently forbids so-called natural burials which eschew toxic embalming fluids, favour biodegradable shrouds and caskets over wooden and metal coffins, and prefer trees to headstones. As a result, the duo's first foray into commercial casket design will be a range of small egg-shaped capsules designed to hold the ashes from a cremation. The money raised from these mini-eggs – scheduled to go on sale early next year – will be used to fund the "scientific and legal research" which they hope will clear the way for the introduction of the full-sized Capsula Mundi.
British law has far less to say about the notion of being buried in the foetal position inside a giant egg, according to Rosie Inman, the manager of the Natural Death Centre, a charity set up to facilitate natural funerals in Britain.
It is often assumed that a corpse must be housed in a coffin or casket, but the only legal stipulation is that a death is officially registered, and a record is kept of where the body has been interred.
The law also notes that it is an offence to "expose a dead body near a public highway as this would outrage public decency". Ms Inman said that as long as those rules were observed, a loved one's body could be buried wrapped in a favourite duvet or eiderdown, or in a multi-coloured curved coffin.
Natural burials are growing in popularity, as baby boomers, arguably the first generation to embrace environmental concerns, seek out green alternatives to the conventional funeral. There are more than 300 natural burial sites in the UK, and natural alternatives to heavy wooden coffins – everything from simple linen shrouds to hand-woven willow caskets – are flourishing. It is estimated that about 8 per cent of the more than 150,000 burials that take place in the UK each year are now natural burials, up from about 3 per cent just three years ago.
While Ms Inman applauds the efforts of Citelli and Bretzel in propagating innovative forms of burial, she is far from convinced that their egg capsule is anything more than a concept.
"It looks like something that should be in an art gallery," she told The Independent on Sunday. "If it was dropped into a grave it would crack like Humpty Dumpty. Unless they are selling some sort of lowering equipment, how do you handle it?"
"It [Capsula Mundi] is a fantasy. We're real people doing this in the real world with real bodies and real families.
"My question is, have they [the designers] ever buried anyone? No. Have they ever lowered anyone in to the ground? It's just silliness."
Register for free to continue reading
Registration is a free and easy way to support our truly independent journalism
By registering, you will also enjoy limited access to Premium articles, exclusive newsletters, commenting, and virtual events with our leading journalists
Already have an account? sign in
Register for free to continue reading
Registration is a free and easy way to support our truly independent journalism
By registering, you will also enjoy limited access to Premium articles, exclusive newsletters, commenting, and virtual events with our leading journalists
Already have an account? sign in
Join our new commenting forum
Join thought-provoking conversations, follow other Independent readers and see their replies