Woman is brought to tears by stranger's kind words to her at the gym
'I was having a hard day today but you know what? That made my day'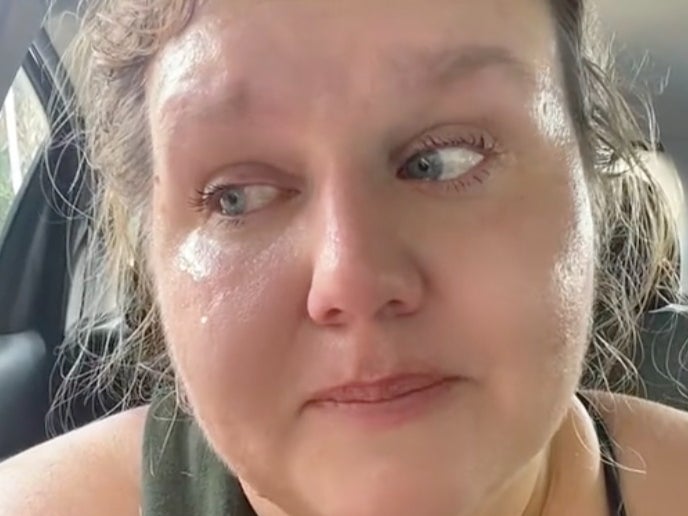 A woman shared an emotional story about a stranger's kind words at the gym which brought her to tears.
In her viral TikTok video, a gym-goer named Steph (@steph5468) said that after working out for almost "over two years" she has been "struggling" lately with her progress, especially after an incident a few weeks previously in which two men made some cruel remarks about her weight. She told viewers that one of them "coughed into his hand and said ogre," which she admitted hurt her feelings.
Ever since that interaction, Steph has been grappling with "deep-rooted insecurities" about her weight, which has been impacted by ongoing medical issues. To treat her ailments, she explained that she takes "steroids" which have caused "blood clots" among other problems. As she has tried to deal with her medical issues, Steph said that she was, in turn, "neglecting" herself.
When a man with "tattoos all over" approached her as she left the gym, she told viewers that she was bracing herself for what she thought was another bully. As a self-proclaimed overthinker, Steph remarked, "There are a lot of thoughts going through your head being a bigger woman in the gym because there's all sorts of ages there, different body types, like super fit, not fit, and it kind of messes with your head."
What he ended up saying to her was not at all what she expected. She recounted: "He goes, 'I've seen you in here every week, almost every day. I see you in here every week and I'm proud of you.'" His words of encouragement hit Steph hard, motivating her to make a video about the kindness of this stranger. "You have no idea how much people that are going through something appreciate the kindness," she said through tears.
"He didn't have to say it, he doesn't even know what I'm going through." She continued to say that nobody besides the management at the gym knew about her medical condition. "I'm just grateful for people like you guys that encourage us, people like me. Even if you're not like bigger but you're still, like, insecure about something."
"I was having a hard day today but you know what?" Steph told viewers. "That made my day."
There was an outpour of support for Steph and the stranger's act of kindness online, with one fitness coach commenting on the video: "Just having someone say they are proud of you can move mountains for so many of us."
"To be seen as we are is such a human need in each of us," someone else remarked. Another wrote, "Little happiness snowballs. We all gotta throw them sometime."
Many have taken to writing encouraging comments on Steph's personal account where she frequently posts about her ongoing fitness journey. Including comedian Paul Kim, who commented on a recent video of Steph's, saying: "Crush them with your consistency and progress. You got this!!! We believe in you."
The Independent has contacted Steph for comment.
Join our commenting forum
Join thought-provoking conversations, follow other Independent readers and see their replies