Assisted dying review selects those who could end their life

Show all 3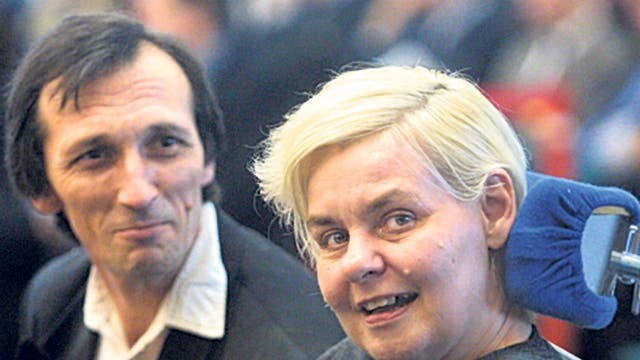 Assisted dying review selects those who could end their life
Expert panel says law as it stands is 'inadequate and incoherent' and must be changed
A person suffering from a terminal illness who is likely to die within 12 months, is of sound mind and has a settled intention to die should have the choice of an assisted death, a landmark report says today.
In a challenge to medical and legal organisations that have refused to back change, the Commission on Assisted Dying says the current law is "inadequate and incoherent" and should not continue.
The proposed new law would apply only to people who were terminally ill and not to those who were physically disabled, such as Daniel James, the paralysed rugby player who ended his life, aged 23, at the Swiss clinic Dignitas in 2008.
The privately organised inquiry, chaired by Lord Falconer, the former Lord Chancellor, says the current law causes distress for the people affected and their families, is unclear for health and social care staff, and lays a "challenging burden" on police and prosecutors.
The inquiry proposes a new legal framework with strict criteria to determine who might be eligible for an assisted death and robust safeguards to prevent abuse.
Organisations opposed to assisted suicide attacked the findings. Dr Peter Saunders, campaign director of Care Not Killing, said the law did not need to be changed and branded the review "unnecessary, biased and... seriously flawed".
Lord Falconer said that although assisted suicide was outlawed in the UK, it was frequently allowed to take place without any protection to support people at a vulnerable time. Those without resources had been forced to take their lives early, he said, for fear that if they waited until they became incapable, their loved ones might be prosecuted for helping them to die; this had led to botched suicides, he said.
The review was funded by Sir Terry Pratchett, the best-selling novelist diagnosed with Alzheimer's disease in 2007. It took evidence from 40 expert witnesses and heard statements from 1,200 people. Its independence was criticised, however, after the British Medical Journal pointed out that nine of the 12 commissioners had publicly supported a change in the law to allow assisted suicide, and the British Medical Association and more than 50 other organisations refused to submit evidence to it.
A spokesperson for Demos, the think-tank which hosted the inquiry, said those against change were excluded because "we needed people with an open mind".
The failure of the existing law, under which someone assisting a suicide is liable for up to 14 years imprisonment, had been demonstrated by the fact that 31 cases had been considered by the Director of Public Prosecutions since new guidelines were introduced in February 2010, and not one had led to a prosecution.
The commissioners visited Switzerland, the Netherlands and Oregon, which permit assisted suicide, but found fault with all of them.
But in the UK, assisted suicide remained an "amateur activity" causing "significant concern" and there were no measures against abuse.
The review proposes that two independent doctors would be required to ratify patients who met the criteria and ensure all other options for end-of-life care had been explained to them. The patients would be able to ask their doctor for a lethal dose of medication which they would have to take themselves to demonstrate it was a voluntary choice.
David Praill, chief executive of Help the Hospices, called for a wider debate on assisted dying. "It is about the right to be cared for – the right to more care, better care and more appropriate care," he said.
The new proposals: Who would qualify – and who wouldn't
Person A Has been diagnosed with terminal cancer with a prognosis of nine months. They could be eligible for assisted dying (if they meet the other eligibility criteria).
Joan Downes, 74, and Sir Edward Downes (the conductor), 85, ended their lives together at Dignitas in 2009. She had terminal cancer; he had no terminal condition but with failing eyesight, hearing and mobility could not bear to go on without her. She would have been permitted to end her life under the Commission's suggested criteria; he would not.
Person B Diagnosed with motor neurone disease and given three years to live, would not be eligible for assisted dying. However, they could be eligible when they have a prognosis of a year or less.
Diane Pretty, who had motor neurone disease, fought a two-year legal battle seeking immunity from prosecution for her husband, Brian, should he help her to commit suicide. She lost her appeal before the law lords and the European Court of Human Rights. She died in a hospice in 2002.
Person C With a significant physical impairment but not terminally ill, would not be eligible.
Daniel James, 23, a paralysed rugby player, ended his life at Dignitas in 2008 after threatening his parents that he would starve himself to death if they did not help him. His parents, Mark and Julie, were treated as suspects in a serious crime and waited six weeks before the threat of prosecution was lifted. Under the proposed criteria, Mr James would not have been eligible for an assisted death and his parents would have faced the same ordeal. But Person D, who has a significant physical impairment and has been diagnosed with cancer with a prognosis of nine months, could be eligible for an assisted death (subject to the other criteria being met).
Person E Who has dementia, would not be eligible for assisted dying. While dementia is considered to be a "terminal illness", someone with a prognosis of 12 months or less would be unlikely to have sufficient mental capacity to qualify.
Terry Pratchett, the best-selling author who is in the early stages of Alzheimer's and who funded the Commission's review, has campaigned for the terminally ill to be allowed to end their lives in the UK instead of abroad. His BBC documentary showed the final moments of a motor neurone disease sufferer taking his own life at Dignitas. However, if Terry Pratchett were to develop cancer....
Person F Who has recently been diagnosed with dementia and then develops a concomitant terminal illness, such as cancer, might be eligible if they retain mental capacity (subject to the other criteria being met).
Register for free to continue reading
Registration is a free and easy way to support our truly independent journalism
By registering, you will also enjoy limited access to Premium articles, exclusive newsletters, commenting, and virtual events with our leading journalists
Already have an account? sign in
Register for free to continue reading
Registration is a free and easy way to support our truly independent journalism
By registering, you will also enjoy limited access to Premium articles, exclusive newsletters, commenting, and virtual events with our leading journalists
Already have an account? sign in
Join our new commenting forum
Join thought-provoking conversations, follow other Independent readers and see their replies