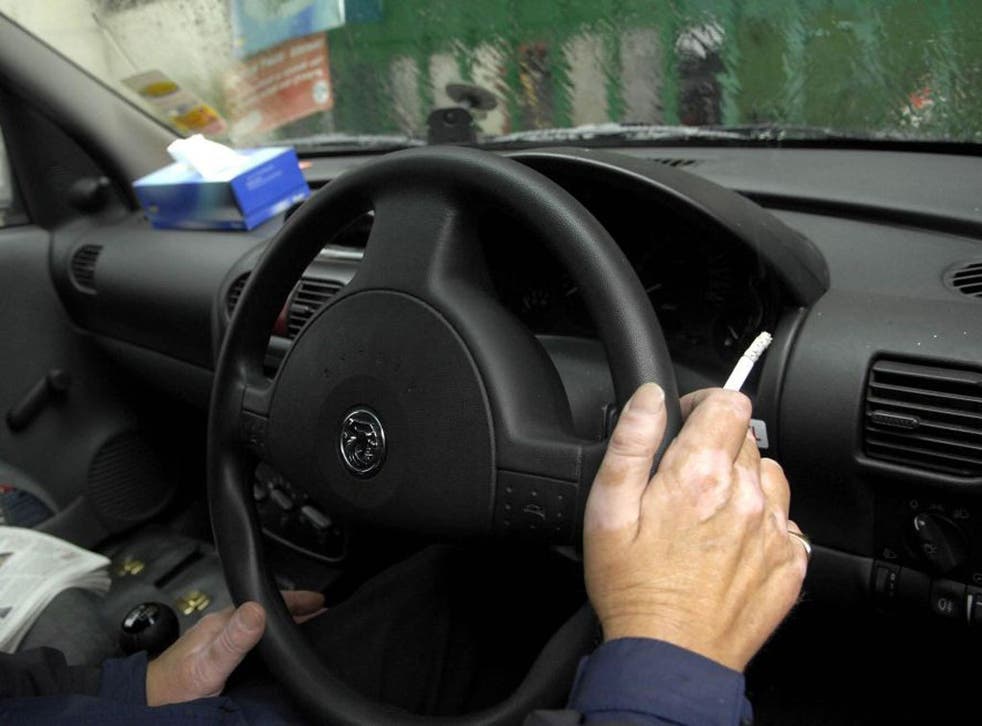 BMA calls for smoking in cars to be banned
Smoking in your car should be against the law, doctors have told the Government.
The British Medical Association (BMA) is calling on ministers to bring in the "bold and courageous" ban for reasons of health rather than road safety.
Evidence suggests smoking in a closed vehicle exposes the occupants to large amounts of harmful chemicals, the doctors reported.
Toxin levels can be 23 times higher than in a typical smoky bar, it is claimed, with children and the elderly said to be at particular risk.
Children absorb more pollutants than adults and their immature immune systems are less able to cope with the effects of second-hand smoke, according to the BMA.
The elderly are prone to respiratory problems that can be made worse by inhaling cigarette smoke, the doctors warned.
Such vulnerable groups may be unable to refuse journeys in smoky vehicles, the BMA points out.
Dr Vivienne Nathanson, the BMA's director of professional activities, said: "Every year in England there are over 80,000 deaths that are caused by smoking. This figure increases to a shocking six million worldwide.
"But behind the stark statistics, doctors see the individual cases of ill-health and premature death caused by smoking and second-hand smoke. For this reason, doctors are committed to reducing the harm caused by tobacco.
"The UK made a huge step forward in the fight against tobacco by banning smoking in all enclosed public places but more can still be done.
"We are calling on UK governments to take the bold and courageous step of banning smoking in private vehicles.
"The evidence for extending the smoke-free legislation is compelling. The current UK Government prefers voluntary measures or 'nudging' to bring about public health change, but this stance has been shown to fail time and time again."
The BMA spelled out its message in a briefing paper launched to coincide with the second reading of a Private Members' Bill calling for a smoking ban in private vehicles when children are present.
The Bill, introduced by Labour MP Alex Cunningham, is due to be debated on November 25.
Smokers' pro-choice lobby group Forest strongly opposed the move.
Director Simon Clark said: "There is no justification for a ban on smoking in cars, with or without children present. The evidence that it is harmful to other passengers is weak, to say the least.
"We don't condone smoking in cars with children. It's inconsiderate, certainly, but only a small minority of people do so these days. Adults have a choice and they can choose not to travel in a vehicle if the driver is smoking.
"Legislation is a gross over-reaction. What next, a ban on smoking in the home?"
Prime Minister David Cameron has distanced himself from Mr Cunningham's proposal.
Speaking during Prime Minister's Questions in the Commons, Mr Cameron - an ex-smoker - said he supported the current smoking ban in public places.
But he added: "I am much more nervous about going into what people do inside a vehicle."
Maura Gillespie, head of policy and advocacy at the British Heart Foundation, said: "Passengers in smoke-filled cars, including children, breathe in more pollutants than anywhere else.
"There is already clear evidence that passive smoking increases the risk of a number of serious health problems.
"Children especially need to be protected from the damaging effects of other people smoking in cars."
Emily Humphreys, head of policy and public affairs at Asthma UK, said: "We fully support calls on parents and carers not to smoke in cars, particularly in the presence of children, as second-hand smoke has been proven to be harmful to children, causing asthma and triggering attacks.
"In addition, research suggests that children are more likely to start smoking if their parents or older siblings smoke so we actively encourage parents to not smoke around children and we ask them to really consider the impact this has on their health and development."
Liberal Democrat MP Stephen Williams, chair of the All Party Parliamentary Group on Smoking and Health, said: "While welcoming the Department of Health's commitment to launch a marketing campaign to encourage people to make their homes and cars smoke-free, having listened to the experts, I believe that this will not be sufficient.
"The killer fact for me was that just one cigarette smoked in a car during a typical 30-minute journey with the windows closed leads to levels of second-hand smoke about seven times that of the smoky bars that existed in this country before 2007.
"This is clearly intolerable and it's time to turn the debate to how best to protect children from second-hand smoke."
Miranda Watson, director of communications at the British Lung Foundation, said: "The BMA's latest report provides a damning overview of the effects of smoking in cars on people's health.
"What more evidence does the Government need before it is prepared to take more action to protect children from the effects of smoke when they are in the car?
"The BMA is calling for a full ban and evidence shows that cigarette smoke has a damaging effect on your lungs whatever the age.
"However, the British Lung Foundation is focusing on children specifically because they are literally trapped in the car and have no choice but to breathe in the smoke."
A Department of Health spokeswoman said: "We do not believe that legislation is the most effective way to encourage people to change their behaviour.
"Smoking is undeniably one of the biggest and most stubborn challenges in public health.
"In March, we published our plans to help drive down smoking rates and reduce the harms from tobacco over the next five years.
"As part of this commitment, we will be launching a national marketing campaign next year to remind smokers of the risks of exposing children and adults to second-hand smoke and we will be supporting local areas to work in partnership to encourage smokers to change their behaviour."
PA
Join our new commenting forum
Join thought-provoking conversations, follow other Independent readers and see their replies