Breast implants court case: 5,000 women lift French trial to a scale never seen before

Show all 2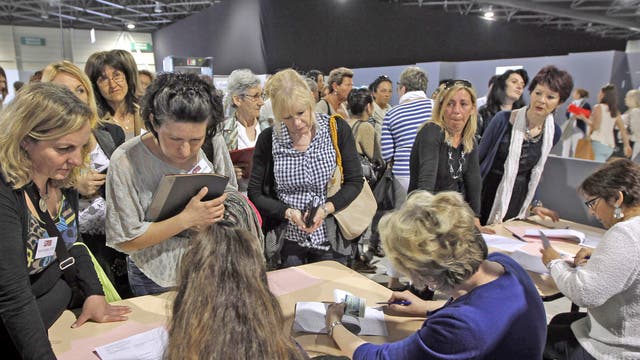 Breast implants court case: 5,000 women lift French trial to a scale never seen before
Breast implant firm's founder faces fraud charge alongside four colleagues
John Lichfield
Wednesday 17 April 2013 19:23 Comments
Hundreds of women packed into a conference centre in Marseille for the trial of five men accused of flooding the world with faulty, and potentially dangerous, breast implants.
The trial of Poly Implant Prothese (PIP) founder Jean-Claude Mas and four of his colleagues at the company's factory in Toulon will last one month, but has already made French judicial history. The list of civil plaintiffs – 5,000 women from all over the globe – is the largest recorded in France. The total number of women worldwide who were given PIP implants, produced from low, industrial grade silicon, is estimated at 125,000, including 45,000 in Britain.
To accommodate the massed ranks of plaintiffs – over 300 of whom appeared – the trial has been transferred to a makeshift courtroom in a conference centre.
Some lawyers for the alleged victims feel the trial should have been larger. They are angry that Mr Mas, 73, and his four colleagues are accused only of "aggravated fraud". Investigations into alleged manslaughter and grievous bodily harm in connection with the implants are not yet complete.
Some plaintiffs are also frustrated that charges have not been brought against other allegedly negligent parties, including breast enlargement clinics and a German firm which certified the defective implants.
Many women who attended said they wanted to confront Mr Mas face-to-face. Varanne, 38, is about to have a tenth operation. "I developed breast cancer and I'm sure it's because of these PIP implants," she said. "When they opened me up, they found the implants had burst and I had silicon everywhere… I want to see Jean-Claude Mas admit that he poisoned us and that he knew what he was doing."
Maître Yves Haddad, lawyer for Mr Mas, said that his client deserved credit for turning up in person. "He could have said he was sick, which he is," Mr Haddad said. "He wanted to be here to answer questions because he cares about all the people who have linked their names to the case, even if that seems strange to some people."
An attempt by defence lawyers to have the trial transferred to another jurisdiction was rejected earlier in the day by France's highest appeal court, the Cour de Cassation. Other procedural issues, including a complaint that a trial with 5,000 plaintiffs was unworkable, occupied the first day.
It is alleged that Mr Mas and his colleagues substituted a low grade of silicon for the approved type in order to reduce costs and increase profits. The vast majority of the implants were fitted for cosmetic reasons. Some were for breast reconstruction.
Up to a quarter of the implants burst or leaked, according to a French study. Allegations that the leaking silicon caused cancer or other medical complications have yet to be proved.
Mr Mas, his deputy, Claude Couty, his quality director, Hannelore Font, his technical director Loic Gossart, and his head of products, Thierry Brinon face up to five years in prison if convicted. They deny the charges.
Register for free to continue reading
Registration is a free and easy way to support our truly independent journalism
By registering, you will also enjoy limited access to Premium articles, exclusive newsletters, commenting, and virtual events with our leading journalists
Already have an account? sign in
Join our new commenting forum
Join thought-provoking conversations, follow other Independent readers and see their replies