Britons told to halve sugar intake to beat obesity
Under new guidelines an adult could no longer drink a can of Coca Cola or similar drink and stay within their daily allowance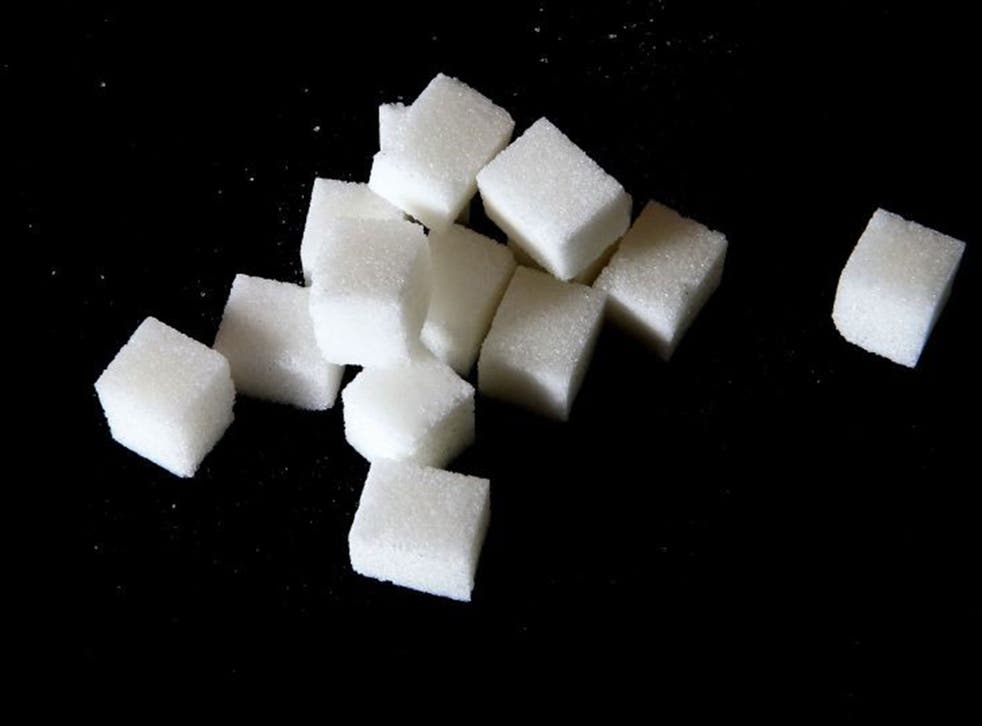 People should halve their daily intake of sugar to combat Britain's obesity epidemic and protect children from diabetes, heart disease and tooth decay, Government health advisors have said.
In a potentially major shift to official dietary advice, experts said that free sugars – those found in sweetened drinks, fruit juice, confectionery, and added to a wide range of processed foods – should make up just five per cent of our daily energy intake.
For an adult this would mean that a single can of a typical soft drink such, which contains the equivalent of six to seven teaspoons of sugar, would represent almost their entire healthy allowance for the day.
Given the widespread use of free sugars in everything from ready meals to canned soup, this means that, realistically, an adult could no longer drink a can of Coca Cola or similar drink and stay within their daily allowance, experts said.
Government advisors from the Scientific Advisory Committee on Nutrition (SACN) said that every single population group in England is already exceeding the current 10 per cent limit on sugar consumption.
Professor Ian MacDonald, chairman of SACN's working group on carbohydrates, which has produced the draft guidance, said there were clear associations between high levels of free sugar intake and overall increased energy intake and obesity.
"There is also an association between sugar-sweetened beverages and type-2 diabetes," he said. "In children there is clear demonstration that sugar-sweetened beverages are associated with obesity. By reducing it to five per cent you would reduce the risk of all of those things. The challenge will be to get there."
The term "free sugars" does not include those found in fruit and milk – but does encompass sugars added to food by the manufacturer, cook or consumer, and sugars naturally present in syrups and unsweetened fruit juices.
Public health minister Jane Ellison said that the new advice confirmed "eating too much sugar can have a significant impact on health". SACN's report will now be subject to a consultation, and final guidance will be published in March 2015 – at which time the Government will decide whether to change official dietary guidance.
Along with the new guidance from SACN, officials from Public Health England yesterday launched an investigation into new ways to cut the nation's sugar intake. Experts will consider a range of measures, including curbs on advertising to children, and "fiscal measures", particularly on sugary drinks that could reduce consumption.
Other countries have introduced a tax on sugar or sugary products, particularly sweetened drinks. However, the Department of Health said that there were no current plans to introduce a "sugar tax".
Professor MacDonald said that staying within the new five per cent target did not necessarily mean reverting to a "boring, Second World War rationing diet".
Swapping sugary drinks for water, chocolate for fruit, sugary cereal for porridge, and puddings for low fat yogurts would help consumers, said Dr Alison Tedstone, chief nutritionist at Public Health England.
She added that there had been little improvement in the population's overall sugar intake in five years, and that obesity was a "very difficult" problem for the UK, with two thirds of adults overweight or obese and one in three children leaving primary school overweight or obese.
"Being a little bit overweight, slightly podgy, is raising your risk of serious diseases including type-2 diabetes which will have potentially devastating effects on you and your families," she said. "It could lead to you going blind and having feet amputated. You also raise your risk of cardiovascular disease and some cancers."
The British Soft Drink Association (BSDA), which represents the majority of manufacturers, including Coca Cola, insisted that soft drinks could be part of a balanced diet.
Gavin Partington, BSDA's director general said: "This year, major companies in the industry are increasing advertising spend on low- and no-calorie drinks by 49 per cent and sales of these products have already increased by five per cent over the last two years."
Healthy eating: Suggested meals
Breakfast
Shreddies with semi-skimmed milk and raisins, two pieces of brown toast with reduced fat polyunsaturated spread and peanut butter, white tea (semi-skimmed milk)
Mid morning
White tea (semi-skimmed milk); apple
Lunch
Jacket potato (reduced fat polyunsaturated spread) baked beans with salad (lettuce, cucumber, tomato) and low fat yoghurt, water
Afternoon snack
White tea (semi-skimmed milk), banana
Evening meal
Fish pie with peas, strawberries and single cream, low calorie fizzy diet drink
Source: Public Health England
Register for free to continue reading
Registration is a free and easy way to support our truly independent journalism
By registering, you will also enjoy limited access to Premium articles, exclusive newsletters, commenting, and virtual events with our leading journalists
Already have an account? sign in
Register for free to continue reading
Registration is a free and easy way to support our truly independent journalism
By registering, you will also enjoy limited access to Premium articles, exclusive newsletters, commenting, and virtual events with our leading journalists
Already have an account? sign in
Join our new commenting forum
Join thought-provoking conversations, follow other Independent readers and see their replies