Campaign to tackle soaring STD rate among over-50s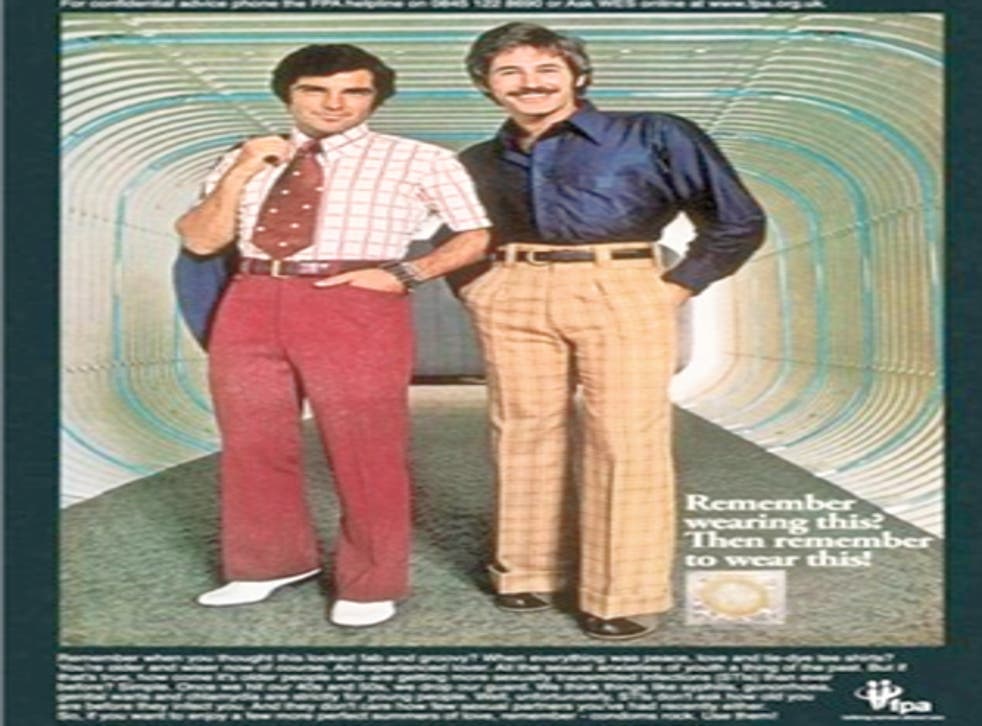 The first national campaign to persuade the over 50s to practice safe sex is to be launched next week, after figures showed an alarming rise in sexually transmitted infections among older people.
Health charity FPA, formerly the Family Planning Association, will use fashion adverts from the 1960s and 70s to encourage members of the "baby boomers" generation to use condoms.
The campaign posters bear the phrase: "Remember wearing this?" next to an image of somebody posing in an outfit from the period, adding: "Then remember to wear this" beside an image of a packaged condom.
The drive has been partly prompted by recent figures published by the Health Protection Agency, which showed a rise in people in their 50s, 60s, 70s and 80s having sex with new partners over the last 10 years.
This trend has led to an increase in all of the five main sexually transmitted infections (STIs) in those age groups. The figures showed that 45 to 64-year-olds saw the biggest rise in syphilis, herpes, chlamydia and genital warts between 2000 and 2009. They also saw the second-biggest rise in gonorrhea cases, beaten only by the over 65s.
Cases of syphilis in 45 to 64 year-olds rose ten-fold from just 52 in 2000 to 503 in 2009. In the over 65s, cases more than quadrupled from just 7 in 2000 to 32 in 2009.
Gonorrhea fell in all age groups between 2000 and 2009 except for the over 45s. Health workers argue that people in this age group commonly make the mistake of thinking that sexual health issues will not affect them.
People living longer and healthier lives coupled with rising divorce rates may be responsible for the rise in STIs among baby boomers, who appear to have missed out on decades of public sexual health messages often targeted at younger, more at-risk groups.
Sexual health services tend to be geared towards teenagers and young people, while advertising campaigns are commonly targeted at the under 25s. Older people can be left unaware that they are taking risks with their sexual health.
The FPA said it was no surprise that over 50s were having sex with new partners, but that they needed to recognise the dangers of unprotected sex.
A spokeswoman said: "The oldest caller to our helpline was an 82-year-old man starting a new relationship. But this also means that STIs in people over 50 are rising fast – and have been for several years.
"Some people are coming out of relationships and dating again. Some have always been single. And many over 50s are enjoying fantastic sex and finding new love at this point in their lives.
"The problem is that lots of people over 50, single or dating, don't think safer sex applies to them. If you've been in a long-term relationship it may not have been something you've had to factor in for years.
"And after the menopause, when pregnancy isn't a concern, using condoms can be easily forgotten about. Result? STIs are making a comeback in a new generation."
Michelle Mitchell, charity director at Age UK, said: "Diseases such as chlamydia and hepatitis B do not only affect young people; everyone is at risk and people of all ages need to protect themselves.
"While the public health focus has almost exclusively been targeted at increasing awareness of STIs among younger age groups, these figures send a clear signal that more information needs to be aimed at older people to improve awareness."
Register for free to continue reading
Registration is a free and easy way to support our truly independent journalism
By registering, you will also enjoy limited access to Premium articles, exclusive newsletters, commenting, and virtual events with our leading journalists
Already have an account? sign in
Register for free to continue reading
Registration is a free and easy way to support our truly independent journalism
By registering, you will also enjoy limited access to Premium articles, exclusive newsletters, commenting, and virtual events with our leading journalists
Already have an account? sign in
Join our new commenting forum
Join thought-provoking conversations, follow other Independent readers and see their replies