Can Russia kick heroin?
A huge population of addicts and a growing HIV epidemic have failed to persuade the state to face up to its disastrous drug problem. But now an unofficial band of volunteers is trying to fill the gap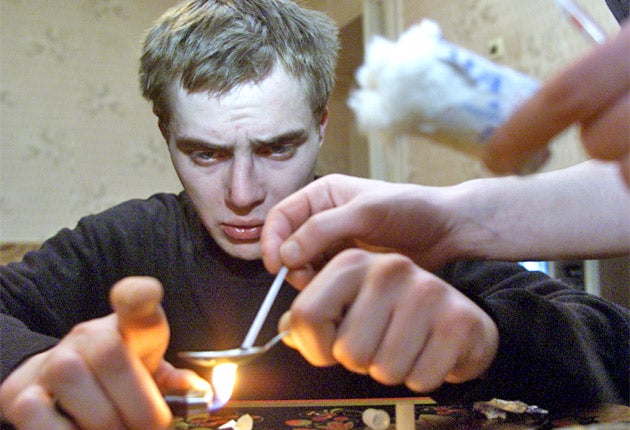 Dressed in a black padded jacket and navigating his way through a green apple with his few remaining teeth, Sanya is already waiting when Maxim Malyshev arrives at the usual place. Once a week, Mr Malyshev holds court outside a small chemist in the Moscow suburb of Marino, under steely grey skies and with a backdrop of drab 20-storey apartment blocks on all sides.
Sanya, and several other heroin addicts who drop by, all receive a plastic bag full of various provisions: needles, syringes, creams and medicines, and condoms for those who want them. For Sanya, bandages and disinfectant will be especially useful – he has a wound on his leg that means he can hardly walk. "I went to the local clinic but they told me to f*** off again," he says, forlornly.
Mr Malyshev works for the Andrei Rylkov Foundation, the only organisation that works on "harm reduction" among heroin users in Moscow. Russia has one of the world's worst heroin epidemics, but basic measures used in other countries to reduce health risks among addicts are controversial here. The work that the Andrei Rylkov Foundation does, distributing clean injecting equipment, is unusual in Russia and has come under attack from the authorities, even though similar programmes are in force across the world, including in authoritarian states such as China.
The importance of clean needles is emphasised by Russia's HIV epidemic, the fastest growing in the world. Around one million people are believed to be HIV-positive, and the majority of them contracted the virus through drug use.
Russia is on the transit route for heroin from Afghanistan and could have up to three million heroin users, according to NGOs. When heroin is not readily available, people switch to injecting pharmacy drugs such as krokodil, which is brewed up from codeine painkillers, petrol, pipe cleaner and iodine; it rots the flesh of those who inject it. Eye-drops meant for use by ophthalmologists and other pharmacy drugs are also injected by hundreds of thousands of Russians.
"Without us, they don't have the money to buy clean needles and syringes," says Mr Malyshev. "And some of the other things we hand out, like disinfectant wipes, and various creams, they wouldn't even think to buy."
Mr Malyshev, who was a heroin addict himself, says he has seen the benefits of needle exchange programmes. "Without harm reduction, I don't know if I'd still be here," he says.
"Harm reduction saves lives," agrees Damon Barrett, deputy director of Harm Reduction International, an advocacy association in London. "We can add that it reduces crime, helps build communities and saves money too."
He says that every relevant UN agency and most countries globally have admitted that harm reduction works. Not Russia, though. Officials have made clear what they think of the philosophy of harm reduction on a number of occasions. "We tried this," said Yevgeny Bryun, an official from the ministry of health. "Strangely enough, we saw a spike in drug use and HIV cases."
Advocates of harm reduction say that such a growth in official statistics is natural, as when their programmes work well, it brings drug users in from the margins and gets them registered for healthcare and other services.
Previously, although controversial, harm reduction programmes in Russia were funded by money from the Global Fund to Fight Aids, TB and Malaria. But late last year, Russia stopped receiving money from the body and is now a donor rather than a recipient. Overnight, funding for harm reduction programmes dried up, and with the government opposing them, hardly any remain.
Anya Sarang, head of the Andrei Rylkov Foundation, runs her organisation with money won in an international competition, and is trying to raise funds online for a minibus that would enable her volunteers to travel to heroin users' homes.
In Marino, Max Malyshev spots a young man on crutches walking out of the chemist, and sidles up to him, subtly enquiring if he needs medical help. The man, in his late teens, gratefully receives a package from Mr Malyshev's blue rucksack, and asks if the organisation could also give advice on where the best rehabilitation centres are in Moscow. "We don't really do that, but call, and we'll do our best to help you out," Mr Malyshev says.
Sanya first had trouble when he was admitted to hospital and had to have a large vein removed in his leg. He says he was treated so badly, including by doctors who brought medical students in to practise on his body, that he ran away from the hospital before the surgery had healed, and ever since has had an infection.
One man has lost his passport, which is disastrous news as without it he cannot be treated. Another tells of a fellow addict who has developed a huge trophic ulcer on one of his legs, a wound which he says he has pushed a finger into two centimetres deep. The friend has not sought or received medical care, he says, and is instead lying immobile on the floor of his apartment.
"For heroin users, the state and the medical system are their enemies," says Ms Sarang. "They are treated like scum and people are in a vicious circle where they cannot get any treatment for their addiction, and end up slowly dying."
Advocates of harm reduction programmes say that this kind of outreach contact is one of their main benefits, helping to bring drug addicts back into the medical system. But in Russia, the topic is still a taboo. Ms Sarang's organisation touches a tiny fraction of Russia's hundreds of thousands of heroin addicts, and even their small operation is at constant risk of closure for contravening the law on "drugs propaganda".
Ms Sarang's foundation had its website closed down earlier this year by Russian authorities, who accused it of "drugs propaganda" because the website contained information about methadone. Methadone is used in most countries as a substitute for heroin, as it brings addicts into the medical system, reduces the risk of HIV transmission, and stops them committing crime to fund their addictions. In Russia, however, it is illegal. When Viktor Ivanov, the head of Russia's Drug Control Agency, was asked about the ban on Ms Sarang's website at a conference in Vienna, he said that the Andrei Rylkov Foundation had been selling methadone through its website, an accusation Ms Sarang calls "absurd and ridiculous". She is aware that any day the authorities could decide that harm reduction programmes could be also designated "drugs propaganda", and her staff arrested.
"Russia is the world's cautionary tale on drugs and HIV," says Mr Barrett of Harm Reduction International. "No other government is so willing to deny the evidence on harm reduction, silence open debate, and witness the deaths of its own people."
Join our commenting forum
Join thought-provoking conversations, follow other Independent readers and see their replies