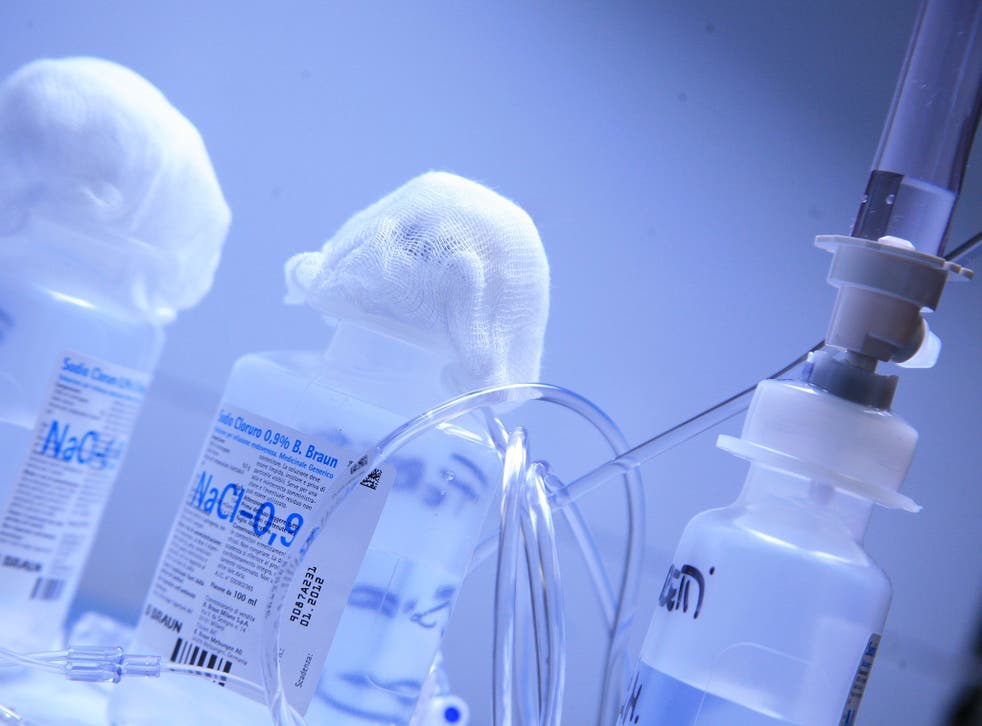 Cancer Drugs Fund: Life-extending drugs to be denied to NHS patients in England as fund overspends
'Difficult decision' has been made after the Government's flagship fund overspent by £100m in 2014-15
Sixteen life-extending cancer drugs will no longer be available to patients in England from March after the NHS announced it would not pay for them through the Government's flagship Cancer Drugs Fund (CDF).
The drugs have been removed from a list of treatments paid for by the CDF in a bid to cut costs. The £280m fund was due to overspend by £100m in 2014-15.
Some drugs will be removed altogether and others will be restricted to use against specific forms of cancer.
In total 25 different forms of cancer treatment will no longer be available. The restrictions, which commence from March 2015, will save up to £80m, NHS England estimate.
Patient representatives have expressed dismay at the decision, blaming the NHS for failing to fully assess the benefits of some drugs, and pharmaceutical companies for maintaining rigidly high prices.
The Cancer Drugs Fund, set up by the Coalition Government in 2010, pays for drugs that have already been rejected on cost-effectiveness grounds by the NHS rationing body, the National Institute of Health and Care Excellence (NICE), or drugs that have not yet been assessed. It is only available to patients in England.
Among the drugs no longer available will be Avastin, for advanced bowel cancer, breast cancer drugs Halaven, Tyverb and Afinitor and a number of treatments for blood cancers such as leukaemia and lymphoma.
However, the breast cancer drug Kadcyla, which costs £90,000 per patient will still be available. Three new drugs have also been added to the list of available treatments.
Patients already receiving drugs through the CDF will continue to do so, and any drug that is the only therapy available for a particular form of cancer will remain on the list, NHS England said. Professor Peter Clark, a cancer specialist and chair of the CDF, said that the drugs removed were those which "did not offer sufficient clinical benefit" to justify the amounts spent on them.
"There were others that offered some benefit but were costly and I am pleased that a number of pharmaceutical firms worked with us to make prices more affordable, saving millions of pounds that can now be reinvested in other treatments," he said.
"These are difficult decisions, but if we don't prioritise the drugs that offer the best value, many people could miss out on promising, more effective treatments that are in the pipeline." However, the Rarer Cancers Foundation said ending funding for so many treatments would be "devastating for patients", estimating that around 7,700 would be impacted.
"Both sides bear responsibility for this mess... If the Prime Minister is serious about his promise to cancer patients, he needs to bring together NHS England and the drugs companies to broker a deal to protect access to these drugs before the March deadline when patients will be denied treatment," said the charity's chief executive officer Andrew Wilson.
Mark Flannagan, chief executive of Beating Bowel Cancer, said two-thirds of patients with advanced bowel cancer "face the probability of an earlier death" by being refused the treatments.
The increasing strain on NHS resources

Show all 4
"Doctors will be forced to tell their patients there are treatments that can prolong their lives but will no longer be available," he said.
Mia Rosenblatt, head of policy and campaigns at Breast Cancer Campaign, said that, while it welcomed the continued funding for Kadcyla and two other breast cancer drugs, dropping three others would limit treatment options for patients.
Halaven, for example, has received more applications for use than any other breast cancer drug available through the fund, and its removal will affect around 800 women a year, the charity predicted.
Stephen Whitehead, chief executive of the Association of the British Pharmaceutical Industry, said NHS England's re-evaluation process had been "fundamentally flawed" and called for the "urgent reform" of NICE.
Many experts have called for the Cancer Drugs Fund to be discontinued and its spending power handed over to the wider NHS, arguing that a specific fund for cancer patients discriminates against patients with other diseases.
Health rationing: cancer drugs
OFF THE LIST
Jevtana A prostate cancer drug which extends the life of patients with advanced stages of the disease by three months on average. It costs £22,000 per patient.
Halaven A breast cancer drug which can extend the life of women with an aggressive form of the disease by around five months. Its removal from the CDF has been called an "outrage" by its Japanese manufacturer, Eisai.
Zaltrap A drug that can extend life after a tumour has developed. Sanofi's bowel cancer treatment was among five treatments for the disease withdrawn.
STILL ON THE LIST
Kadcyla Roche's pioneering breast cancer drug can extend life by up to six months longer than other treatments. It was rejected by Nice last year because of its £90,000-per-patient price tag but will still be available through the CDF.
Join our new commenting forum
Join thought-provoking conversations, follow other Independent readers and see their replies