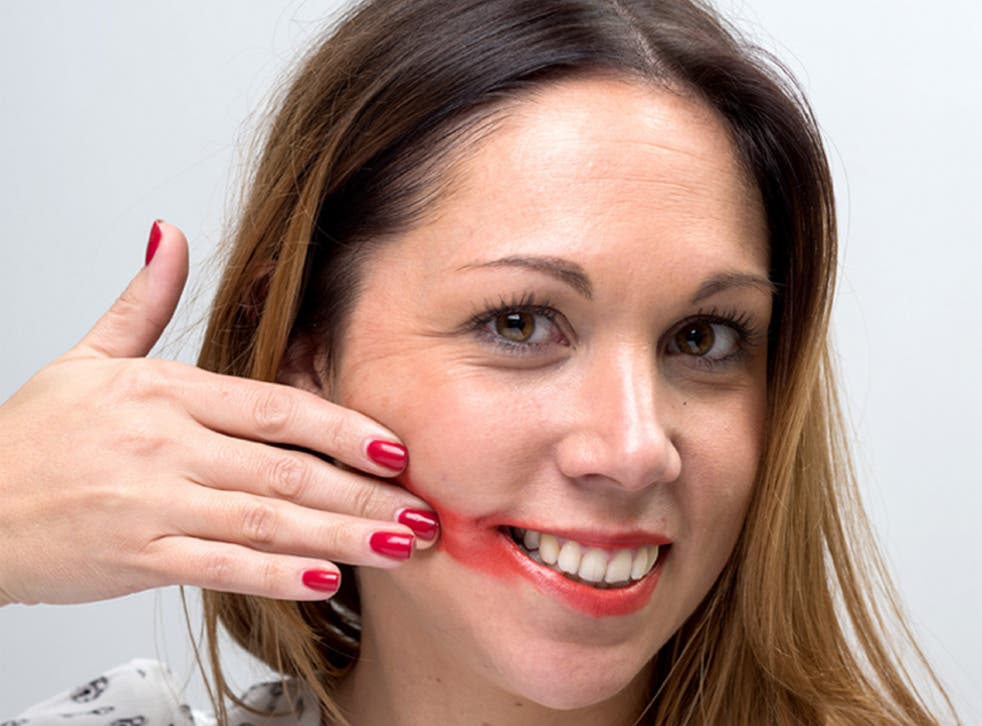 Cervical cancer: Charity urges women to post messy lipstick selfies to promote smear tests
One in three women ages 25-29 fail to attend their smear test appointment
Campaigners are taking selfies of lipstick smudged across their faces after their smear tests to raise awareness over the importance of early cervical cancer detection.
Jo's Cervical Cancer Trust is asking women to post the pictures of themselves to social media once they have had their cervical screening test to encourage other women to make appointments with their GP surgeries.
The tests – which are usually carried out within a few minutes by a nurse – save 5,000 women's lives a year but one in five women fail to make their appointment, with the figure rising to one in three for women aged 25-29.
Almost 1,000 women died in 2012 from the disease, the third most common gynaecological cancer and the twelfth most common in British women, according to Cancer Research UK.
As well as women having just had their tests, others are also encouraged to take part to expand the campaign. Men have also been posting their own lipstick selfies in support.
Amy, who discovered she had early stages of cervical cancer, told Jo's Cervical Cancer Trust that she only found out what her abnormal symptoms indicated – which included bleeding and inflammation – when she got the results back from her smear test.
She said: "I think #SmearForSmear is a fantastic campaign that will help raise awareness, especially in young women."
"I feel incredibly lucky to have this opportunity to support such a great campaign. It's my way of saying thank you," Amy added.
She had to undergo a full hysterectomy at the age of 28 after giving birth to her son and the experience made her want to raise awareness of the disease to other women.
The current smear test age is 25, however campaigners have called for the lowering of the minimum age of invitation after younger women have died from cervical cancer.
Jess Evans, a mother of one, died in February last year aged just 22 after being refused a smear test nine times in two months. Her mother Marie said she believed her daughter would still be alive if doctors agreed to test her earlier.
An e-petition calling for the minimum age to be lowered to 16 has been set up by the mother of Sophie Jones, who died from cervical cancer aged 19.
It currently has more than 327,000 signatures and has been tabled for discussion in a backbench debate on Thursday 1 May.
Join our new commenting forum
Join thought-provoking conversations, follow other Independent readers and see their replies