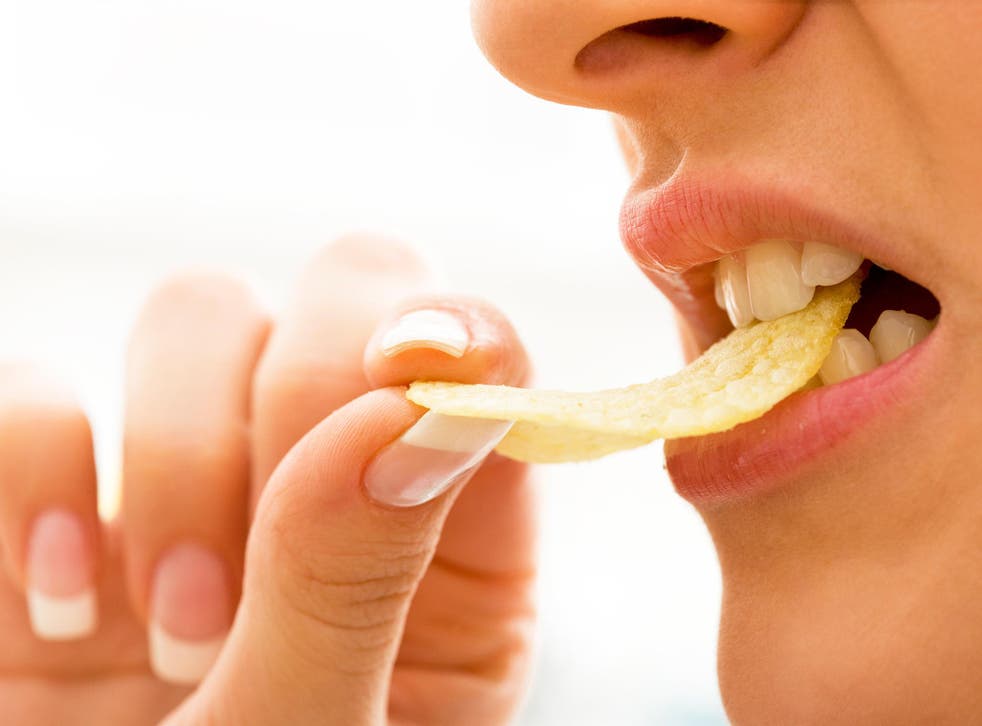 Chew and spit: The disordered eating behaviour could be spreading through social media
Sufferers of the little-understood condition say it is highly addictive and debilitating 
Mandy had struggled with eating disorders 15 years before she came across "chew and spit" (CS) online.
She had been severely restricting her food and bingeing in cycles of two to three years since she was 12. Chew and spit, where a person masticates food before spitting it out to avoid digestion seemed like a way to reduce her cravings for what she perceived as "junk" food, without gaining weight. In a sense, CS presented itself as an escape.
Now, Mandy is struggling to break a cycle that she compares to drug addiction, and that caused her jaw bone to break.
The 31-year-old, who did not want to be identified by her real name, is among subjects of a study into CS by Phillip Aouad, a PhD candidate at the University of Sydney. Rather than an eating disorder, CS is classified as a disordered eating behaviour. Those dealing with eating disorders such as anorexia and bulimia may use CS in cycles, or it can be an isolated issue. In the UK alone, an estimated 725,000 people have some form of mental illness linked to food. There are not yet concrete figures on CS, but estimates indicate that around a fifth of people with eating disorders have attempted it at some point.
Little is known about CS, but Mandy stumbling upon it online is in line with Aouad's findings that internet searches for the practise have risen in the past five years. He argues CS could be perpetuated by social media.
This chimes with a 2011 study by the University of Haifa that found a correlation between eating disorders and weight concerns and the length of time girls aged between 12 to 19-years-old spent on Facebook. And for many years, those with eating disorders have looked to 'pro-Ana' online forums for so-called "thinspiration" and advice for hiding their mental illnesses.
"Although people, especially online, indicate their initial 'joy' at 'hacking' their diet, CS appears to be able to very quickly turn into something that is anxiety provoking and very distressing," warns Aouad.
Evidence suggests that CS is linked not only to psychological but physiological distress. Aouad now hopes to shed light on what triggers CS and how it can damage the body. It seems clear that CS can debilitate a person's social life, and cause financial stress as a person chews, but doesn't ingest, great volumes of food.
"From what we are seeing in our current study, it becomes incredibly addictive in a very short period of time," he says."Moreover, it might give the perception of weight loss at the beginning; however, several reports have highlighted that after sometime it may actually cause weight gain. Not to mention that we are yet to investigate in greater detail additional adverse issues related specifically to CS."
Mandy's is among the most shocking case of CS that Aouad has encountered. Her addiction to CS lead to her wisdom tooth being extracted and a piece of her jaw breaking off.
"Not adhering to dentist instructions, she chewed and spat a quantity of food which led to dry-socket. This resulted in a bad infection and dental emergency when a piece of her jaw bone broke off due to still not being able to stop CS," explains Aouad.
Mental Health Awareness: Facts and figures

Show all 10
Mandy has practised CS for around a year, with the amount of food increasing steadily. Since starting CS, Mandy eating disorder has worsened, from restricting to bingeing and purging and was hit with intense cravings.
At first, Mandy would chew something small and spit into a bin. Before long, she was eating large quantities of food – like a dozen or more donuts - in a sitting. Worried that she had ingested the food, she started to purge.
"I find that I do it a lot more when I'm feeling anxious. It feels a little like I'm not alone when I'm with food, so I feel less nervous or lonely."
"It's like being in a parallel universe where the most important thing in the world is simply eating the food. I don't answer the phone or text messages, it's very quiet, and nothing comes before the CSing."
Mandy thanks Aouad for investigating her condition for which there is currently no specific treatment. The little-understood practice was also recently removed from a manual used by clinicians to diagnose mental disorders. That, says Aouad, doesn't make it any less of a problem for sufferers.
However, Aouad stresses this does not meant there is no hope for patients struggling to break the cycle.
He notes one case where a woman quit CS by stopping dieting. Anyone discouraged to find help due to the sparse knowledge on the subject should visit their doctor, who can direct them to a psychologist. Aouad also invites anyone wanting to quit CS to take part in his confidential study, to help develop affective treatment.
Join our new commenting forum
Join thought-provoking conversations, follow other Independent readers and see their replies