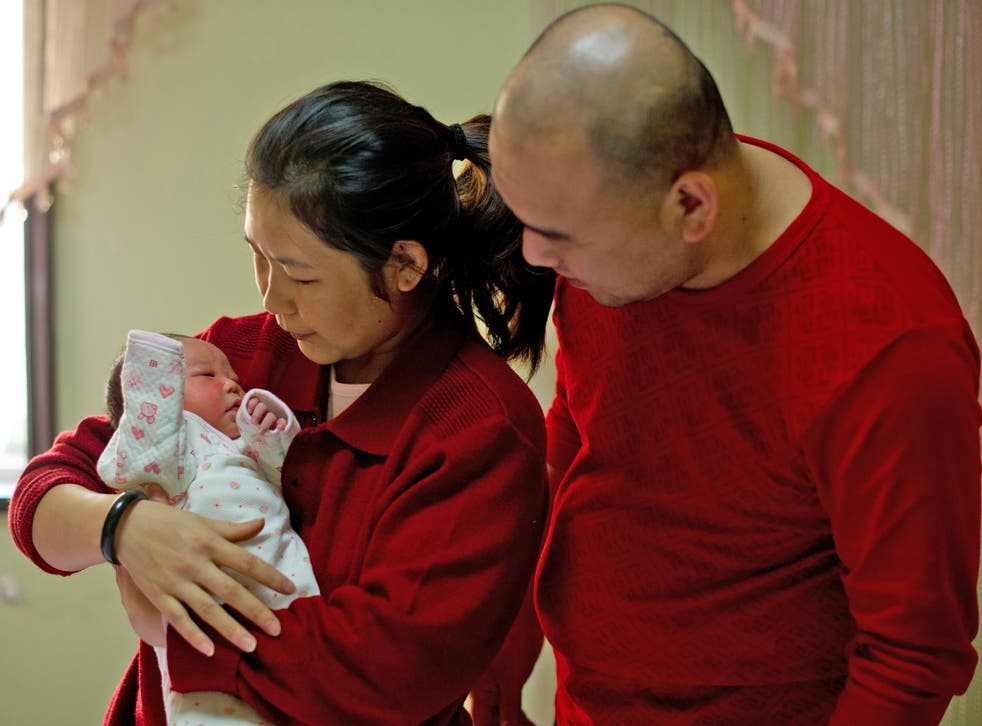 China doubles the pace of reform with proposed two-child policy
New President may relax rules for couples in cities in bid to solve problem of ageing population
China is considering changes to its one-child policy to allow couples living in cities to have two children, in what may become new President Xi Jinping's first major reform since taking power.
In the face of a rapidly ageing society, government advisory bodies have been drafting proposals which would allow for all couples residing in urban areas to have a second child, the former head of the National Population and Family Planning Commission, Zhang Weiqing, told Chinese media. At present, only parents who are only children themselves are allowed to have a second child.
Demographers have warned that the one-child policy has led to a rapidly ageing population that could hamper China's economic competitiveness in the long run. It has also been blamed for fuelling illegal forced abortions, as well as the favouritism of baby boys over girls.
According to the National Population and Family Planning Commission, some 400 million births have been prevented by the one-child policy since it was introduced in 1978.
China's former President, Hu Jintao, took out references to maintaining low birth rates in his report to the ruling Communist Party's five-yearly congress earlier this month, raising expectation of imminent changes to the one-child policy.
However, change is unlikely to happen quickly, and will initially be trialled only in the cities, Mr Zhang told the China Daily newspaper.
"China's population policy has always taken into account demographic changes but any fine-tuning to the policy should be gradual and consider the situation in different areas," said Mr Zhang, who is director of the population, resources and environment committee of the National Committee of the Chinese People's Political Consultative Conference.
"Even with the policy further relaxing, there won't be any sharp rise in the population," Mr Zhang said. Parents who violate the one-child policy are currently subjected to heavy fines – often one fifth of their yearly income.
In Beijing, couples in which both partners are only children are currently allowed to have two children. But those who give birth to a second child when the mother is less than 28-years-old, or the second child was born within four years after the first, are also fined.
Some wealthier couples who can afford to pay the fine – or "social maintenance fee" as it is known – do so. But they cannot obtain a hukou or household registration document and lose educational and health benefits.
Steve Tsang, Professor of Contemporary Chinese Studies and Director of the China Policy Institute at the University of Nottingham, said it would be a major step forward for the new leader, Xi Jinping, if he were to formally end the policy, though he expressed scepticism that it would be announced in such a sweeping manner.
"Population growth is now below the replacement level," said Professor Tsang, referring to the level of fertility at which a population exactly replaces itself from one generation to the next.
"The projection of demographics would suggest that the time has come to end the one-child policy, as China's population will start to shrink… and that shrinking working population will need to support an enlarging ageing population in the next two decades."
He Yafu, a demographer, has been strongly critical of the programme, particularly the practice of some officials which allow couples to have a second child if the first is a girl.
Mr He argues that the policy reinforces the idea that a girl is less valuable than a boy, which has led to a badly skewed sex ratio.
Join our new commenting forum
Join thought-provoking conversations, follow other Independent readers and see their replies