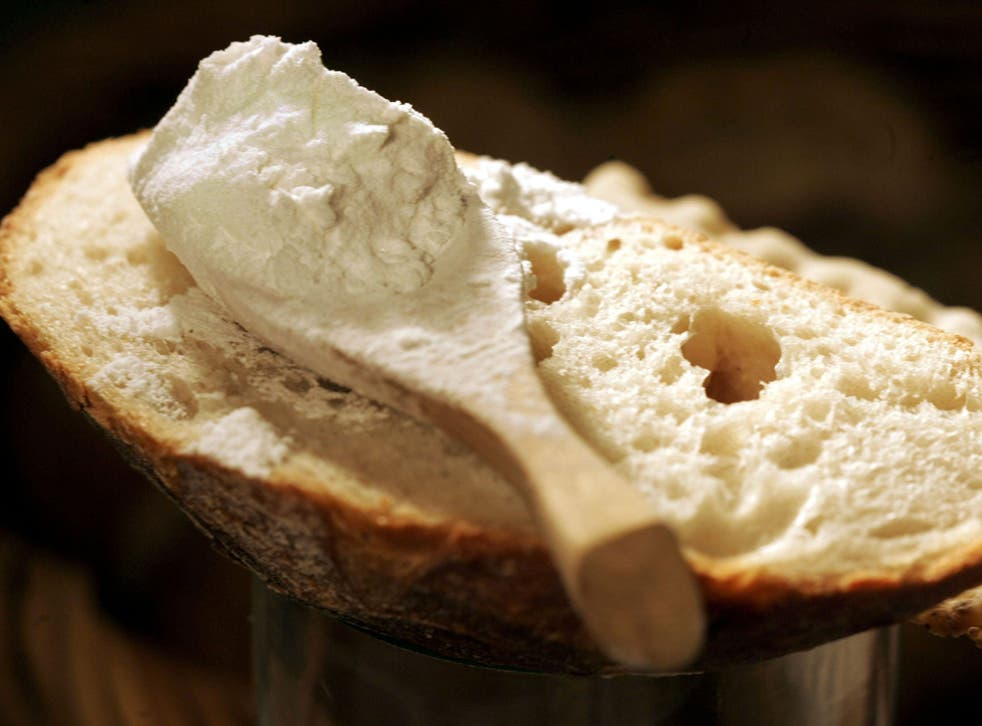 Coeliac disease: Patient groups defend NHS spending on gluten-free food for sufferers
One minister has claimed the spending on specialist food 'looks wasteful'
Cahal Milmo
Monday 17 August 2015 18:24 Comments
Patient groups have denied that sufferers of coeliac disease are receiving "junk food" on the NHS and said the millions spent on prescriptions for gluten-free foods are a cost-effective way of treating a debilitating autoimmune condition.
Government figures show that the health service spent £115m last year on prescriptions for specialist foodstuffs, including biscuits and cake mixes, prompting an admission from a minister that the spending "looks wasteful".
But coeliac sufferers strongly challenged the claims, saying that the NHS in reality spent £26.8m on gluten-free foods for patients with the condition - a lifelong disorder which can lead to complications such as osteoporosis and infertility.
Coeliac UK told The Independent that the vast majority of the gluten-free prescriptions - amounting to 95 per cent - were also for staples such as bread and pasta which low-income patients were often unable to afford or were difficult to source in rural areas. The remaining £89m of spending was on clinical nutritional products for patients unable to feed themselves, with metabolic disorders or disease-related malnutrition unrelated to coeliac disease.
The prescriptions nonetheless highlight the growing market for non-gluten foods to meet demand not only from those with a diagnosed medical condition such as coeliac disease but also the burgeoning class of "lifestyle" eaters who are not necessarily allergic to gluten - a protein found in wheat.
According to a poll by YouGov, one in ten households in the UK now contain someone who believes gluten is bad for them. The gluten-free foods market in the US alone is now worth more than $8.8bn (£5.1bn) a year.
The dietary vogue has been fuelled by a spree of best-selling books and endorsements by celebrities ranging from actor Gwyneth Paltrow to tennis player Novak Djokovic. The current gluten-phobic mood was summed up by the singer Miley Cyrus, who tweeted: "Gluten is crapppp anyway!"
But experts have warned against conflating the food trend with the care needs of those who suffer from coeliac disease, which causes the body to produce an autoimmune response to gluten when it passes through the gut. Effects range from skin rashes and vomiting to stunted growth and, in rare cases, cancer.
Sarah Sleet, chief executive of Coeliac UK, said: "The vast majority of what is prescribed on the NHS is for basic staples such as bread or flour. The idea that millions are being spent on gluten-free 'junk food' products such as pizzas or biscuits is simply wrong.
"The only treatment for coeliac disease is a lifelong strict gluten-free diet. The annual cost of these prescriptions equates to £180 per patient, which makes it one of the cheapest treatments for a long-term condition on the NHS."
About one per cent of people in the developed world are estimated to have coeliac disease but in the UK less than a quarter of sufferers are estimated to have been diagnosed, meaning that some 500,000 Britons are living with the condition undetected.
But these figures do not match the numbers who are avoiding gluten. Mintel, the consumer research company, has reported that seven per cent of UK adults now say they avoid gluten because of an intolerance and a further eight per cent do so as part of a choice of diet or lifestyle.
What researchers describe as the "health halo" around gluten-free products has driven what was once a niche-product confined to health food stores into the consumer mainstream. The number of snack bars marketed as "gluten free" in the UK has more than doubled over the last three years to 40 per cent of the total.
Medical experts are beginning to explore the notion that, beyond the dietary fad, there may be individuals who do not suffer coeliac disease but are nonetheless in some measure intolerant of the gluten.
An Italian study earlier this year found an increase in symptoms such as intestinal problems when patients were given a daily dose of gluten. Participants in the study were not told whether they had received the protein or a placebo.
The question remains of whether the NHS prescriptions, highlighted by the Daily Mail, remain the best method of providing gluten-free food to those with a certified medical need. Some doctors now advocate a system of vouchers to be spent in normal shops rather than the use of NHS prescriptions, under which administrative costs means a loaf of bread can cost more than £5 compared to £3 in a mainstream supermarket.
But campaigners argue that the current system needs to remain in place. Ms Sleet said: "If you shop in a budget store or maybe in a rural area then you cannot get these gluten-free staples. Given that they can be three to four times more expensive, support is still need for those in a vulnerable position.
"The current interest in gluten-free food I hope will be positive in the end. It is shows retailers that there is a business case for stocking these products. We would ultimately like coeliacs to be able to shop in supermarkets like anybody else."
Register for free to continue reading
Registration is a free and easy way to support our truly independent journalism
By registering, you will also enjoy limited access to Premium articles, exclusive newsletters, commenting, and virtual events with our leading journalists
Already have an account? sign in
Join our new commenting forum
Join thought-provoking conversations, follow other Independent readers and see their replies