CoppaFeel! launches campaign to show breasts in a non-sexual way for cancer awareness
The charity says the sexualisation of breasts has led to women thinking about their boobs only in terms of size, rather than feel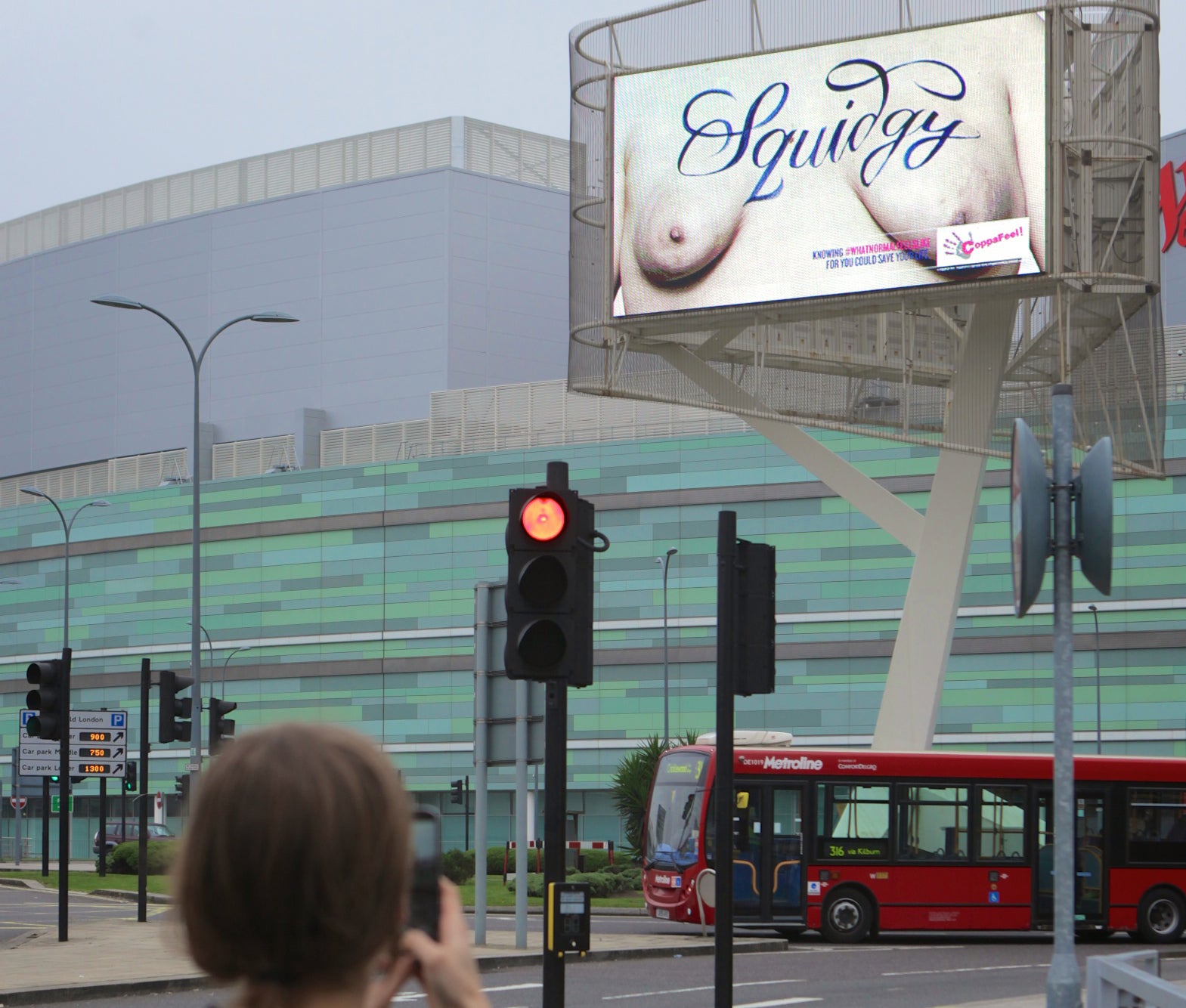 How would you describe your boobs? Soft? Squidgy? Delightfully bouncy, or disappointingly flat? Me, I'd say mine are nicely shaped, if a little teeny. My boyfriend, when pushed, plumped for perky and then asked how I'd describe his balls. Tit for tat, I suppose.
This week, breast cancer awareness charity CoppaFeel! launched a new advertising campaign featuring photos of seven bare-chested women, each one painted with the word that best describes how their boobs feel to them.
Shot by British photographer Rankin and using words such as "spongy" and "bobbly", the pictures will appear on billboards around the UK and aim to normalise and desexualise breasts, helping women reclaim the vocabulary surrounding them.
The campaign will be the first time fully naked boobs are shown on billboards in a non-sexual way. In the past, nipples have appeared only on fashion adverts, all of which were subsequently banned by the Advertising Standards Agency for sexualising women.
According to the campaign, the sexualisation of breasts, though not an entirely ridiculous notion given one of their secondary functions, has led to women thinking about their boobs only in terms of size, rather than feel. Research shows women aged between 18-30 across the UK are struggling to find the right words to describe their boobs, beyond big or small.
I'd actually argue the lexical hurdle isn't limited to adjectives. My friends and I are still at a loss as to what to call our mammary glands. Bosoms sounds like something my grandma would say; boobs is too Mizz magazine; breasts sounds very clinical; and tits is a bit crass. Without a definitive noun, it's no wonder girls are struggling to find the right adjectives to aptly to describe their knockers.
Kris Hallenga, who founded CoppaFeel! after being diagnosed with stage 4 breast cancer at the age of 23, said she hoped the charity's latest campaign would make it normal for girls to talk about their boobs.
"Society and the media think of breasts in a sexual way but by creating this campaign we want to give boobs back to women and encourage them to think and talk about them in terms beyond size," she said. "The more normal it is to talk about boobs, the more likely women are to check themselves regularly and spot any changes early."
To this end, the #whatnormalfeelslike campaign is encouraging girls to tweet the aforementioned hashtag, describing their own boobs in their own terms.
The new project is quite a contrast, however, to CoppaFeel!'s other operation, Check 'em Tuesday, the six month campaign they've run with The Sun; a newspaper renowned for its sexualisation of women –and breasts in particular.
CoppaFeel! launches campaign to show breasts in a non-sexual way for cancer awareness
Show all 5
At the time, Hallenga's decision to align herself with "the most famous boobs in Britain" caused some cancer charities to accuse the 28-year-old of sexualising the disease, however she defended her decision, saying the increased publicity would encourage more women to check their boobs.
When The Independent asked how she rationalised the conflict between her two ventures, Hallenga told us desexualisation wasn't the sole focus of the new campaign, and that boobs can be sexy as well as nurturing.
"I think we should be educating people about boobs no matter what, using whatever platform we need to," she said. "It was actually quite a fight to get boobs on a billboard; there was only one media outlet who allowed us to do it. It's a very daring thing for us to do but people should be more comfortable with seeing boobs."
Join our commenting forum
Join thought-provoking conversations, follow other Independent readers and see their replies