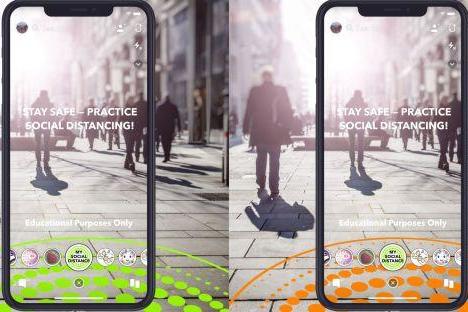 Coronavirus: Snapchat launches new lenses to encourage social distancing during pandemic
Snapchat says its users have a role to play in helping stop the spread of Covid-19
Two new lenses have been launched by tech giant Snapchat in a bid to encourage social distancing during the coronavirus pandemic.
Both features – developed in collaboration with the World Health Organisation (WHO) – use augmented reality to help app users keep a safe distance away from others when in public.
The first lens, named "My Social Distance", uses the camera on a smartphone to visualise the two-metre distance needed to help stop the spread of the illness.
A circle will appear around the user while they have the lens turned on. It will stay green if the user does not come within two-metres of another member of the public and turn red if the distance is breached.
Meanwhile, the second lens uses animations to remind users of the app about the importance of washing their hands.
It also encourages people not to touch their face and to stay at home as much as possible. The lenses also include links to the WHO website for those seeking further advice.
A spokesperson for Snap said in a statement: "We believe that Snapchatters play a critical role in stopping the spread of the virus.
"Our community can help by using the full power of technology while physically distancing – whether to communicate with loved ones, play games with friends or stay informed.
The statement continued: "We're working closely with the WHO and the Centers for Disease Control and Prevention to ensure Snapchatters have all the latest information from the experts themselves.
"The WHO and CDC publish regular updates for Snapchatters from their Official Accounts and we've worked with the WHO to develop custom content to answer questions from our community."
Earlier this month, Snapchat brought forward the launch of a new feature to help users with mental health issues in response to the Covid-19 outbreak.
The feature is available now and has been backed by leading mental health charities including Young Minds, The Samaritans and the UK's Diana Award.
"We were planning to announce our partners when the tool became available to Sanpchatters in early April," Snapchat explained.
"In light of the anxiety and stress people are experiencing with the onset of coronavirus, we speeding up this launching and making this feature available to Snapchatters globally."
Join our new commenting forum
Join thought-provoking conversations, follow other Independent readers and see their replies