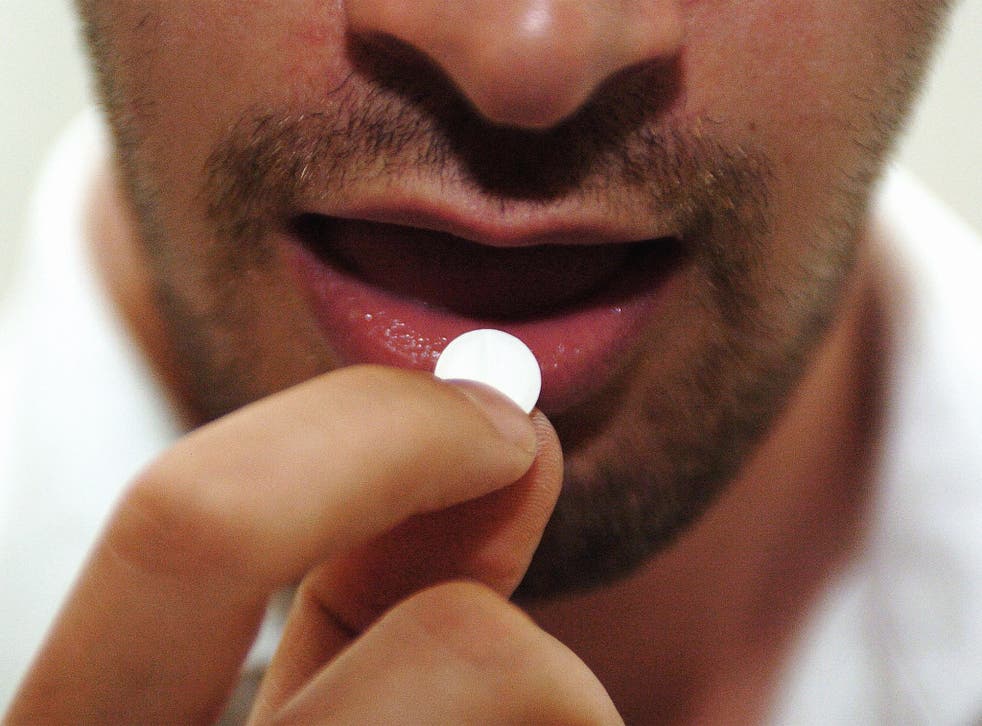 Daily dose of aspirin 'can cut the risk of cancer', says study
Thousands of lives could be saved if people over 50 took a daily dose of the drug, experts say
More than 6,000 lives could be saved a year if everyone in the UK between the ages of 50 and 65 took a daily aspirin to cut their risk of cancer, heart attack and stroke, new research has claimed.
In the latest evidence of the benefits of aspirin – one of the cheapest and most widely used drugs – experts said that taking a daily dose for 10 years could be "the most important thing we can do to reduce cancer after stopping smoking and reducing obesity".
Aspirin, which is already taken by many people to prevent heart attacks and strokes, has also been shown to reduce risk for a number of cancers, chiefly those of the digestive tract such as bowel cancer, stomach cancer and cancer of the oesophagus, or gullet.
However, there have been concerns that side effects including stomach bleeding and ulcers may counteract any benefits, and the drugs are not currently recommended for otherwise healthy people as a form of cancer prevention.
Now, in a new analysis of hundreds of previous studies, scientists from Queen Mary University have been able to weigh up the likely benefits against the risks that would occur if millions more people were to take aspirin for 10 years, between the age of 50 and 65.
Deaths from bowel cancer could be cut by 40 per cent, oesophageal cancer by 50 per cent and stomach cancer by 35 per cent, they said.
The findings will reignite the debate over whether more patients should be taking aspirins, which can be bought over the counter in the UK, amid concerns that the medicalisation of society could discourage people from changing their lifestyles to prevent disease, and expose otherwise healthy people to dangerous side-effects.
Professor Jack Cuzick, who led the study, said that taking an aspirin was not an excuse for maintaining an unhealthy lifestyle and said patients should be consulting their GPs before embarking on a daily drug regime. However, he said that, overall, otherwise healthy 50-year-olds should consider aspirins "a good bet" to cut cancer risk.
"People don't like taking medicines for a long time, but people are more than happy to take multivitamins for many, many years without any clear evidence of benefit in many cases. Here we have very clear evidence of benefit," he said. "I take aspirin at bed time every day – I find I can achieve that compliance quite easily."
Research is ongoing to determine which people are most likely to suffer side effects from aspirin. Smokers, those already taking blood-thinning drugs such as warfarin and people who carry the common bacteria helicobacter pylori are thought to be at greater risk.
The benefits of aspirin would be most pronounced in 50 to 65-year-olds because cancer risk increases as we get older, but the risks of side effects from aspirin predominately affect the over 70s. Benefits in reduced cancer deaths rates did not appear until people had taken aspirin for five years. Researchers said that the fact that benefits only accrued in the long-term explained why it had taken so long for scientists to determine the full potential of aspirin as a means of cancer prevention.
Dr Julie Sharp, head of health information at Cancer Research UK, said that aspirin was "showing promise" but said that questions remained over how big daily doses should be to maximise benefit and minimise harm, and said that tests were needed to understand who was likely to have side effects.
"Before aspirin can be recommended for cancer prevention some important questions need to be answered," she said.
Q&A aspirin's effects
Q. How does aspirin prevent cancer?
A. The exact mechanism isn't fully understood. Aspirin's main function is to reduce the risk of blood clots, which are formed by small cells in the blood called platelets. Platelets may also protect cancer cells in the body, and it is theorised that aspirin's effect on them may hinder this process. However, more research is needed.
Q. What are the side effects?
A. Serious side effects to aspirin are rare, but it can cause ulcers and bleeding in the stomach. In very rare cases, it can cause bleeding on the brain, also known as a haemorrhagic stroke.
Q. Do these new findings mean that all over-50s should be taking aspirin?
A. Not necessarily, but they do improve the case of those arguing that they should. Anyone considering taking up a daily aspirin regime should consult their doctor first.
Join our new commenting forum
Join thought-provoking conversations, follow other Independent readers and see their replies