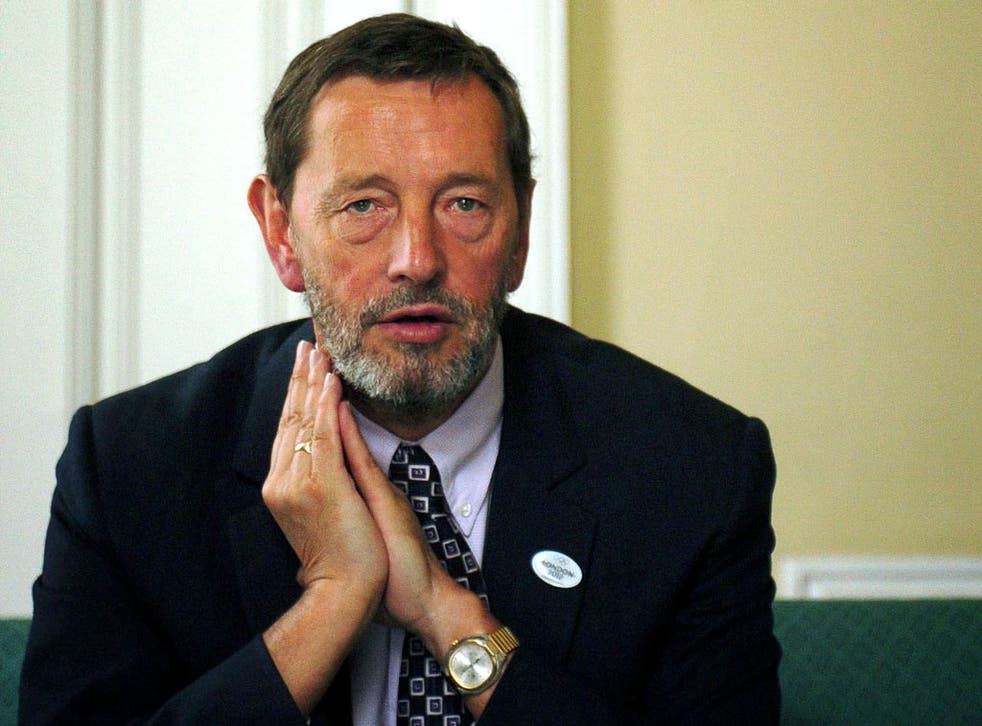 Dealing with Dementia: Why David Blunkett is giving his brain to science
The former Home Secretary David Blunkett tells Andrew Grice how he hopes to help fight dementia by donating his most vital organ to researchers
Andrew Grice
Friday 17 August 2012 23:33 Comments
When David Blunkett celebrated his birthday in June, it was a landmark moment, and not only because it was his 65th. Three years ago, the former Home Secretary joined a research project on dementia in which brain tissue of volunteers is tested regularly from the age of 65 and their brain is donated when they die.
"The nation can only applaud when politicians offer to have their brains removed," the Labour MP joked in an interview with The Independent. But as vice-president of the Alzheimer's Society, he is deadly serious about playing his part in finding a cure for the disease.
The research project, Brains for Dementia Research, compares the brains of people with and without the illness. Brain tissue is a rare commodity for obvious reasons and the project has created a "brain bank" so that scientists can examine the brains of people with a "normal" memory after they die because the organ is too complex to replicate in the laboratory.
Mr Blunkett has no family history of dementia; his link is a political one. Thirty years ago, he was chairman of social services in his native Sheffield when the city council launched a pioneering service to help families cope with what were then called the "elderly mentally infirm".
His wife Margaret, a GP, encouraged him to join the research project, which settled any doubts in his mind.
"Of all the challenges in the health field, this is one you cannot use animals for," he said. "I want to make a contribution to solving what is a massive problem. Mr Blunkett's main concern is about the carers who have to cope with sufferers. "The family and immediate friends have really got the biggest challenges – understanding what is happening, finding what support is available and coping with 'losing' someone," he said. "When it becomes very severe over time, the person does not exist any more, as they knew them."
Even amid austerity, Mr Blunkett argues, the nation can ill afford not to devote more resources to tackling dementia. With 430,000 people now over 90, he said, the number of cases had already doubled in the past 30 years. "We can afford it because otherwise, down the road the cost of caring for dementia will be enormous," saying that helping people to stay in their homes as long as possible would be better – and cheaper – than residential care. "We don't have a choice; we are going to have to spend money. The question is whether you do it sensibly and in a planned way or end up with ever more demands for residential support."
The former Cabinet minister said: "We have been unwilling to face up to mental health challenges. As a consequence, the whole mental health service has until recently been a Cinderella service and in some respects still is.
"It is partly that medical science has not been as good on mental health problems as on physical ailments. And partly because people fear the unknown."
Mr Blunkett, who possesses one of the sharpest memories in the Commons, insisted he has no plans to stop using his brain. He has yet to decide whether to stand as Labour candidate for Sheffield Brightside at the next election. "I don't feel it," he said, reflecting on his 65th birthday. "You only feel it if you give up doing anything."
In Part 4 tomorrow: Fiona Phillips - Dementia, my parents – and me
Register for free to continue reading
Registration is a free and easy way to support our truly independent journalism
By registering, you will also enjoy limited access to Premium articles, exclusive newsletters, commenting, and virtual events with our leading journalists
Already have an account? sign in
Join our new commenting forum
Join thought-provoking conversations, follow other Independent readers and see their replies