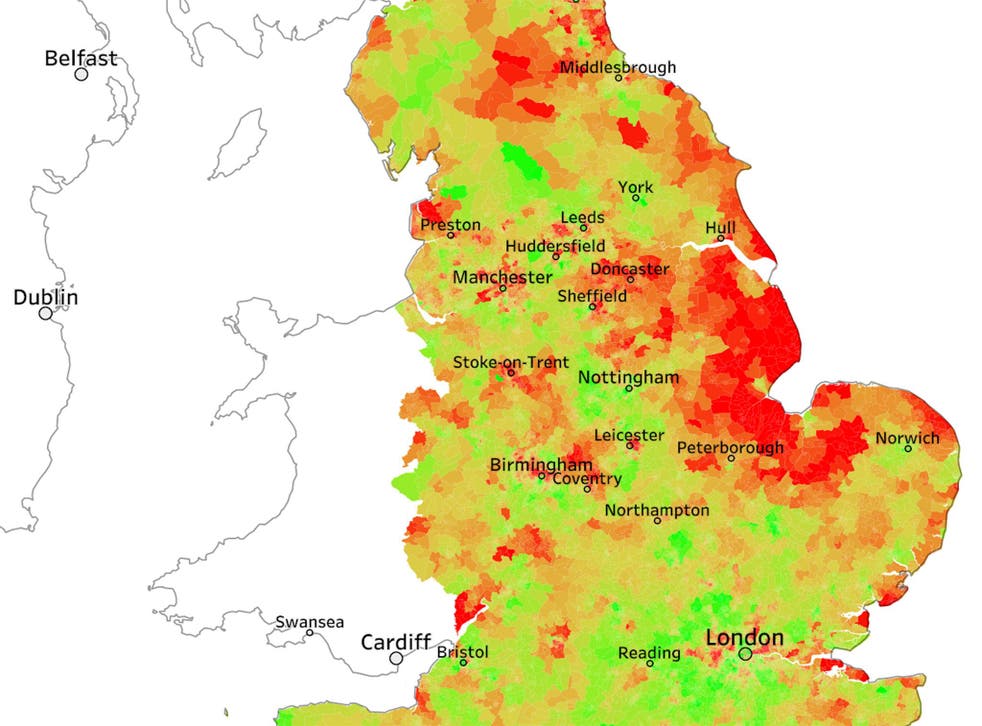 Rising diabetes and obesity crisis laid bare by data analysts in new maps
Prescriptions have gone up by more than a third in just five years
The number of prescriptions given to treat type 2 diabetes – a disease associated with obesity and lifestyle – has risen by nearly 35 per cent in just four years, according to new research.
Data analysts at Exasol produced a heat map of England showing prescription rates in 2011 and 2015, using official Government figures.
They found that, based on current trends, the number of people with type 2 diabetes was on track to reach five million by 2020, five years earlier than previously thought.
And prescriptions of drugs to treat more serious forms of the disease have doubled in five years, in a sign that people are moving past the point where exercise and diet can be used to treat them.
The map of prescriptions to treat the disease shows there is a greater prevalence of the disease in the east of England, particularly in a stretch from East Anglia to Hull.
However the place with the highest rate of type 2 diabetes prescriptions was Newham in London, followed by East Lindsey and South Holland, both in Lincolnshire, Tower Hamlets in London and Tendring in Essex.
The top 10 was completed by Nuneaton and Bedworth in Warwickshire, Harrow in London, North Warwickshire, Oldham in Greater Manchester, and Sunderland.
The researchers found there were 35 million prescriptions written in 2015, compared to 26 million in 2011 – an increase of nearly 35 per cent.
At the start of this year, it was estimated that 3.5 million adults had the disease in the UK.
But the analysts estimated this would rise to five million by 2020, based on the increases in prescribing they discovered.
Krishna Sarda, of Diabetes UK, explained some of the reasons behind the trends shown in the map.
He told the BBC: "Lincolnshire is such a huge patch. It's also got a very large migrant population and a very large working class population.
"In London and the East Midlands there is a very large BME (black and minority ethnic) population and ethnic minorities are between two to four times more likely to develop type 2 diabetes."
But he said greater attention was being paid to the disease, which may be increasing rates of treatment.
"One of the consequences of doing a lot of prevention and raising awareness is people go to their GPs to get a blood test done," Mr Sarda said.
"So the greater the numbers in the population demographically - and the campaign work that's happened in London and East Midlands - you'll have more people coming into the register as being diagnosed with type 2.
"I think GPs are becoming more aware that maybe one of the things they should do for their patients when they come in among other things is to get a HbA1c test done for them.
"Which means we don't have people walking around silently carrying that condition and sometimes only realising when it's too late sadly."
Sean Jackson, of Exasol, said: "When analysing the data, we can see the proof that diabetes prescribing has increased drastically over the past five years.
"However, this is only one part of the story: when we delve deeper, we find that data can uncover more information such as the geographic differences across the country and the large increase in prescribing of second line drugs.
Health news in pictures

Show all 40
"With the right data and the right technology, you can turn any problem into a data problem and uncover information to help address it.
"Type-2 diabetes is an enormous threat and by uncovering insights using big data shows the factual reality of the problem and steps can begin to be taken to reduce the threat."
Register for free to continue reading
Registration is a free and easy way to support our truly independent journalism
By registering, you will also enjoy limited access to Premium articles, exclusive newsletters, commenting, and virtual events with our leading journalists
Already have an account? sign in
Register for free to continue reading
Registration is a free and easy way to support our truly independent journalism
By registering, you will also enjoy limited access to Premium articles, exclusive newsletters, commenting, and virtual events with our leading journalists
Already have an account? sign in
Join our new commenting forum
Join thought-provoking conversations, follow other Independent readers and see their replies