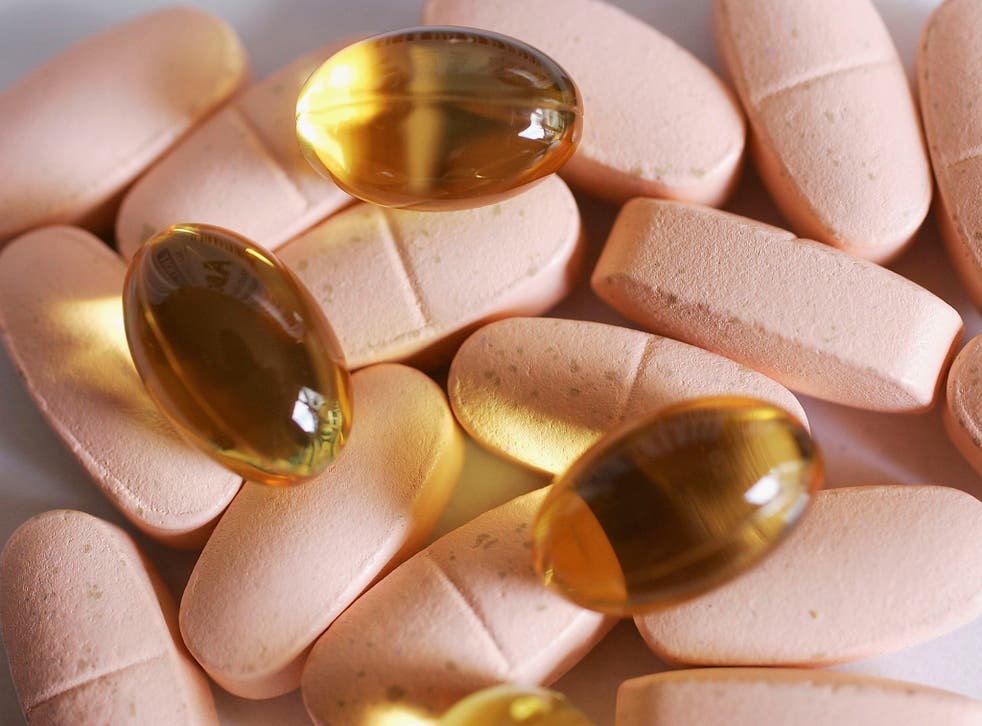 Dietary supplements less safe than previously thought, says report
10-year study found that 23,000 patients attended emergency departments after suffering adverse events related to the supplements
Jeremy Laurance
Wednesday 14 October 2015 22:01 Comments
We swallow them by the handful to help us improve health, lose weight, and enhance sexual performance. But the multi-million pound trade in dietary supplements, which includes vitamin pills, herbal preparations and energy products, may be less safe than is widely assumed.
A ten year study in the US has found that 23,000 patients attended emergency departments and over 2,000 were admitted to hospital annually, after suffering adverse events related to the supplements.
The commonest reaction was chest pain, racing heart and palpitations triggered by weight loss and energy preparations. Allergic reactions to vitamin pills were also common. More than one in four of those attending the emergency department were young adults aged 20 to 34 who otherwise rarely suffer ill health. A fifth of the emergency visits involved children.
The study, based on reports from 63 hospitals in the US and published in the New England Journal of Medicine, is the latest to cast doubt on the safety of the supplements. The authors, from the Centres [corr] for Disease Control and the Food and Drug Administration, say dietary supplements are "regulated and marketed under the presumption of safety" and advise doctors to warn patients of potential side effects.
Health news in pictures

Show all 40
Nearly a third of people in the UK take a supplement on most days, according to NHS Choices, and the global market is estimated to be worth $82 billion US dollars. The UK market was estimated at £670 million in 2009.
The range of supplements has increased ten-fold in the last decade and includes substances such as bee pollen, ginseng, garlic, green tea, and omega-3 fatty acids as well as vitamins, minerals and herbal products. The market is driven by an increasingly health conscious public with easier access to outlets over the internet.
A Cochrane Review in 2008 concluded there was "no convincing evidence" that anti-oxidant vitamin pills cut the risk of dying prematurely. Some of the commonest ones – vitamin E and beta-carotene (a pre-cursor of vitamin A) may even increase the risk of early death, it said.
An earlier review published in The Lancet in 2004 found vitamin pills provided no protection against cancers of the gut and increased death rates by 6 per cent. The authors estimated that of one million people taking the supplements, 9,000 would die prematurely as a result.
One theory is that people vary in their need for vitamins according to the circulating levels of substances known as free radicals in the blood. Those with high levels of free radicals need extra vitamins to neutralise them but in those with low levels, extra vitamins may protect cancer cells and have carcinogenic effects.
Supplements may be beneficial for certain groups such as the elderly, pregnant women and children aged from six months to five years, according to NHS Choices, the official NHS guide to health. But in others, the benefits are unclear.
It advises: "When considering a supplement a little bit of scepticism is a good thing."
The Medicines and Healthcare Regulatory Agency has issued repeated warnings about herbal slimming aids, often marketed as "100 per cent natural", but which testing has revealed contains banned substances putting consumers at risk.
Edzard Ernst, former professor of alternative medicine at the University of Exeter who blogs on supplements and related issues, said: "Most supplements are a waste of money and some even a waste of health."
Graham Keen, executive director of the Health Food Manufacturers' Association, which represents 125 firms in the UK, said: "As an industry, we are proud to hold a strong track record for the safety and efficacy of vitamin and mineral supplements. This is backed up by science and decades of positive consumer experience."
Mr Keen said that according to Food Standards Agency data from June 2014, there had only been an average of eight reported adverse reactions from food supplements per year over the last 14 years in the UK.
Register for free to continue reading
Registration is a free and easy way to support our truly independent journalism
By registering, you will also enjoy limited access to Premium articles, exclusive newsletters, commenting, and virtual events with our leading journalists
Already have an account? sign in
Join our new commenting forum
Join thought-provoking conversations, follow other Independent readers and see their replies