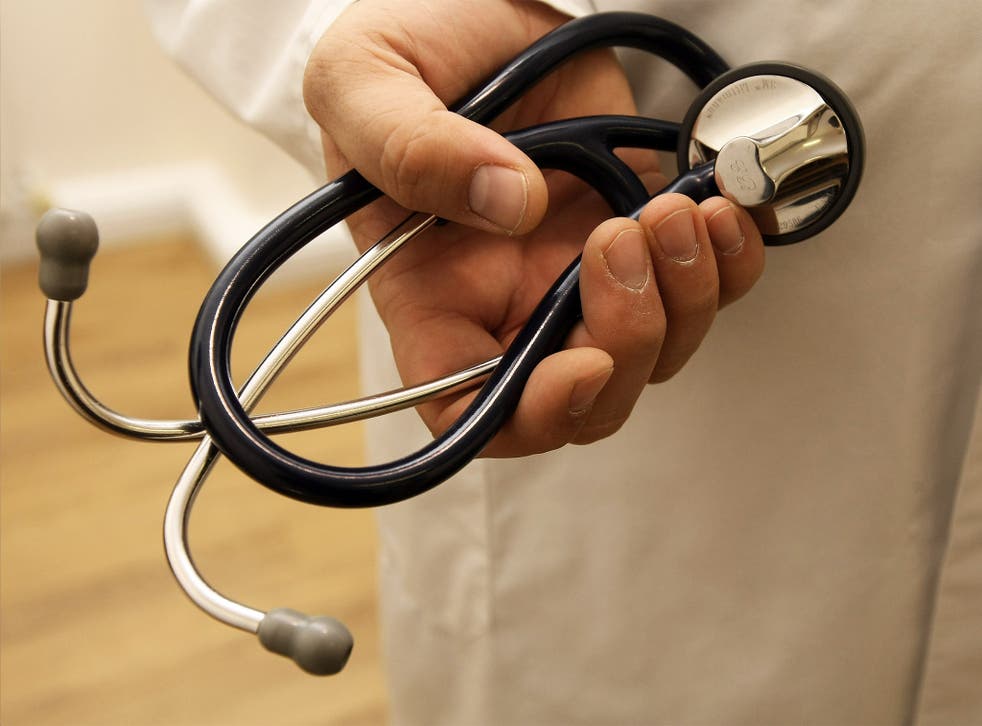 Scandal of doctors who get cash from healthcare firms for patient referrals
Investigation reveals healthcare companies offer inducements to send patients to their hospitals, leading to calls for financial interests of all UK practitioners to be made public
Charlie Cooper
Thursday 29 January 2015 01:03 Comments
The financial interests of all UK doctors should be made public, the country's leading medical journal has said, after an investigation revealed incentives, often worth tens of thousands of pounds, have been offered to doctors by private healthcare companies in exchange for referring patients to their hospitals.
An investigation in the British Medical Journal claims that the doctors' regulator, the General Medical Council (GMC), failed to act on a warning in 2012 that the practice of offering incentives was "widespread, particularly in London, and significant in value".
The regulator was told by a major insurance company about patients being "diverted to units in which doctors have financial interests". The company's investigation had uncovered a range of "covert" schemes, with some payments exceeding £100,000.
The insurance company which uncovered the practice following an internal investigation also discovered that some Harley Street practices were housed in expensive properties owned by private healthcare companies.
The report has echoes of previous concerns about drug companies offering GPs inducements – including trips to conferences – to promote their new drugs.
GMC guidelines do set standards on conflicts of interest and prohibit doctors from accepting inducements, but the BMJ said that they had shown "an unwillingness to act on possible breaches of these standards".
New rules banning so-called "cash for referrals" schemes and some other incentives in private healthcare were issued by the Competition and Markets Authority (CMA) in October last year and will come into force in April.
The new prohibitions came after a two-year investigation into the private health sector which found the practice of offering incentives for referrals was "widespread".
Incentives documented have ranged from direct payments to the provision of facilities, or shares in "equity participation schemes".
The CMA's investigation identified several major private healthcare companies, including BMI Healthcare, Spire and the American healthcare giant HCA, that have offered various incentives to consultants, the BMJ said.
Despite the new rules, there remain concerns that some doctors may be accepting certain incentives.
One senior surgeon told the BMJ that he had been offered a package including facilities and secretarial support worth "a six-figure sum" by a hospital group only nine months ago – long after the CMA began its investigations.
The London Clinic, the capital's largest independent hospital – which opposes incentive schemes – said that despite the CMA's rulings it was still seeing consultants being "approached by competitors" and warned that, in the past, under such practices its own cancer patients had been transferred to other clinics unnecessarily.
The journal's editor-in-chief Dr Fiona Godlee said that inducements came with "a clear risk to patients of inappropriate referrals for tests and treatments".
In a joint comment for the BMJ alongside the journal's deputy editor Dr Kamran Abbasi and clinical fellow Kate Adlington, Dr Godlee writes: "The current GMC guidance asks that doctors declare their financial interests to their patients and in their medical notes when appropriate, but it leaves the onus on doctors to decide what and where, creating a grey area that is open to exploitation.
"Perhaps the only viable way of achieving such transparency is by a public register of payments and other benefits given to doctors."
The GMC said it had been unable to take action over the insurance company's misgivings because they had related to "general concerns" and "did not include any allegations of wrongdoing relating to individual doctors".
However, the regulator will shortly be writing to all independent healthcare providers "seeking assurances from them that they are not putting their doctors in a position where they could be acting outside our guidance", said its chief executive Niall Dickson.
"This includes the offer of any incentives that could affect the way they prescribe, treat, refer or commission services for patients," he said.
He said the GMC would "continue to explore the possibility" of recording doctors' commercial interests on the Medical Register, but said that such a reform would require legislation.
The regulator told the journal it "would encourage anyone who has concerns about the conduct of a doctor or evidence of wrongdoing to share this information with us in order for us to investigate".
A senior doctor working for the insurance firm that raised concerns with the GMC told the BMJ: "It's a sad day for the medical profession when a competition regulator has had to issue an order … because our own regulator has failed to do so."
BMI Healthcare, the UK's private healthcare market leader, told the journal it welcomed the CMA's new rules. A spokesperson said the company "always explicitly supported a resolution of this historical issue across the private healthcare sector.
"Our hospitals are working with consultants to ensure our arrangements comply with the CMA's order."
A spokesperson for HCA told the BMJ: "Consultants should choose where they practice based on the quality of the facility, not in response to financial incentives.
"Any potential caps on incentives to consultants should be clear in scope and should apply equally to all healthcare providers."
Major players: Private operators
BMI Healthcare (BMI) is the largest private hospital operator in Britain. It operates 69 hospitals and treatment centres. It told the CMA's investigation into the private health market that it had stopped "direct financial incentive schemes and profit-share arrangements" in 2012. However, it told the authority that "legitimate grounds arguably did exist for payments to consultants by hospitals".
HCA (Hospital Corporation of America), a subsidiary of America's largest hospital group, is the third-largest provider of healthcare services in the UK. The CMA'S report said it had "a number of joint venture relationships with consultants". HCA said these ventures provided "significant benefits for patients".
Spire operates 38 hospitals and 31 satellite clinics throughout England, Wales and Scotland. The CMA found some of its arrangements with consultants had involved "significant payments". Under one arrangement a surgeon was provided with consulting rooms and secretarial services. The surgeon had his professional indemnity insurance costs paid "in return for the consultant committing his practice and referrals to the hospital", the CMA's report said. This arrangement was "subject to such referrals being in the clinical interests of the patient".
Register for free to continue reading
Registration is a free and easy way to support our truly independent journalism
By registering, you will also enjoy limited access to Premium articles, exclusive newsletters, commenting, and virtual events with our leading journalists
Already have an account? sign in
Join our new commenting forum
Join thought-provoking conversations, follow other Independent readers and see their replies