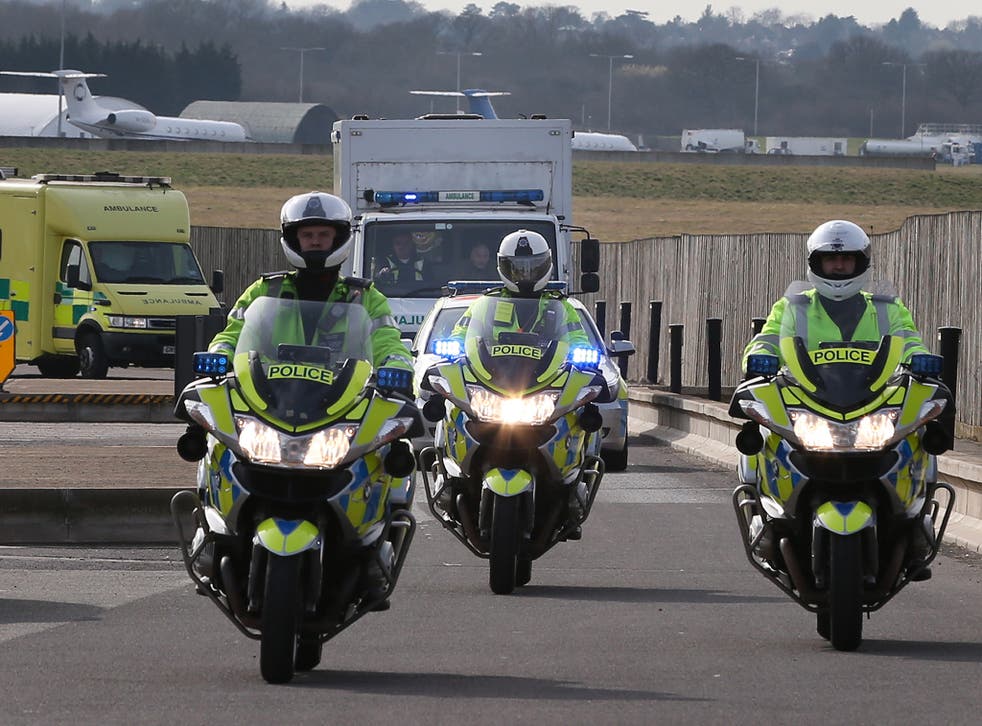 Ebola: Unnamed infected British military health worker arrives in London
Unnamed worker admitted to the Royal Free Hospital in London
Charlie Cooper
Thursday 12 March 2015 19:42 Comments
A British military healthcare worker who contracted Ebola in Sierra Leone has been admitted to the Royal Free Hospital in London, after being evacuated from the country by RAF jet.
Two of her colleagues were brought home on the same flight today and are also being assessed at the hospital, while another two are due to arrive in the UK tomorrow, and will be taken for monitoring at the Royal Victoria Infirmary in Newcastle.
None of the four has tested positive for Ebola, but were in contact with the infected healthcare worker, and have been evacuated as a precautionary measure, Public Health England said.
The evacuations came as the death toll in the deadliest Ebola epidemic in history passed 10,000.
In pictures: Ebola virus

Show all 62
Infection rates in the three affected countries – Sierra Leone, Liberia and Guinea – have reduced significantly since the peak of the crisis, but more than 100 people are still being infected a week.
With the situation beginning to stabilise in West Africa, the Government announced that the UK would begin winding down some parts of its aid mission to Sierra Leone.
Military hospital ship the RFA Argus will leave the capital Freetown by the end of the month, and the last contingent of NHS health workers deployed to help fight Ebola in Sierra Leone will also have returned home by the end of March.
Military personnel will remain and a team of 13 NHS workers will remain on standby in the UK, ready to be deployed to Sierra Leone within 48 hours should there be a spike in cases of Ebola, the International Development Secretary Justine Greening, adding that the country now had enough Ebola beds, testing labs, safe burial teams and command and control centres to contain the epidemic.
However, it would be a "matter of months rather than weeks" before the crisis could be brought fully under control, she added. The UK has so far spent £427m on the fight against Ebola.
The infected British healthcare worker is being cared for in the Royal Free's high level isolation unit, by a specialist care team. The hospital has already treated two British Ebola patients, nurses William Pooley and Pauline Cafferkey, both of whom made a full recovery.
After assessment, the other four healthcare workers evacuated this week will be monitored closely for the remainder of their incubation period, which can be up to 21 days.
The World Health Organisation confirmed that the total number of suspected, probable and confirmed deaths in the Ebola outbreak had risen to 10,004, from 24,350 cases.
Register for free to continue reading
Registration is a free and easy way to support our truly independent journalism
By registering, you will also enjoy limited access to Premium articles, exclusive newsletters, commenting, and virtual events with our leading journalists
Already have an account? sign in
Join our new commenting forum
Join thought-provoking conversations, follow other Independent readers and see their replies