Exclusive: Action on implants - Government to implement cosmetic surgery controls
Government finally sets up national register after cosmetic breast surgery scandal that ruined British women's lives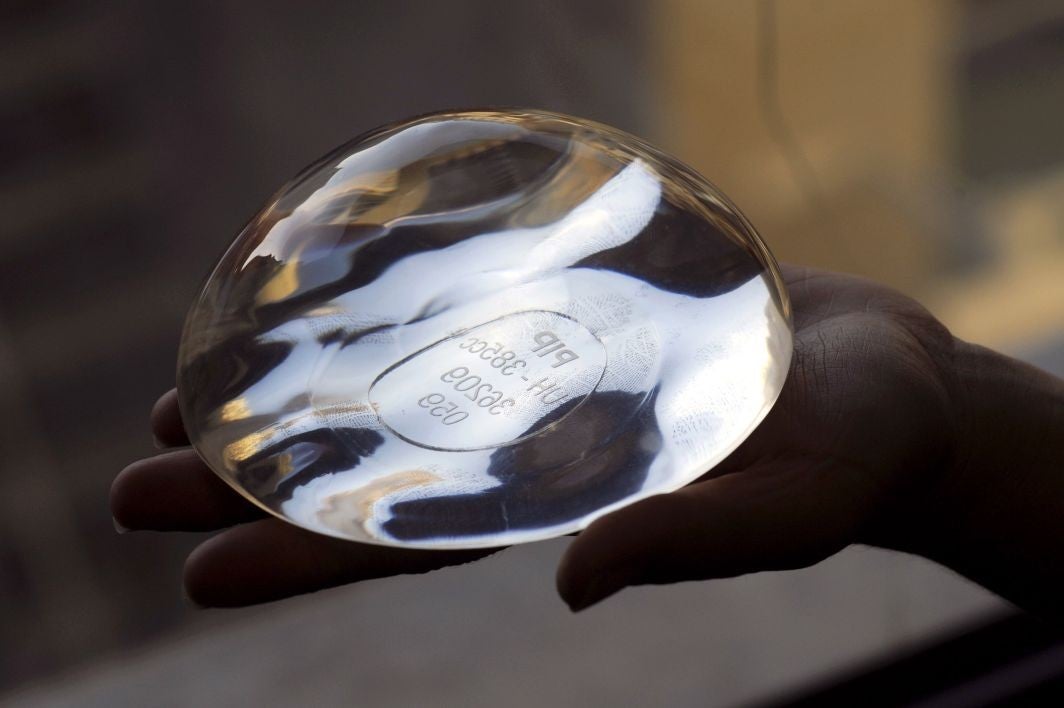 Every woman who undergoes a breast implant operation will have the procedure logged on a national register, to help prevent a repeat of the cosmetic surgery scandal which affected tens of thousands in the UK and 400,000 worldwide, The Independent on Sunday reveals today.
The Government's long-awaited response will be published in the new year. The scandal, which involved industrial-grade silicone implants manufactured by the French firm Poly Implant Prothèse (PIP), severely damaged confidence in the wider cosmetic surgery industry when it emerged more than two years ago.
The majority of recommendations in a report into the implant scandal by Professor Sir Bruce Keogh, the NHS medical director, which was published last April, are to be implemented. Chief among them is a statutory National Implant Registry, modelled on the National Joint Registry which records every hip and knee operation, enabling faulty material and procedures to be easily traced.
Training and qualifications for cosmetic surgery procedures will be improved and regulated, while companies will be banned from using aggressive marketing tactics, such as offering breast implants as prizes, two-for-one offers (including "mother and daughter deals") or pressurising time-limited deals. The Royal College of Surgeons (RCS) and the General Medical Council (GMC) will create new qualifications and standards for cosmetic surgery, while all surgeons practising in the UK will be required to have professional indemnity.
The registry will be piloted from next month, because ministers wanted to introduce it as soon as possible. The legislation to create a statutory register will be included in the Queen's Speech later in the year.
Earlier this month, Jean-Claude Mas, the boss of PIP, was jailed for four years for aggravated fraud, after a French court heard how he covered up the substandard material used to produce his company's implants.
Nearly 50,000 women in the UK alone were affected by the PIP scandal, which first emerged more than two years ago when doctors found a disproportionate number of women were suffering from ruptured implants. But because of poor record-keeping by private cosmetic clinics, it was difficult to trace patients who had received faulty implants.
The PIP scandal exposed bad practice across the cosmetic surgery industry, not just affecting breast implant surgery but also backstreet Botox procedures by unqualified staff.
Companies were found to be offering breast implants as competition prizes, while surgical procedures were being sold off cheaply on time-limited deals, putting patients under pressure to undergo surgery.
The Government's response, to be outlined in the House of Commons in the first week back after the Christmas break, will include clamping down on such methods and on wider cosmetic practices, including non-surgical procedures such as Botox.
Dr Dan Poulter, the Health minister, said: "For far too long, large parts of the cosmetic industry have been reprehensibly exploiting women's insecurities about their bodies. This must come to an end, and I am determined to clamp down on the worst excesses of the industry.
"We need improved ethics, and to better support people to feel comfortable with who they are, and how they look, rather than exploitative profiteering by some cosmetics companies. But for those people who still choose to go under the cosmetic knife, we will ensure that surgeons are always properly trained, and that there is a new implant register set up to protect patients. There will also be a clampdown on irresponsible cosmetic advertising," he added.
The National Joint Registry was created in 2002, and records every individual hip and knee replacement. The new register will initially cover breast implant procedures, but will be extended to other surgical implants.
Cosmetic surgeons have welcomed the move, but called on the Government to go further. Rajiv Grover, a consultant plastic surgeon and president of the British Association of Aesthetic Plastic Surgeons, said: "We are thoroughly relieved that the Government has seen the light in terms of the importance of reinstating the implant register."
The association also welcomed a clampdown on "time-linked incentives that place undue pressure on the public", and called for "an outright ban on all advertising of medical procedures".
Mr Grover called on the Government to invest any proceeds from a new implant registry "for scientific research purposes, specifically into implant safety projects: it is no less than the hundreds of thousands of women undergoing breast surgery deserve".
The cosmetic surgery industry has grown rapidly in the past decade – it was worth £720m in 2005, soaring to £2.3bn in 2010. It is estimated that this will increase to £3.6bn by 2015.
Ministers believe that while the cosmetics industry is not all bad, and that there are many high-quality practices and highly trained staff, this should be the norm across the sector. There are currently no standardised qualifications or training for cosmetic surgery. The RCS will create new qualifications, while the GMC will work on a code of conduct for cosmetic surgeons.
The Keogh report recommended a compulsory register for all cosmetic treatments, including dermal fillers and Botox injections, which at the moment can be carried out by anyone, without qualifications. The British Association of Aesthetic Plastic Surgeons has backed a statutory register. Full details of the Government's response, including what it intends to do about Botox and non-surgical procedures, will be outlined in the Commons.
The report also highlighted the growing quest for perfection by women and girls, with, incredibly, 41 per cent of girls aged seven to ten and 63 per cent aged 11 to 16 saying that they felt pressure to copy celebrities' looks. The report criticised shows such as The Only Way is Essex which, it said, promoted cosmetic surgery.
Join our commenting forum
Join thought-provoking conversations, follow other Independent readers and see their replies