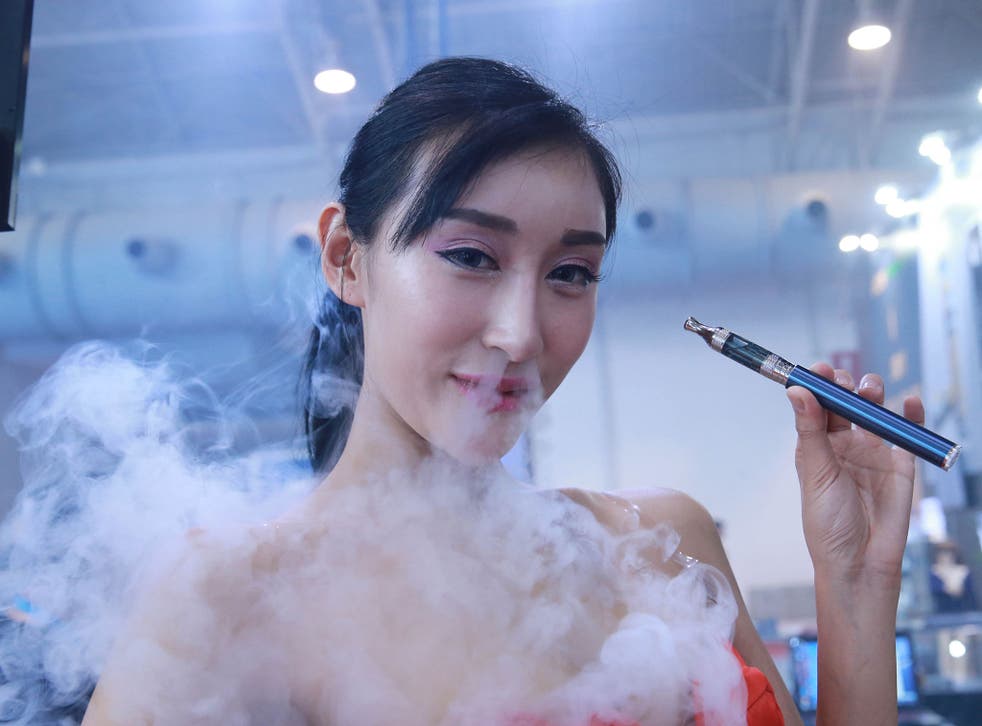 Fears e-cigarettes lead children to smoke tobacco are unfounded, survey suggests
Almost all young e-cigarette users said they were already cigarette smokers
Steve Connor
Monday 17 August 2015 00:11 Comments
Electronic cigarettes do not introduce children to traditional forms of tobacco, according to a survey of 11- to 18-year-olds which contradicts previous suggestions that the gadgets may lead young people to a far more dangerous form of smoking.
Concerns that e-cigarettes, which are considered less risky than cigarettes because they result in tobacco vapour being inhaled that is free of the dangerous chemical constituents of cigarette smoke, could lead to a rise in smoking real cigarettes appears to be unwarranted, scientists said.
The survey found that although more young people are now experimenting with e-cigarettes, the number using them on a regularly basis is still relatively small and most of these children have already been smokers.
"These results should reassure the public that electronic cigarettes are not linked with any rise in young people smoking," said Hazel Cheeseman, director of policy at the anti-smoking charity Action on Smoking and Health (ASH), which commissioned the research carried out by YouGov.
"Although more young people are trying electronic cigarettes and many more young people are aware of them, this has not led to widespread, regular use or an increase in smoking," Ms Cheeseman said.
In 2013, about 4 per cent of 11- to 18-year-olds said they had tried e-cigarettes "once or twice", and this rose to 10 per cent in 2015, the study found. However, regular use of the products where children said they used them at least once a month, remained relatively rare across the period, at just 2.4 per cent.
Almost all of those interviewed who said they were regular users also said they had been or were still currently cigarette smokers.
This occurred during the period when the awareness of e-cigarettes among the age group rose significantly – only 7 per cent were unaware of the products in 2015 compared with a third in 2013.
However, the academics who analysed the survey, published in the journal Public Health, found an increase in "false perceptions" about e-cigarettes among children. Between 2013 and 2015, the proportion of 11- to 18-year-olds who wrongly believed that electronic cigarettes were just as harmful as smoking increased from 11 per cent to 21 per cent.
Professor Kevin Fenton, national director of health and well-being at Public Health England, said that a new law prohibiting the sale of electronic cigarettes to under-18-year-olds, due to be introduced on 1 October, will further reduce children's access to the products.
"[It] will reinforce the message that they are intended for adult smokers who want to cut down or stop smoking," Professor Fenton said.
Professor Linda Bauld, of Stirling University, an expert on smoking behaviour, said that the survey confirms previous studies showing that children who take up e-cigarettes are already smokers.
Nevertheless, there are growing numbers of children who seem to misunderstand about how dangerous e-cigarettes are compared with smoking, Professor Bauld said.
"This confusion may have contributed to a rising perception in young people – a view which almost doubled between 2013 and 2014 – that e-cigarettes can cause the same level of harm to the user as tobacco," she said.
"This is concerning as it may contribute to some young people continuing to use a deadly product – the cigarette – rather than try less-harmful alternatives," she added.
Register for free to continue reading
Registration is a free and easy way to support our truly independent journalism
By registering, you will also enjoy limited access to Premium articles, exclusive newsletters, commenting, and virtual events with our leading journalists
Already have an account? sign in
Join our new commenting forum
Join thought-provoking conversations, follow other Independent readers and see their replies